Asiana Crash: NTSB Report May Help Resolve Legal Claims, Firm Says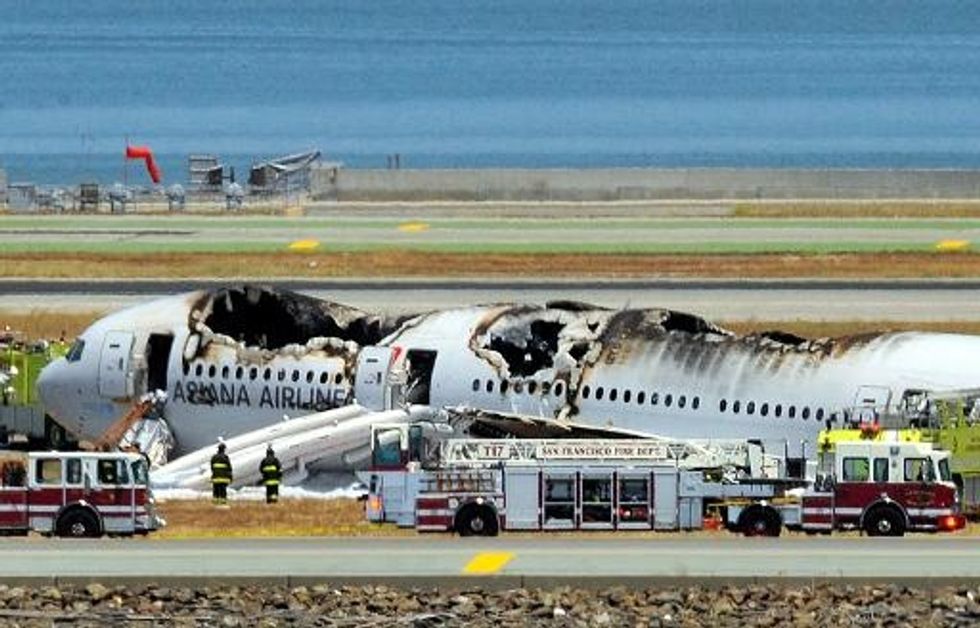 By Dan Weikel, Los Angeles Times
LOS ANGELES — Attorneys representing victims and relatives of those killed or injured when Asiana Flight 214 crashed in San Francisco last summer said a federal safety panel's conclusion Tuesday that pilot error was to blame could help resolve pending lawsuit claims.
The National Transportation Safety Board on Tuesday delivered its final report on the litany of blunders that left three dead and 187 injured — some of them Chinese high school students headed for a Christian summer camp — when the wide-body Boeing 777 struck a sea wall and then slammed into the runway at San Francisco International Airport in July 6, 2013.
A four-member panel stated that the captain at the controls lacked the training to fly the jet manually and that his instructor, who had 3,200 hours in Boeing 777s, failed to supervise him properly or intervene at crucial times.
Also contributing to the issue was the complexity of the Boeing's computerized flight systems as well as fatigue that probably degraded the performance of the pilots during the long flight from South Korea to the United States, the panel concluded.
Those findings bolster claims made by attorneys for Los Angeles firm Kreindler & Kreindler, which represents crash victims and relatives of the dead.
The findings, they said, could help resolve pending lawsuit claims.
"The conclusions contribute to our view that crew mismanagement on approach was initially caused by their confusion over Boeing's automatic throttles," Kreindler attorney Brian Alexander said.
The panel, which met in Washington, also blamed the pilots' failure to monitor airspeed and altitude, and said they waited too long to abort the landing for another try.
Asiana officials said Tuesday that they agreed with the conclusions, stating that the NTSB "properly recognized the multiple factors that contributed to the accident, including the complexities of the autothrottle and autopilot systems, which the agency found were inadequately described by Boeing in its training and operational manuals."
Overall, the NTSB made 27 recommendations to the Federal Aviation Administration, Asiana Airlines, Boeing Co. and public safety agencies in San Francisco. They call for a variety of improvements in training, emergency communications and testing of aircraft evacuation devices, such as inflatable slides. Two opened inside Flight 214 after the crash.
Key among the recommendations is enhanced training for using Boeing's automatic throttles and reviews to help the company refine the devices. The NTSB also called for a working group to come up with a better landing alert system for pilots that considers a number of parameters such as altitude, airspeed and the capabilities of jet engines.
©afp.com / Josh Edelson