At Last! Republicans Discover Racism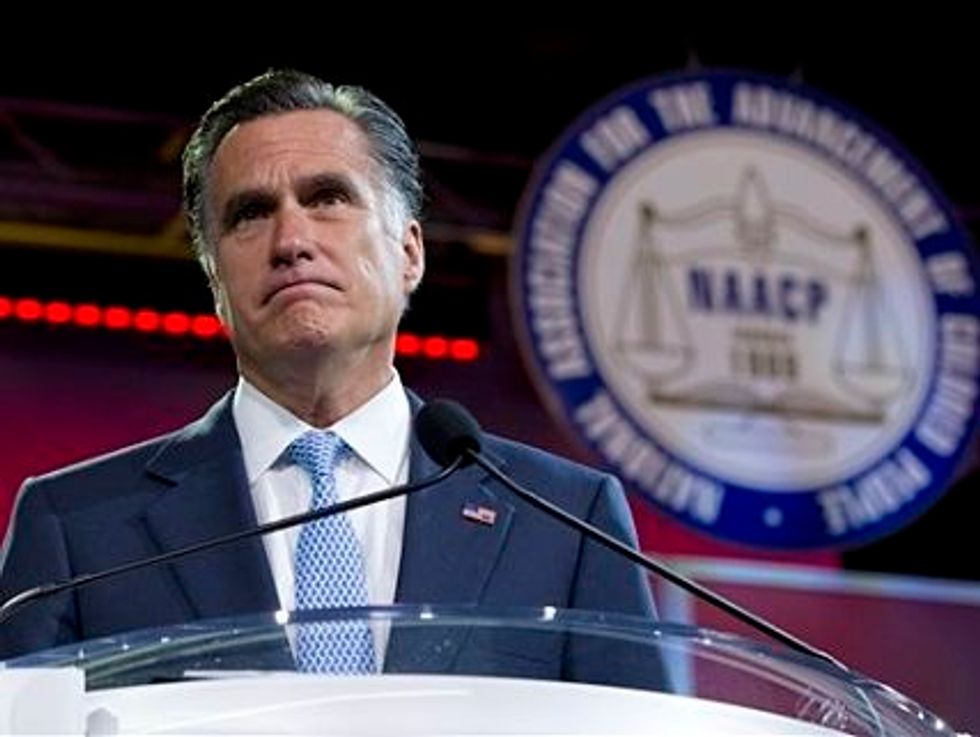 Vice President Joe Biden caused a stir on Monday morning, when he told the diverse crowd at a Danville, Virginia campaign rally that Mitt Romney and big banks would "put y'all back in chains."
The media immediately freaked out over the latest "gaffe" — never mind the fact that Biden meant exactly what he said — and Republicans soon followed with an eruption of outrage that any politician would dare to use racially charged imagery in a campaign.
Presumptive nominee Mitt Romney led the way, attacking President Obama for running a campaign of "hatred" that tries to divide Americans on "income, age, ethnicity and so-forth."
Even in Mitt Romney's post-truth campaign, this complaint is almost too rich to believe. It's bad enough that Romney would complain about attack ads — given that 90 percent of his own ads since June have been negative — but complaining about racial politics is embarrassing even by Romney's Etch-a-Sketch standard. This is the same Mitt Romney who has spent most of the past two weeks claiming that President Obama wants to drop the work requirement from welfare, an attack that is both blatantly false and an obvious attempt to stoke racial division. The same Romney who looks to Arizona's "show me your papers" law as a national model. The same Romney who has leaned on bigoted conspiracy theorist Donald Trump as a key surrogate and fundraiser. We're meant to believe that this man finds Joe Biden's use of the word "chains" to be completely unacceptable?
Never willing to pass up an opportunity for faux outrage, many other Republicans finally treated Romney like the standard-bearer that he's supposed to be, and followed him into battle.
"If that's not the nail in the coffin, really, the strategists there in the Obama campaign have got to look at a diplomatic way of replacing Joe Biden on the ticket," Sarah Palin said on — where else? — Fox News.
Palin knows a little something about racial division. Just a few months ago she openly accused Obama of being a racist, and claimed that the first black president wanted to go back to the days before the Civil War (apparently forgetting what, exactly, the war was fought over.)
Former New Hampshire Governor John Sununu chimed in as well, complaining that "there's going to be folks across the country that will try and take that as some kind of code word that is going to suggest that the Republicans are trying to be racial in their programs." In fairness, Sununu himself doesn't use code words — he prefers to broadcast his bigotry openly, as he did last month when he called President Obama an un-American stoner.
Sununu's worry that Biden would suggest Republicans are "racial in their programs" is telling. He's probably worried because it's true. From an immigration plan that was written out of a concern that "we are much like the Titanic as we inbreed millions of Mexico's poor, the world's poor and we watch our country sink," to a long list of voter ID laws that disproportionately affect minority voters, it's not hard to find evidence of racial bias in Republican proposals.
Don't just take my word for it. Listen to former Florida Republican Party chairman Jim Greer, who said under oath that GOP "political consultants and staff were talking about voter suppression and keeping blacks from voting." Greer recalled that party officials discussed how "minority outreach programs were not fit for the Republican Party."
That's the true outrage here: While Republican rhetoric on race is shameful, their actions are often worse. Republicans like to imagine that overwhelming numbers of minorities vote against them because they are trapped in liberals' "21st century plantation," as Rep. Allen West so charmingly put it. That if someone could just explain to minority voters why paychecks are better than food stamps, they would be signing Grover Norquist pledges in no time. In reality, however, there is no mystery as to why black and Latino voters favor the Democratic party: As long as Republicans endorse platforms that attack minorities, they simply will not be rewarded with minority votes.
Photo Credit: Associated Press/Evan Vucci