At U.N., Pope Attacks 'Boundless Thirst' For Wealth And Power
@reuters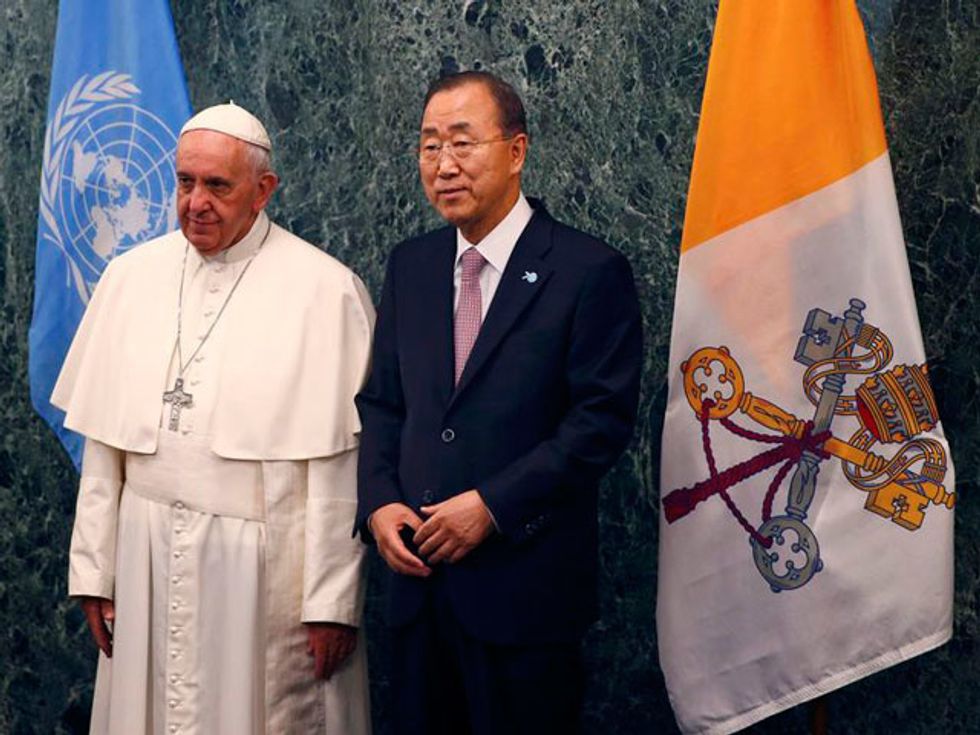 By Philip Pullella and Scott Malone
UNITED NATIONS (Reuters) — Pope Francis on Friday condemned the craving for material gains and power, telling an annual gathering of world leaders at the United Nations that greed is destroying the Earth's resources and aggravating poverty.
The spiritual leader of 1.2 billion Roman Catholics condemned the "grave offense" of economic and social exclusion, in his first speech to the U.N. General Assembly in New York.
"A selfish and boundless thirst for power and material prosperity leads both to the misuse of available natural resources and to the exclusion of the weak and disadvantaged," he said.
The first pope from Latin America, Francis has often criticized unbridled capitalism in the two years of his papacy.
On Friday, he had a high-powered audience at the United Nations, which is celebrating its 70th anniversary. This year's General Assembly is believed to have attracted the highest number of leaders in United Nations history.
The Argentine pontiff called on government leaders to ensure their people enjoy the minimum material means needed to live. "In practical terms, this absolute minimum has three names: lodging, labor, and land," Francis said to applause.
Among those in the audience were Cuban President Raul Castro and Malala Yousafzai, the 18-year-old Pakistani campaigner for girls' rights to education.
Francis, 78, called on government leaders to fight human trafficking and ban nuclear arms, and gave a grim warning about the future of the planet.
"The ecological crisis and the large-scale destruction of biodiversity can threaten the very existence of the human species," said Francis, who this year published the first papal encyclical, a letter to the church, dedicated to the environment.
He called for "fundamental and effective agreements" at climate change talks in Paris in December.
The prospects of a meaningful global climate pact in the French capital have been boosted by the news that China — one of the world's biggest polluters — will start a national carbon emissions trading market in 2017.
In keeping with his reputation as a green pope, Francis has used a small Fiat car to get around Washington and New York during this week's trip to the United States. He ends his visit in Philadelphia on Sunday.
He arrived in New York on Thursday from Washington after urging the U.S. Congress to help heal many of America's divisions such as the heated political debate over immigration.
The pope has addressed issues dear to liberals in the United States but also emphasized conservative values and Catholic teachings on the family.
At the United Nations, he warned against imposing Western liberal values on the rest of the world via "an ideological colonization by the imposition of anomalous models and lifestyles which are alien to people's identity."
Later on Friday, Francis led an inter-religious prayer service at the site of the Sept. 11, 2001, hijacked plane attacks by Islamist militants that brought down the twin towers of the World Trade Center.
(Additional reporting by Susan Heavey; Writing by Alistair Bell; Editing by Mary Milliken and Grant McCool)
Photo: Pope Francis (L) poses with United Nations Secretary General Ban Ki-moon at the United Nations in New York, September 25, 2015. REUTERS/Tony Gentile