Attorney General Nominee Lynch: 'Doesn't Play The Political Game'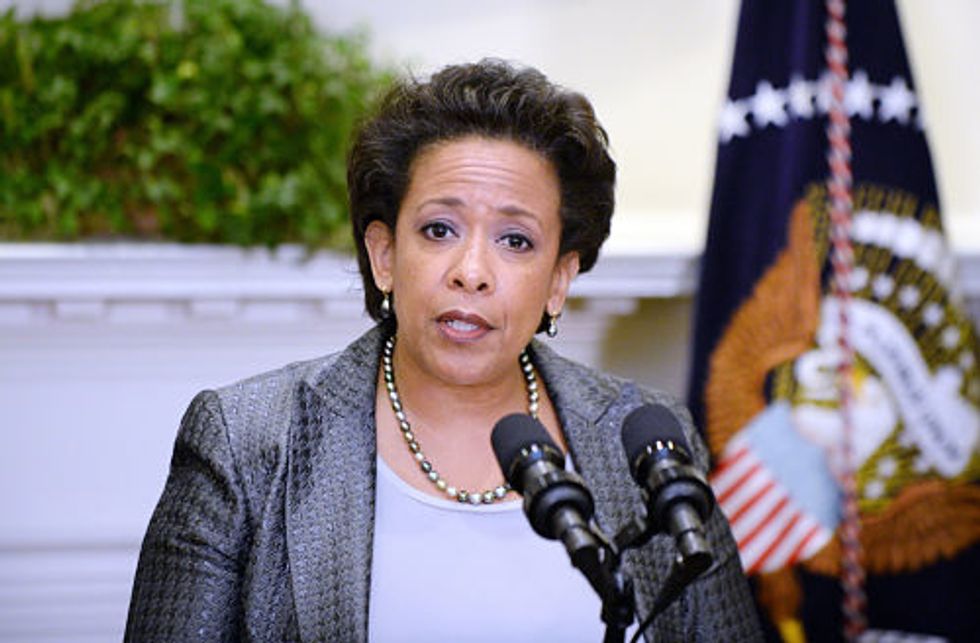 By Michael Doyle, McClatchy Washington Bureau (MCT)
WASHINGTON — Loretta Elizabeth Lynch entered politics the old-fashioned way, family first.
Her father, Lorenzo A. Lynch Sr., was running for mayor of Durham, N.C. It was 1973, and the younger Lynch dutifully volunteered at the entry level.
"I was 14 at the time," Lynch later told the Senate Judiciary Committee, "and primarily answered phones and stuffed envelopes."
Her father lost, and the inaugural experience in raw campaigning didn't appear to enrapture his daughter. The Greensboro, N.C., native went on to graduate cum laude with a degree in English and American literature, not government, from Harvard.
But now, at the age of 55, Lynch is poised to revisit the Senate Judiciary Committee and navigate the nation's busiest intersection of politics and law. As President Barack Obama's nominee to become the nation's 83rd attorney general and the first black woman to hold the post, she'll face a Congress controlled by Republicans and a Justice Department that's about 400 times larger than the Brooklyn-based U.S. attorney's office she runs.
All of which will test the mettle of this minister's daughter, whom many praise for her grace under pressure.
"She's someone who is well-liked by all," former federal prosecutor George Stamboulidis said in an interview. "She is very charismatic and she attracts people of all kinds, but she doesn't play the political game."
Stamboulidis, now a co-chair of BakerHostetler's white-collar defense and corporate investigations team, added that "when everything is blowing up all around you, she has the ability to focus."
That will certainly help if Lynch wins Senate confirmation to run a department with 116,000 full-time employees, an annual budget of about $27 billion and, it sometimes seems, a big fat target painted on its back.
Attorney General Eric Holder was voted in contempt of Congress by the Republican-led House in 2012, the first U.S. attorney general to face that ignominy. President George W. Bush's widely derided second attorney general, Alberto Gonzales, resigned amid bipartisan pressure. Some Justice Department sub-agencies, such as the Bureau of Alcohol, Tobacco, Firearms and Explosives, regularly draw fire from Capitol Hill.
Illuminating the potential for problems, Republican Sen. Charles Grassley of Iowa, the incoming chairman of the Judiciary Committee, said last year that "concerns about ATF's hostility to small gun dealers" had contributed to a seven-year delay in confirming a new ATF head.
Lynch's still-unscheduled confirmation hearing will be her third review by the committee. The panel confirmed her twice before for two stints as a U.S. attorney. In preparation for her latest hearing, Senate researchers are thumbing through every page of her past.
It's all being collected, grist for the mill: Lynch's June 1992 "Women's Day Celebration" talk at Long Branch Baptist Church in Greenville, S.C., a September 2007 panel discussion at Duke University Law School about the false accusations of rape levied against players on the men's lacrosse team, an April 2009 speech to New York lawyers celebrating "South African Freedom Day."
If they find an immaculate personal record, as most expect for a candidate who's already been vetted and approved twice by voice vote in the Senate, Republicans might still press Lynch hard on Obama's planned use of executive action on hot-button issues such as immigration.
Republican Sens. Ted Cruz of Texas and Mike Lee of Utah have already warned that Lynch will be pressed on "whether or not she believes the president's executive amnesty plans are constitutional and legal."
Lynch was the second of three children. Her mother, Lorine, was a school librarian and her father a longtime minister at Durham's White Rock Baptist Church. The senior Lynch has since retired and lives with his wife in Durham.
Loretta Lynch graduated from Durham High School in 1977 and then Harvard in 1981, where she was a member of the Delta Sigma Theta sorority. Some students take time off the academic fast track after college. Lynch did not, immediately entering Harvard Law School and graduating in 1984.
She worked in private practice with a New York City firm until she joined the Justice Department in 1990. She took on some tough prosecutions, such as an eight-week trial of nine members of the Green Dragons, a violent Asian street gang. Seven defendants are now serving life sentences.
"I like being on what I view as the good guys' side of the law," Lynch told the Durham Herald-Sun in a 1999 telephone interview. "I try to ignore the media and focus on what's going on in the courtroom."
That's been a particular challenge in some high-profile cases she's taken on. Her Brooklyn-based prosecutors are currently going after Republican U.S. Rep. Michael Grimm of New York, who recently won re-election despite facing a 20-count indictment that includes charges of perjury and mail fraud.
"The word that comes to mind with Loretta Lynch is courtly," New York-based defense attorney Stephen C. Worth said in an interview. "She has a certain dignity about her."
Worth, who faced off against Lynch in an incendiary case involving a 1997 police attack on Haitian immigrant Abner Louima, said he continued to think that his client Charles Schwarz was wrongly convicted amid a heated political atmosphere. Conflicting evidence was presented about Schwarz's role in the assault on Louima.
At the same time, Worth praised Lynch for doing a "terrific job" during the trial summation and said "everyone likes her." With a sardonic New York defense attorney's edge, he said her "annoyingly nice personality" could win over jurors and antagonists alike.
In 2007, she married Stephen Hargrove, and she's now the stepmother to his two grown children.
A registered Democrat, Lynch has been a minor campaign contributor to her party's candidates over the years, including a total of $9,200 to several Obama committees in 2008, records show. Her relatively low-key political activity might help her, as it deflects potential GOP charges of cronyism.
She has an important political ally in New York Sen. Charles Schumer, for whom she's served on a judicial screening panel. Schumer is now a senior member of the Judiciary Committee, which will consider her nomination.
Photo: U.S. President Barack Obama nominates Loretta Lynch, the U.S. attorney in Brooklyn, to succeed Eric Holder as attorney general during an event in the Roosevelt Room on Saturday, Nov. 8, 2014, in Washington, D.C. (Olivier Douliery/Abaca Press/MCT)