'Baby Trump' Balloon May Fly In Washington On Fourth Of July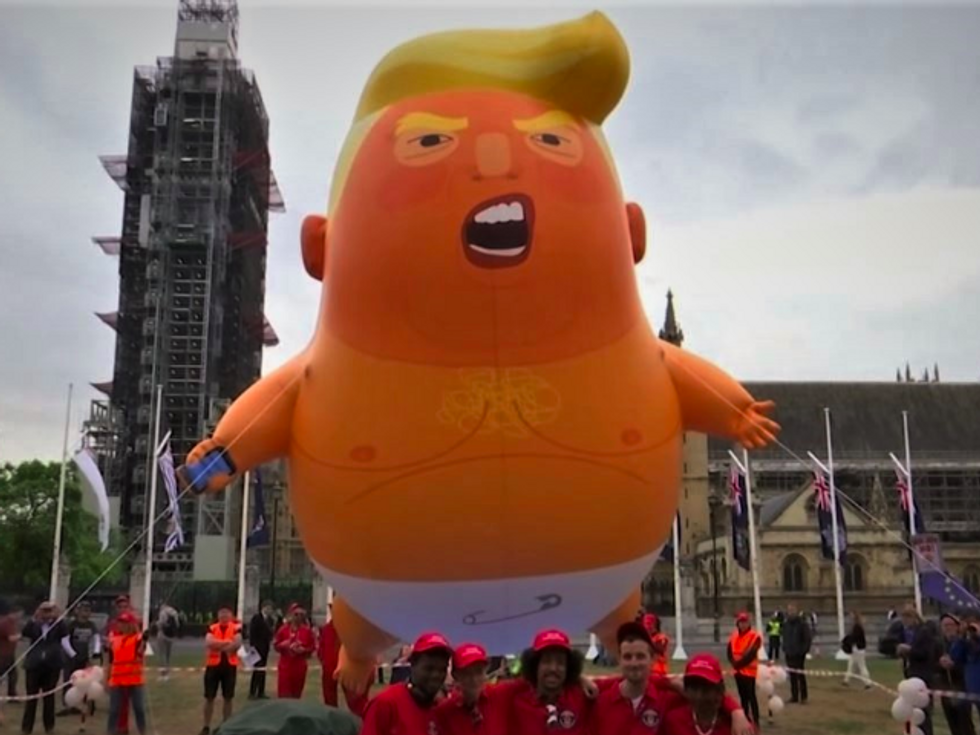 Trump is attempting to ruin the nonpartisan Fourth of July festivities in Washington, D.C. by making it all about him — so one group plans to fight back by welcoming him with a giant "Baby Trump" blimp, the Washington Post reports.
The activist group Code Pink has applied for a permit from the National Park Service to fly the famous Baby Trump blimp on July 4, coinciding with Trump's plan to speak from the steps of the Lincoln Memorial.
The "blimp," which is more accurately a very large balloon like those flown in parades, portrays Trump in a diaper with a "scowling, splotchy face of a giant orange baby," according to the Post.
The blimp  garnered international attention as it greeted Trump on two separate visits to England, including his most recent trip at the beginning of June.
"We see it as an image of Trump's behavior, which is, as we all know, unpredictable and prone to tantrums about things that are really, really dangerous," Ariel Gold, Code Pink's co-director, told the Post.
Trump's decision to insert himself into the traditionally nonpartisan Fourth of July festivities has been roundly criticized by both members of Congress and organizers of the celebration.
"It's not about any one person, it's about 'We, the people,'" Rep. Betty McCollum (D-MN) told the Washington Post in May, shortly after Trump's plans were announced. "And if the president moves to make this about him, I think he will find the American public disappointed and angered by it."
McCollum, and several other leading members of Congress, wrote a letter to Trump expressing concern that his giving a speech in front of the Lincoln Memorial "could create the appearance of a televised, partisan campaign rally on the Mall at public expense."
Trump forced the planners of the fireworks display to relocate in order to accommodate him, and Washington, D.C. Mayor Muriel Bowser opposes the move because of the logistical and security problems it creates for the city and the celebration.
"This will be painful to manage," Terrence W. Gainer, a former executive assistant police chief in D.C., told the Post. And Gainer would know, as he was in charge of security concerns for the July 4 fireworks celebration following the 9/11 terrorist attacks.
While the permit to fly the Baby Trump blimp has been filed, it has not been approved yet. The permits are handled on a first-come, first-served basis, according to the National Park Service.
If it is approved, Trump could be forced to stare at a floating, splotchy, scowling image of himself as he speaks.
Published with permission of The American Independent.