Happy Easter! Baldwin, McCarthy Return To Saturday Night Live [VIDEO]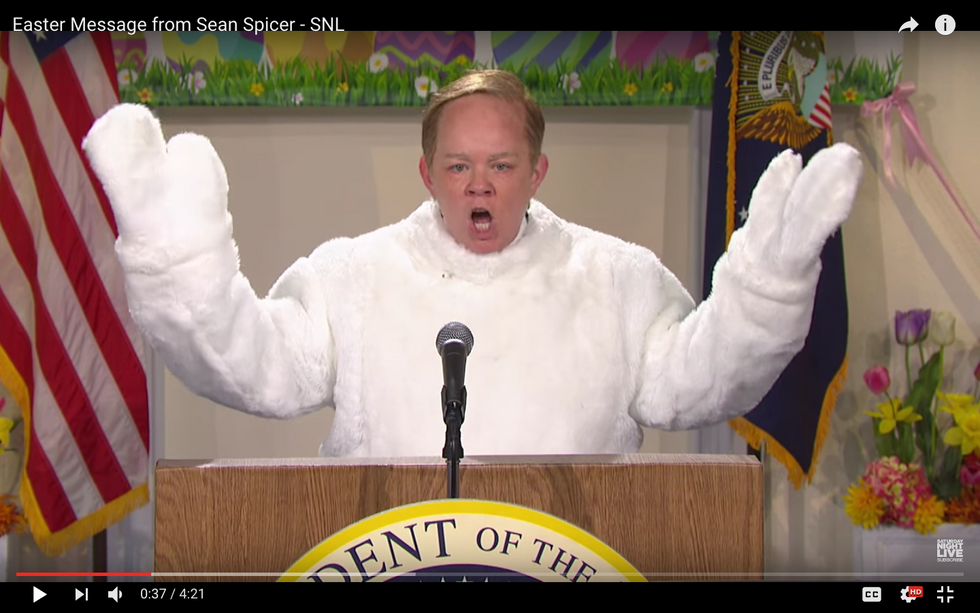 Saturday Night Live finally returned to air on April 15 after weeks of hiatus as the Trumpian apocalypse rumbled on.
In the Oval Office, Trump chats about his "long list of accomplishments" with Mike Pence (Beck Bennett) and complains about the dictator of North Korea. "He's a war monger, he's quick to anger, he's a huge narcissist, he's got a stupid little haircut, why would they let a man like that run an entire country?" Then he gets down to real business, the simmering feud between the spectral, demonic Bannon (Mikey Day) and Jared Kushner, played with aplomb by guest host Jimmy Fallon in a blazer and flak jacket.
"Jared, you're such an inspiration," the president gushes. "You showed everybody that if you were born rich and marry my daughter, you can do whatever you want."
But "tonight is elimination night," he announces. It's a contest, with the winner getting to continue at Trump's side plus $100,000 "courtesy of L'Oreal and the loser banished to the White House basement "with Kellyanne Conway."

And Melissa McCarthy returns with a holiday treat as Sean Spicer, "sweating his Easter eggs off" in a lovely bunny suit and trying to apologize for his moronic remarks about Hitler and the poison gas attack in Syria. "You all got your wish this week," he barks. "Spicy finally made a mistake!"  It would be nice if the press "didn't focus on every little slur and lie I utter," complains the press secretary, before going on to utter several new whoppers as he proceeds to explain the meaning of Passover to "the goys."
But poor Spicy seems as nervous as everyone else over Trump's handling of North Korea. "Happy Easter!" he exclaims, driving off in an egg-shaped golf cart. "Eat as much candy as you want, because this is probably our last Easter on earth." Maybe that's how Trump plans to end his torment by the Saturday Night Live writers and cast — but meanwhile, enjoy.