Barbara Bush Was All That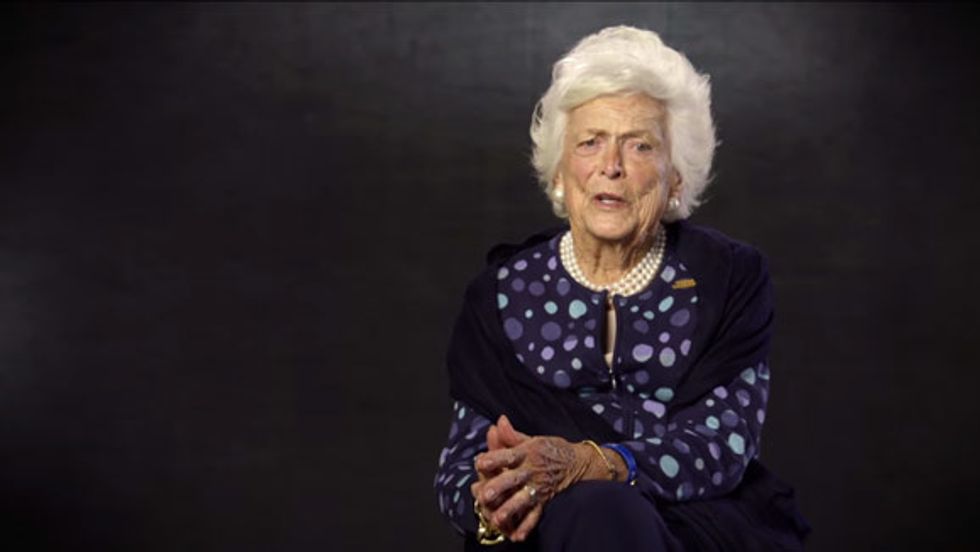 Reprinted with permission from Creators.
In 1989, first lady Barbara Bush publicly disclosed that she had struggled with depression after her children had grown. The women's movement, she added, was a contributing factor.
"I believe it made me feel inadequate. I'm not quite sure how. You were made to feel demeaned a bit."
The following year, she was invited to deliver the commencement address at the all-female Wellesley College. This didn't sit well with the 150 seniors who signed a petition in protest:
"To honor Barbara Bush as a commencement speaker is to honor a woman who has gained recognition through the achievements of her husband, which contravenes what we have been taught over the last four years at Wellesley."
I never thought Barbara Bush would remind me of my working-class mother, but there it is. When I read these two accounts, in the wake of Bush's death this week at age 92, I thought of my mom and the way she openly marveled at how I, her college-educated firstborn, thrived in the throes of the feminist movement.
Just as candidly, she insisted this liberation was never meant for her, a nurse's aide in small-town Ohio. "To them, I'm just a housewife who had to get a job," she once said to me. "That wave of feminist power never made it to women like me."
We were a family of Democrats, but my mother always admired Barbara Bush, in part because she knew Bush had lost a 3-year-old daughter to leukemia. "Her hair went white overnight," my mother said countless times over the years. "Who could blame her?"
Barbara Bush was many things. When too much of America still thought you could catch AIDS by touching a person with the disease, she visited a pediatric AIDS center and held an infected infant in her arms as the cameras whirred. She sat on the board of historically black Morehouse College, and she was the first to hire a black press secretary as first lady. She championed literacy for much of her life.
She had a quick tongue, but she was self-deprecatory, too. She would do her part for her husband's administration, she said, but she would not succumb to anyone else's version of who she should be. "I won't dye my hair, change my wardrobe or lose weight." Many American women made clear their approval. "My mail tells me that a lot of fat, white-haired, wrinkled ladies are tickled pink," she said.
We all have our regrets and our buried secrets, but few of us are just one thing. We are the sum of our parts — and hope to be judged accordingly. This doesn't always happen these days for those in the public eye. They are often categorized by their worst, viral moments. Never is that more apparent than when a public figure dies.
Within minutes of her death, social media was awash with praise of Bush — and withering criticism, mostly from the left.
This is not a good look. I say this as a lifelong liberal and a columnist who regularly criticized her son George W. Bush when he was president. For every "like" for your nasty comment on Facebook or clicked heart on Twitter, countless others are wondering who raised you.
So often, human decency is a matter of timing.
Yes, Barbara Bush admitted to avoiding coverage of "body bags and death" in the lead-up to her son's war in Iraq. She declared the bleak conditions of temporary housing for Hurricane Katrina victims to be "working very well for them," dismissing them as "underprivileged anyway." But these unacceptable comments are not the sole measure of the woman.
From the statement of condolence released by Barack and Michelle Obama:
"We'll always be grateful to Mrs. Bush for the generosity she showed to us throughout our time in the White House, but we're even more grateful for the way she lived her life — as a testament to the fact that public service is an important and noble calling; as an example of the humility and decency that reflects the very best of the American spirit."
If the first black president and first lady of the United States can look past Barbara Bush's worst moments, then so can I.
Despite that Wellesley student petition in 1990, Bush delivered the commencement address. It was one of the highlights of her tenure as first lady. The crowd loved her, including many of her critics. She ended with the perfect walk-off, as delicious now as it was 28 years ago.
"Who knows?" she said. "Somewhere out in this audience may even be someone who will one day follow in my footsteps and preside over the White House as the president's spouse.
"And I wish him well."
The crowd erupted with a standing ovation, because Barbara Bush was that person, too.
Connie Schultz is a Pulitzer Prize-winning columnist and professional in residence at Kent State University's school of journalism. She is the author of two books, including "…and His Lovely Wife," which chronicled the successful race of her husband, Sherrod Brown, for the U.S. Senate. To find out more about Connie Schultz (con.schultz@yahoo.com) and read her past columns, please visit the Creators Syndicate webpage at www.creators.com.