How To Become Terror-Torn Europe — And How Not To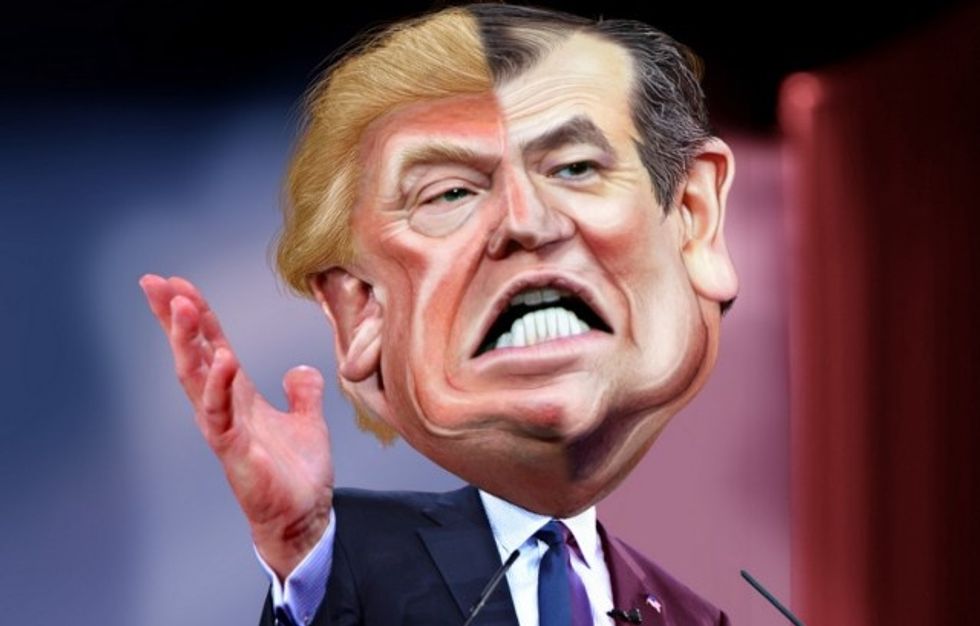 Recoiling from the terrorist carnage in Brussels, Americans may be attracted to the "tough" posturing of Donald Trump and Ted Cruz. The casino mogul wants to bring back torture, while the Texas senator hopes to bomb indiscriminately until the desert glows. Trump would bar any Muslim from entering the United States, while Cruz would dispatch special police patrols into Muslim neighborhoods. Both eagerly stigmatize Muslims in America and worldwide.
Yet we know that the leaders of ISIS or Daesh, the self-styled Islamic State, welcome such signs of panic. That is why they recently featured footage of Trump in a propaganda video, ranting about the Brussels attack. The would-be presidents vying for the Republican nomination consistently serve as useful idiots, their declarations of hostility to Islam only alienating that faith's billion followers here and abroad, while in no way advancing our security.
Our success in defeating Daesh depends on achieving the opposite – that is, winning the cooperation of the great majority of Islam's believers against the murderous apostates whose victims include thousands of Muslims.
Despite the rash of bigotry and violence encouraged by Islamophobic demagogues like Trump, the Muslims who live here remain as stable, patriotic, and peaceful as they have been for many, many years. Their integration and assimilation into our political culture is an important reason why we, as a nation, don't confront the same challenges as France, Belgium, and other European countries with socially isolated Muslim ghettoes.
Last year's mass murder in San Bernardino is actually a case in point. Horrible as it was, the assault by a deranged couple differed significantly from the mass killings perpetrated by teams of jihadis in Paris and Brussels. After months of investigation, the FBI has found no evidence that Syed Farook and Tashfeen Malik were in contact with Daesh, let alone any broader conspiracy that operated within a local community. (The neighbor who helped them obtain weapons was quickly detected and arrested.)
By contrast, there is already plenty of evidence that the Paris and Brussels killers were part of a multinational network rooted in local districts, where the killers could hide and plot. Security experts believe more conspirators are yet to be found in Belgium, France, and perhaps elsewhere in Europe.
That fundamental difference between here and there is why American law enforcement officials are appalled by the aggressive, Muslim-baiting rhetoric emanating from Trump and Cruz, as Michael Hirsh reports in Politico. According to Hirsh, the Republican message has "distressed U.S. law enforcement officials actually involved in the counterterror effort," because "Muslim communities already are highly wired by U.S. law enforcement and intelligence." And contrary to being radicalized, those communities "have proven astonishingly cooperative on the whole."
Having interviewed law enforcement and national security authorities, Hirsh found that in Muslim communities like Dearborn, Michigan, sophisticated outreach programs have produced real advances in security — including bold action by parents seeking to protect their own children from recruitment. When New York City police commissioner Bill Bratton bluntly told Cruz to shut up because he "doesn't know what the hell he's talking about," the city's top cop wasn't kidding. Bratton noted that New York has about a thousand Muslim police officers, many of whom are combat veterans.
This isn't "political correctness," as Cruz and Trump always sneer; it is common sense.
Meanwhile, those two politicians and others of their ilk are quickly becoming the most valuable recruits ISIS could imagine. With their irrepressible impulse to denigrate the Obama administration's counter-terror effort, both of them have been trumpeting Daesh's central message – namely, the lie that the Islamic State is winning when, in fact, they are slowly but steadily losing. In recent weeks, American forces have reportedly killed the group's second-in-command, even as the Iraqi Army prepares a major campaign to take Mosul, the oil city that ISIS has held for the past two years.
Should we have the misfortune to elect one of these useful idiots to the presidency, we may well suffer the consequences of their ignorance and prejudice. For if Trump or Cruz ever enacts the kind of repressive policy they now advocate, then eventually we will become much more like Europe in its ethnic and religious polarization.
That would not only be morally wrong and contrary to our constitutional traditions. It would be a path toward national disaster.