Benghazi Hearings: Capitol Hill's Angry Little Men Keep Making Hillary Bigger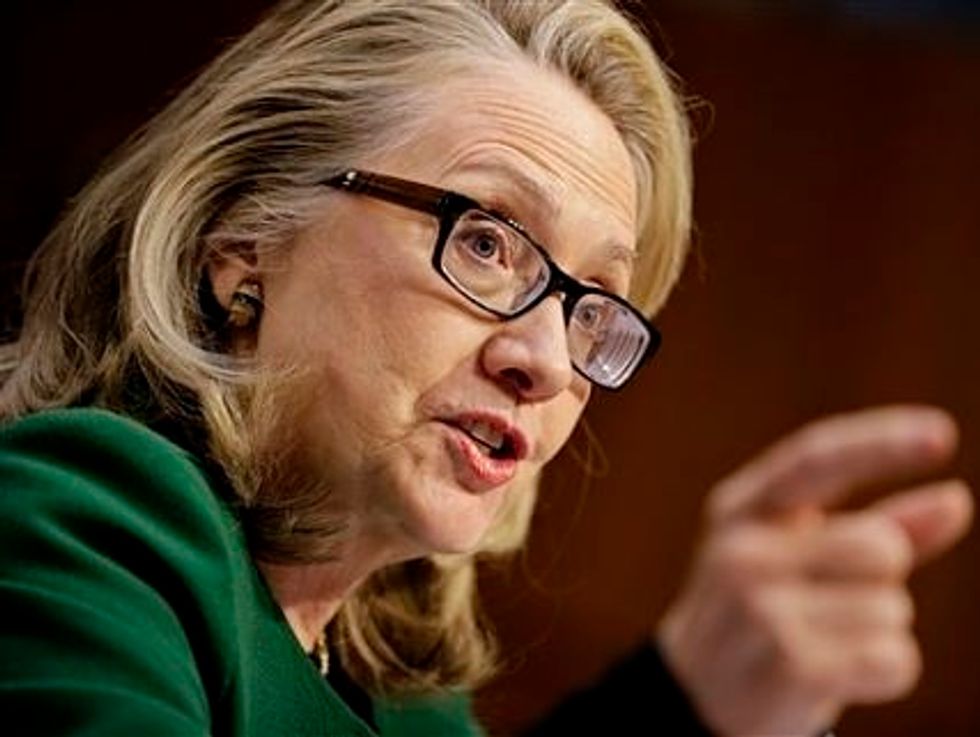 Anyone truly concerned about the safety of U.S. diplomatic personnel abroad – and that should include every American – has fresh reason for fury over last September's disaster in Benghazi and its aftermath. But the target of public anger should not be Secretary of State Hillary Clinton, whose conduct has been exemplary ever since the U.S. ambassador to Libya and three of his brave colleagues lost their lives last September. Far more deserving of scorn are the likes of Rand Paul (R-KY), Ron Johnson (R-WI), and all the other grandstanding, conspiracy-mongering, ill-informed politicians who questioned her Wednesday on Capitol Hill.
Four months after the tragedy occurred, Republicans on both the Senate Foreign Relations Committee and the House Foreign Affairs Committee still seem to be obsessed with the talking points provided to UN Ambassador Susan Rice before she appeared on television to discuss the incident. According to Republican folklore, unsupported by facts, the Obama White House engaged in a conspiracy to conceal the true nature of the terrorist attack by mischaracterizing it as a "demonstration." The continuing focus on that trivial issue – long since explained by Rice herself, as well as retired General David Petraeus and others, under oath – understandably provoked an exasperated Clinton to scold Johnson, one of the dimmer idols of the Tea Party.
When the Wisconsin Republican began to harp on this topic yet again – interrupting her answer, after stupidly asserting that Clinton could have resolved any questions about the attack with "a very simple phone call" to the burned-out Benghazi compound – she responded sharply:
With all due respect, the fact is we had four dead Americans. Was it because there was a protest or was it because there were guys who went out for a walk one night who decided they would kill some Americans? What difference at this point does it make? It is our job to figure out what happened and to do everything we can to make sure it never happens again.
No doubt Clinton's utterly sane retort will undergo dishonest editing, in the style of James O'Keefe, to make her sound cavalier or arrogant. But it is the Republicans in Congress whose attitude toward the deaths of Ambassador Christopher Stevens and his fallen comrades has seemed cynical and false, ever since they first sought to exploit the incident politically during the presidential campaign. Meanwhile, having historically supported reductions in federal spending on diplomatic security, they have done nothing useful so far to enhance the safety of Americans serving abroad. Worse still, their questions to Clinton indicate that very few of them, even at this late date, have bothered to learn the basic facts surrounding the Benghazi incident.
By contrast, Clinton has assumed responsibility in a meaningful way ever since September 11 – which is to say that she has taken action to ensure a serious response. As required by law, she empowered an independent investigation, which resulted in dozens of recommendations for improved security and held several high-ranking State Department officials to account for the lapses in Libya. It is worth noting that Thomas Pickering, the distinguished former diplomat who led the probe, fixed culpability for the security flaws at Benghazi at "the assistant secretary level," rather than with Clinton herself. Nobody in Washington understands the workings of the U.S. foreign service better than Pickering, who served in top positions under both presidents Ronald Reagan and George H. W. Bush.  Certainly not Johnson or Paul, who rather comically asserted that "if [he] were president," he would have fired Clinton. Always hard to imagine, a Paul presidency seemed even more remote when he quizzed her about obscure right-wing conspiracy theories involving Syria, Turkey, and Libya.
As Joan Walsh observed in Salon, those irate and ignorant inquisitors on Capitol Hill appeared small and peevish in their confrontation with Clinton, a woman whose serious, diligent, tireless approach to public service has armed her with an enduring popularity at least three times greater than her Republican adversaries in Congress.  Their feeble attempts to cut her down, echoed by the usual loudmouths on radio and cable television, only make her bigger.
If they persist, she probably will be president someday.
Photo credit: AP/J. Scott Applewhite