What Is Up With Israel's Pause Before Invading Gaza?
@LucianKTruscott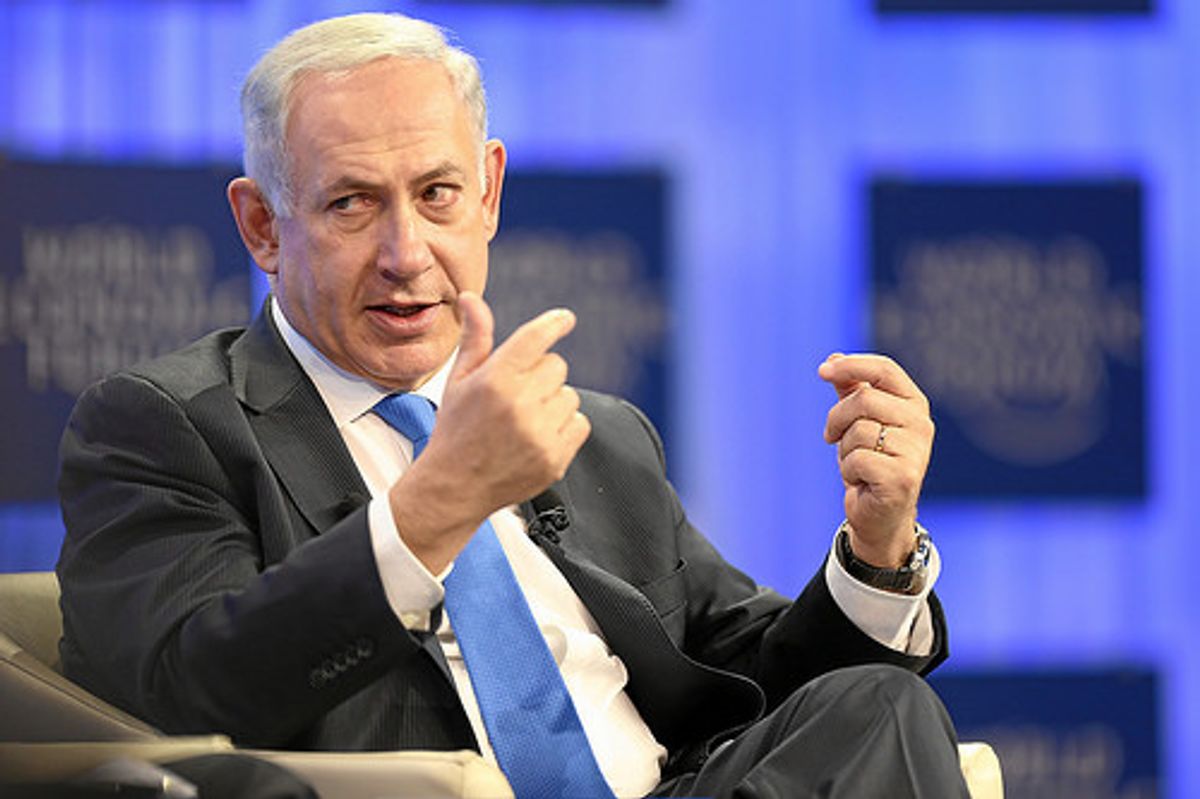 It's been eight days since Hamas launched its brutal attack on Israeli civilians, and Israel still hasn't launched a ground offensive into Gaza. Israel has relentlessly pounded what they call Hamas targets inside Gaza and claims that six senior leaders of Hamas have been killed since Saturday, October 7. The New York Times reported this afternoon that "Officials in Gaza said that 2,808 people had been killed." So far, there has not been an estimate from either side on how many killed in Gaza were Hamas militants and how many were Palestinian civilians.
Israel has amassed more than 300,000 of its troops along the Gaza border, although recent reports from the area say that the Israeli forces, including tanks, armored personnel carriers, artillery, and infantry have not taken up positions that would signal an imminent attack. On Friday, Israel dropped leaflets all over Northern Gaza telling residents to move south, and gave them 24 hours. Israel had already cut off power and water to Gaza. The move was read as preparation for an attack on Gaza City and other settlements in northern Gaza. The Israeli warning said Gazans would be given free passage on two north-south roads through Gaza. At the same time, Hamas was urging citizens of Gaza City to remain where they were. Israel claimed this was so that Hamas could continue to use them as human shields.
The movement of hundreds of thousands of Gazans from north to south caused an immediate humanitarian crisis. The United Nations announced that a half million Gazans have been displaced. Meanwhile, Secretary of State Anthony Blinken has attempted to negotiate with Egypt to open the Rafah border crossing. The Wall Street Journal reported that a "push by the U.S. and Egypt to open Gaza's border crossing with Egypt stalled Monday." Egypt has demanded that Israel agree to pause its air strikes, while Israel demanded that all trucks and other vehicles leaving and going into Gaza be subjected to "thorough" searches.
Blinken has spent the last four days shuttling between Israel, Jordan, Qatar, Bahrain, Saudi Arabia, the United Arab Emirates, and Egypt attempting without much success to get Arab states to denounce Hamas. Blinken has also worked to prevent the Israel-Hamas war from widening, warning countries that support Hamas and Hezbollah not to take advantage of the situation in Gaza. His trip has not been without hiccups. In Egypt, he was lectured by President Abdel Fatah El-Sisi about Israel's crimes against the Palestinian people, and in Saudi Arabia, Blinken was kept waiting for three hours by Crown Prince Mohammed bin Salman, who "stressed the need to stop the military operations 'that claimed the lives of innocent people' — a reference to Israel's offensive — and lift the 'siege of Gaza,'" according to the Washington Post.
It hasn't helped that the U.S. still doesn't have an ambassador to Israel because Republicans in the Senate have blocked the confirmation of Biden nominee Jack Lew. Republican Senator Tom Cotton of Arkansas yesterday called Lew "an Iran sympathizer" who "helped Iran evade American sanctions, and he lied to Congress about it," without providing any proof either claim was true.
Blinken returned to the United States on Monday to meet with President Biden to report on his diplomatic tour. After meeting with Biden, Blinken announced that the president will visit Israel on Wednesday, making it unlikely that Israel will broaden its attacks on Gaza at least between now and the Biden visit on Wednesday. Such a trip would be extraordinary for several reasons, the security of the president being one of them. The New York Times noted today that a trip to Israel "could tie Biden and the U.S. to the increasing bloodshed in Gaza." Any new offensive by Israel into Gaza would multiply the blood already shed in Gaza many times over.
Blinken met with Netanyahu earlier yesterday in Jerusalem and was even taken briefly to a shelter with the Israeli president when air raid sirens sounded near Netanyahu's office. German Chancellor Olaf Scholz is expected to travel to Israel on Tuesday, according to Bloomberg News. The Italian Deputy Prime Minister and Minister of Foreign Affairs Antonio Tajani met with Egyptian President Abdel Fattah El Sisi in Cairo on Friday to discuss the situation between Israel and Hamas.
With so many meetings taking place between Middle Eastern leaders and European and U.S. officials, it seems unlikely that Israel will launch a ground offensive so long as the German Chancellor is on his way to Israel and a Biden visit is under consideration. This will lengthen the pause Israel appears to be taking before its anticipated heavy ground invasion of Gaza. Meanwhile, Israel is known to have already made multiple incursions into Gaza by its special forces to look for hostages and do reconnaissance and collect intelligence.
Netanyahu is under extreme pressure politically within Israel over his government's failure to protect Israeli citizens. This is a major factor in any moves Netanyahu will make against Hamas in retribution for its attack on Israel on October 8. Netanyahu was forced to form a so-called unity government with opposition leader Benny Gantz, a former Israeli army chief of staff and minister of defense who has been highly critical of Netanyahu's right-wing government and its attempt to take over Israel's judiciary and reduce the power of Israel's supreme court. Those moves led to massive demonstrations against the Netanyahu government which were still ongoing at the time of the Hamas attack last week.
Netanyahu has always claimed to be the only man in Israel who could keep its citizens safe. That is over for him, even though he has pressured Israel's minister of defense, army chief of staff, and head of Shin Bet, its domestic intelligence service to take the blame for not foreseeing the Hamas attack. The three men's blame-taking is seen in Israel as cover for their boss. That is fooling nobody. An increasing consensus is emerging that Netanyahu's political career is over.
It is probable that the German Chancellor and Biden will bring pressure on Netanyahu not to launch a full-blast ground offensive in Gaza that will kill tens of thousands of Palestinian civilians and draw Hezbollah into the conflict, perhaps into a full-on war on Israel from the north. The Israeli people are already so furious with Netanyahu for distracting the country from its own defense with all his anti-democratic moves that a ground offensive in Gaza isn't going to save him politically. I doubt that Benny Ganz, his current political partner but known antagonist, is counseling him to attack Hamas on the ground in Gaza.
This is informed speculation, but it may turn out that the Gaza pause will stretch into some sort of new approach to Israel's retribution against Hamas. The U.S. has opened up a channel to talk to Iran, which has enormous influence with both Hamas and Hezbollah. If some sort of deal can be made to get the hostages back, Netanyahu could declare victory, leave in place a big military presence around Gaza, open corridors for relief to Gazan Palestinians, and try to save his political career looking like a peacemaker.
Stranger things have happened.
Lucian K. Truscott IV, a graduate of West Point, has had a 50-year career as a journalist, novelist, and screenwriter. He has covered Watergate, the Stonewall riots, and wars in Lebanon, Iraq, and Afghanistan. He is also the author of five bestselling novels. You can subscribe to his daily columns at luciantruscott.substack.com and follow him on Twitter @LucianKTruscott and on Facebook at Lucian K. Truscott IV.
Please consider subscribing to Lucian Truscott Newsletter, from which this is reprinted with permission.