Surprise! Kevin McCarthy Says He Is 'Willing' To Run For Speaker Again
@kerryeleveld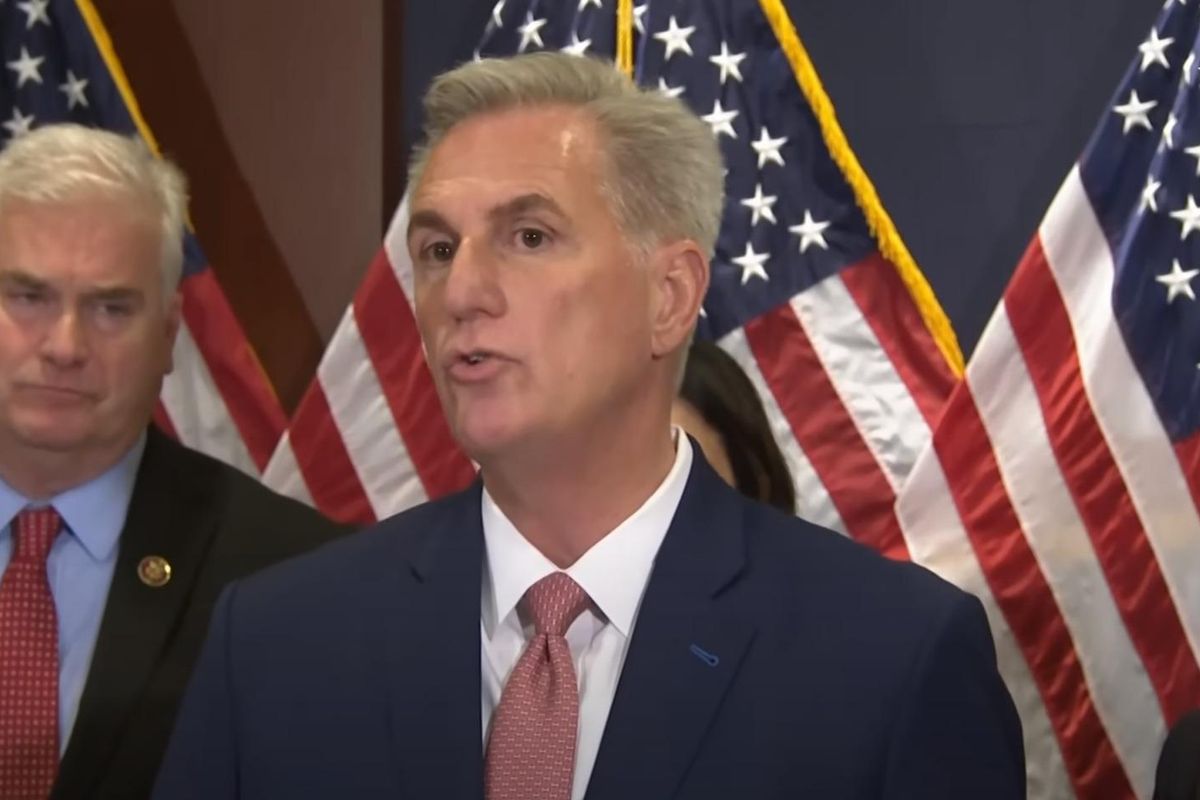 Youtube Screenshot
Ousted House Speaker Kevin McCarthy flip-flopped on Monday, saying he was open to taking the gavel back amid a Chernobyl-level meltdown in the Republican Party over the crisis in Israel.
Last week, shortly after a small band of MAGA maniacs engineered his ouster, McCarthy stated he would not seek the post again.
But that was last week. "Whatever the conference wants, I will do," McCarthy told conservative radio host Hugh Hewitt during an interview on Monday.
The prospect of McCarthy being reinstated solely with the votes of Republicans seems highly unlikely after his primary right-wing foe, Rep. Matt Gaetz of Florida, achieved hero-level status among some MAGA faithful for ejecting McCarthy. McCarthy would need at least four of the eight Republican nihilists who voted him out last week to have a sudden change of heart.
McCarthy's cynical play to regain the speakership comes as House Republicans war with each other over their inability to provide extra aid to Israel after Hamas' attack over the weekend. Nine Americans have been confirmed killed in the fighting, and there are unverified reports of potential American hostages—claims that McCarthy immediately sought to capitalize on.
"Our top priority right now must be to rescue all American hostages," he tweeted out Monday morning. "The Biden Administration cannot repeat the failures of Afghanistan. NO American left behind!"
McCarthy's potential successors are working overtime to cast themselves as the answer to the Republican-led predicament. "Make no mistake: The United States will always stand with Israel, our greatest ally in the Middle East," Rep. Steve Scalise of Louisiana tweeted out Saturday. And Sunday on Fox News, Rep. Jim Jordan of Ohio pledged that his first priority as speaker would be to help Israel. Both Scalise and Jordan are further right than McCarthy, and Jordan—the biggest chaos agent of the trio—has won the backing of former President Donald Trump.
House Republican infighting has ground the lower chamber to a halt due to the absence of a speaker. But now, instead of the House caucus simply making a binary choice between Jordan and Scalise for a new speaker, McCarthy is back in the mix. Nothing but further delay and pandemonium can come of that.
In the meantime, American priorities at home and allies around the globe will suffer the consequences.
Reprinted with permission from Daily Kos