Bernie Sanders' Crusade For Free College Gains Momentum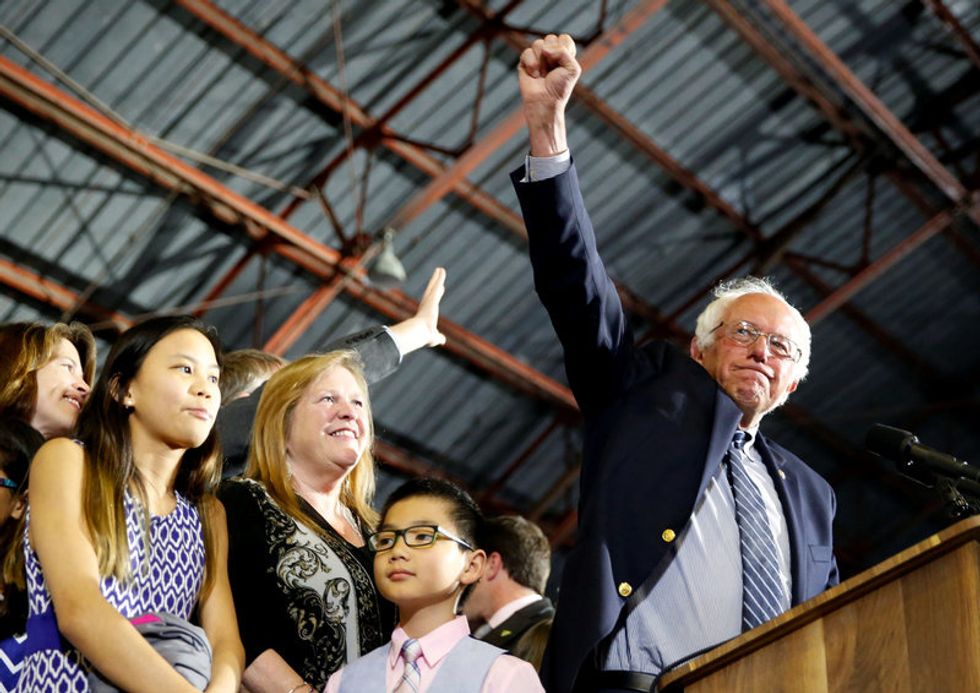 Reprinted with permission from Alternet.
New York students can now attend four-year state public colleges tuition-free if their families earn less than $125,000 a year, thanks to legislation signed Wednesday by Governor Andrew Cuomo. With Hillary Clinton endorsing the program in person and Bernie Sanders chiming in via Twitter, the concept not only has broad appeal, but it also has the potential to spread.
Everyone regardless of income must have the right to higher education. I congratulate @NYGovCuomo for leading the nation in that direction. https://t.co/DMm5yqIBdu

— Bernie Sanders (@SenSanders) April 12, 2017
"Here's my prediction," Sanders said in a recent speech promoting Cuomo's plan. "If New York state does it this year, mark my words, state after state will follow."
New York's Excelsior Scholarship will launch in the fall of 2017. Around 940,000 New York families will eventually be eligible, according to a website created by the governor's office to promote the plan.
Curiously enough, the site features a photo of a smiling man who is neither college-bound nor a New York resident: Bernie Sanders. With one of his most popular policy proposals from the 2016 campaign enacted in the country's third-largest state, Sanders has reason to smile.
Bill Haslam, Republican governor of Tennessee, hardly qualifies as a Bernie bro. In fact he's a wealthy, tax-cutting conservative and opponent of marriage equality. But like Cuomo, Haslam sees the benefit of making college more accessible. He is expanding his Tennessee Promise program, which has sent more than 33,000 recent high school graduates to state community college tuition-free since 2015.
When Haslam proposed in his annual State of the State address in January to expand the program to include all adults without a high school degree, he received a "thunderous standing ovation," according to the Tennessean newspaper.
A poll conducted by the Campaign for Free College Tuition found that state-level programs to make college tuition-free enjoy 69 percent support in red states and 78 percent support in blue states.
On the West Coast, a similar program, Oregon Promise, has enrolled nearly 6,800 recent high school grads and students who completed their GEDs this year. Researchers estimate that 44 percent of Oregon Promise recipients were first-generation college students.
In Rhode Island, Governor Gina Raimondo is promoting a Promise program that would help state students attend two- or four-year colleges in the state.
Kalamazoo and Detroit, Michigan, as well as Oakland, California, offer privately funded Promise programs for public high school students. Researchers found that the implementation of the Kalamazoo program correlated with a positive effect on academic performance, particularly among African-American students. Not surprisingly, the promise of free college seems to motivate students to study harder.
The New York program is far from perfect, as Think Progress and Slate have pointed out. There are strings attached to the state support, and middle-class students will probably benefit more than the poorest. But the programs are a start at restoring the promise of affordable higher education that the American middle class once enjoyed. Seventy years ago, the GI Bill gave returning World War II veterans (at least those who were white) the chance to go college at very low cost.
"The GI Bill was about opening education opportunities to help those who otherwise might not get it, and thank vets for service," said Sara Goldrick-Rab, an education policy professor at Temple University. "Now we have states contributing minority share of costs, [and] students paying most."
The New York program does not go far enough, Goldrick-Rab said in an email interview with AlterNet.
"While this movement is about lowering the prices again by restoring state support, Cuomo screws it up by suggesting that if the state educates the student they should 'own' where they live and work for years afterward. Imagine if states put such a requirement on high school!" she wrote.
Zakiya Smith, education adviser to President Obama, welcomes the popularity of Promise programs while warning that "this beautifully simple concept could be implemented in ways that would make things worse, not better, for the most vulnerable students."
And what does Education Secretary Betsy DeVos have to contribute to the debate about how to make college more affordable?
Since assuming her position in January, DeVos has not said anything about college tuition on Twitter. She hasn't mentioned it in any of her speeches posted on the department's website.
But DeVos did take time this week to quietly rescind two Education Department directives designed to protect student borrowers from predatory lenders. In a memo, she stated: "We must create a student loan servicing environment that provides the highest quality customer service and increases accountability and transparency for all borrowers, while also limiting the cost to taxpayers."
DeVos' action "could make it easier for the department to hire servicers with a track record of harming borrowers," Persis Yu, director of the National Consumer Law Center's Student Loan Borrower Assistance Project, told Inside Higher Ed. Yu said the government's lawsuit against Navient, the nation's second-largest student loan servicer, demonstrated that problems with servicers are widespread and can create obstacles to repayment that become costly for borrowers.
Which would make college less affordable. Bernie Sanders has a better idea—and a more popular one, too.
This article was made possible by the readers and supporters of AlterNet.