Bernie Sanders On Gun Control: Certainly Not Liberal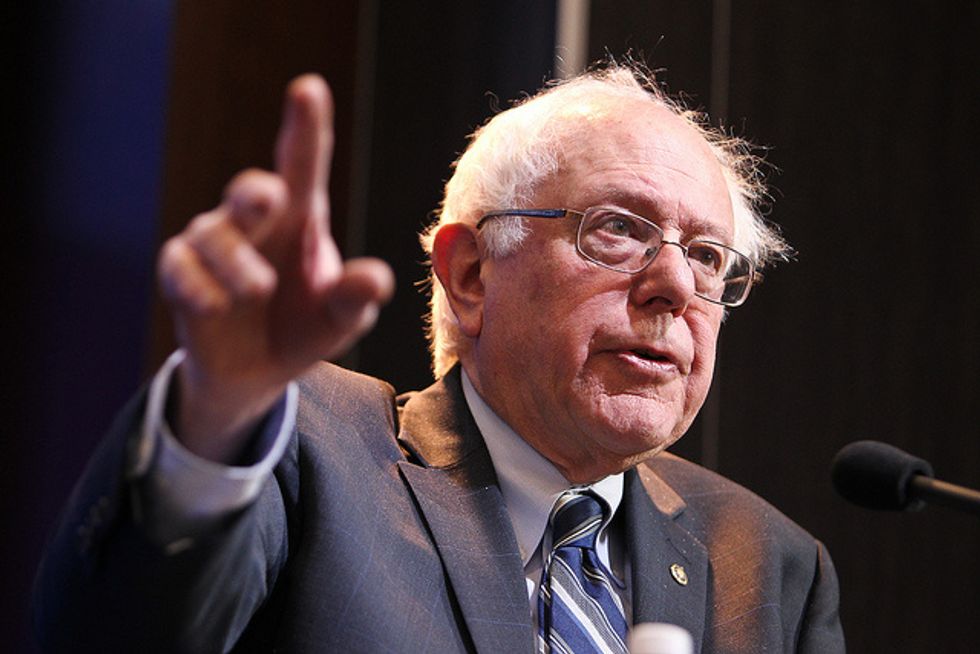 Bernie Sanders, Democratic presidential candidate and Independent senator from Vermont, is considered the liberal savior of the 2016 political race. But there's one issue on which he deviates from the progressive line: guns.
Vermont is a rural state with a population of 626,000, the second smallest in the nation. Despite its liberal veneer, the Green Mountain State has a culture of hunting and an independent mindset in line with western frontier states like Wyoming. Born in Brooklyn, Sanders has been an established Vermonter for over four decades, and he's a popular, proven politician in his adopted state. He spent four terms in the 1980s as the mayor of Burlington, the state's most populous city, before entering Congress, serving in the House beginning in 1991 and then in the Senate in 2007.
Guns aren't at the top of Sanders' list of issues — he prefers to focus on economic initiatives and development. During his tenure as mayor of Burlington, he revitalized the city, turning it into the socially conscious, business-friendly mecca it is today, where the lefty ice cream empire Ben & Jerry's got its start and Seventh Generation, which sells eco-friendly household products, is headquartered.
Given his progressive résumé, his voting record on guns can seem… odd, at least to liberals. Politico called it "erratic," while the Washington Post preferred to use the word "moderate." He's voted both against measures to restrict guns — notably in 1993, against the landmark Brady Bill, which required a waiting period so that a background check could be performed — and then for them, like in 2013, after the Sandy Hook tragedy, when he voted for expanded background checks and a ban on assault weapons. Yet even in his support, he was lukewarm, telling the Vermont alt weekly Seven Days, "If you passed the strongest gun control legislation tomorrow, I don't think it will have a profound effect on the tragedies we have seen."
Other gun legislation he's voted for? The list includes bills that allow Amtrak riders to carry guns in their checked luggage, shield gun manufacturers from lawsuits by victims of gun violence, and make it okay to bring a loaded gun into a national park.
There's even some speculation as to whether, in his first statewide race in 1990, he won because of the gun lobby. The incumbent he defeated supported a ban on assault weapons, reversing his original stance. The National Rifle Association (NRA) worked to defeat Sanders' opponent, but that didn't mean they supported him. Sanders hasn't taken any money from the NRA or other gun-rights groups, either then or since, according to the Center for Responsive Politics and the Brady Campaign to Prevent Gun Violence.
But he's generally not too eager to speak on the issue, which is sure to be a sticking point in the 2016 campaign. Given his record, he will likely get rather combative or shut down the discussion entirely.
"He doesn't have a gun," said his close friend Richard Sugarman, a religion professor at the University of Vermont, to National Journal. "He doesn't really care about guns. But he cares that other people care about guns. He thinks there's an elitism in the anti-gun movement."
Ed Cutler, the president of the Gun Owners of Vermont, affirmed that stance. He told the Washington Post that while Sanders has never been very interested in the issue, his attitudes reflect his state.
One thing Sanders has said: Since gun cultures vary tremendously by state, decisions should be made on a state and local level.
Sanders is not the only Vermont liberal to be a staunch Second Amendment supporter. Former governor Howard Dean was endorsed by the NRA more than once, a fact he highlighted when he was in the national spotlight in the early 2000s.
"With this is mind, Sanders is simply in line with his home state's political norms. His position may not be expected given his reputation in D.C., but in Vermont, it'd be odd if Sanders didn't oppose many gun reforms," explained Steve Benen from The Rachel Maddow Show. 
Oddly enough, Cutler believes that despite everything, Vermonters generally consider him anti-gun. As does the NRA, which gave Sanders an F rating, indicating that the organization believes he doesn't support gun rights nearly enough.
Photo: Democratic presidential candidate and Vermont senator Bernie Sanders, speaking on economic issues earlier this year. Economic policy is what he's built his career on, and what his focus will be as a candidate for president. On gun control, now a hot topic, he has less of an ideological worldview compared to other issues. Brookings Institution via Flickr