5 Best Anti-Trump Statements At The Oscars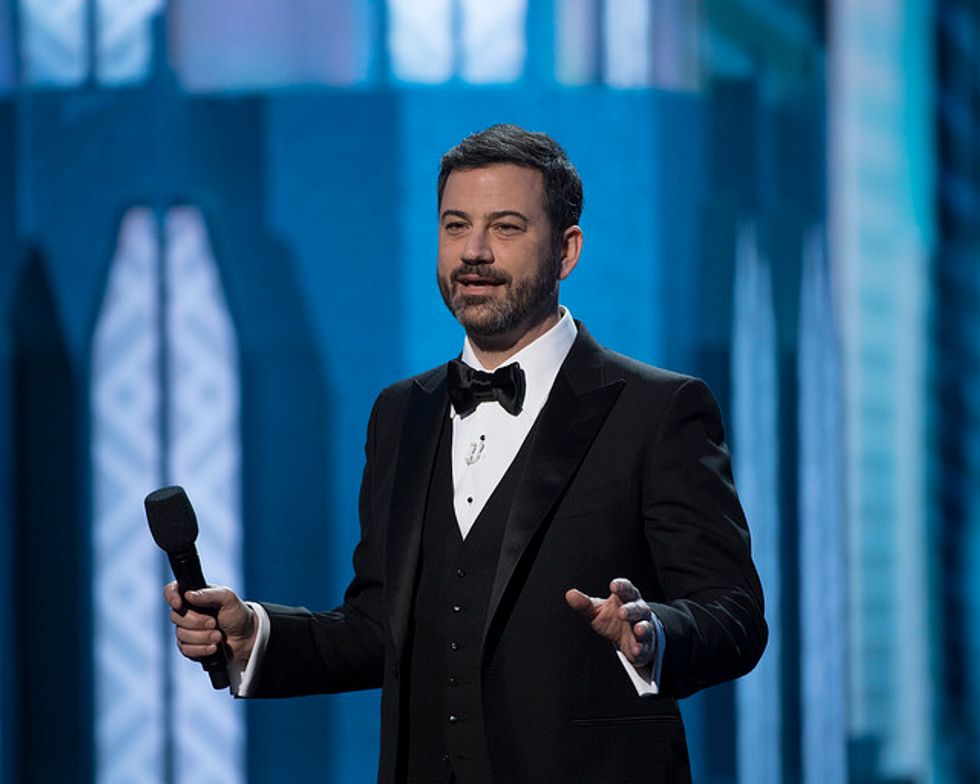 Reprinted with permission fromAlterNet.
President Trump's ongoing feud with the media was on full display at the 89th annual Academy Awards, where stars and presenters shared spirited reflections on the new administration's first month.
Here were the top 5 jabs:
Jimmy Kimmel
"I don't have to tell everybody the country is divided right now," the host remarked before offering an offhanded thank you to the sitting president. "Remember last year, when it seemed like the Oscars were racist?," he said, a dig at 2016's "Oscars So White."
"That's gone, thanks to him."
Kimmel also slammed Tump's tweeting and immigration ban as part of his shtick.
"Some of you get to come on this stage and make a speech that the President of the United States will tweet about in all caps during his 5 am bowel movement," Kimmel said, adding he was glad that "Homeland Security let  [French actress Isabelle Huppert] in tonight."
Kimmel also pointed out "overrated" Meryl Streep in the audience; a label that drew ire and confusion when Trump described the actress as such following her controversial Golden Globes speech.
"Nice dress, by the way," Kimmel told the actress."Is that an Ivanka?"
It was a clear nod to companies like Nordstrom dropping the first daughter's line this month.
Ashar Farhadi
The Iranian director received Best Foreign Picture for his film "The Salesman," but instead of attending the high-profile event, Farhadi issued a statement reflecting on President Trump's travel ban, which included his home country.
"My absence is out of respect for the people of my country and those of the other six nations whom have been disrespected by the inhumane law that bans entry of immigrants to the U.S," his statement read. "Dividing the world into the 'us' and 'our enemies' categories creates fear—a deceitful justification for aggression and war."
Gael García Bernal
The "Mozart in the Jungle" star from Mexico presented the award for Best Animated Feature Film and slammed Trump's border wall plan in the process.
"Flesh and blood actors are migrant workers. We travel all over the world, we build families, we construct stories, and we build life that cannot be divided," García Bernal said. "As a Mexican, as a Latin American, as a migrant worker, as a human being, I'm against any form of wall that wants to separate us."
Cheryl Boone Isaacs
The President of the Academy of Motion Picture Arts and Sciences celebrated the Oscar winners by hinting at Trump's ban on immigration from seven Muslim-majority countries.
"Tonight is proof that art has no borders, art has no single language, and art does not belong to a single faith. The power of art is that it transcends these things," Issacs said.
Viola Davis
Davis is now the first African-American to win an Oscar, an Emmy (in 2015, for How to Get Away with Murder), and a Tony (Fences in 2010 and King Hedley II in 2001). In her Golden Globes speech, the Fences star took a more subtle approach upon receiving her award for best supporting actress.
"People ask me all the time: 'What kind of stories do you want to tell, Viola?'" she said. "And I say, exhume those bodies, exhume those stories. The stories of the people who dreamed big and never saw those dreams to fruition, people who fell in love and lost. I became an artist — and thank God I did — because we are the only profession that celebrates what it means to live a life," she explained.
Alexandra Rosenmann is an AlterNet associate editor. Follow her @alexpreditor.
IMAGE: The 89th Oscars broadcasts live on the ABC Television Network. ABC/Eddy Chen via Flickr.