Best Way To See The Bluegrass? Go On Foot Or By Bike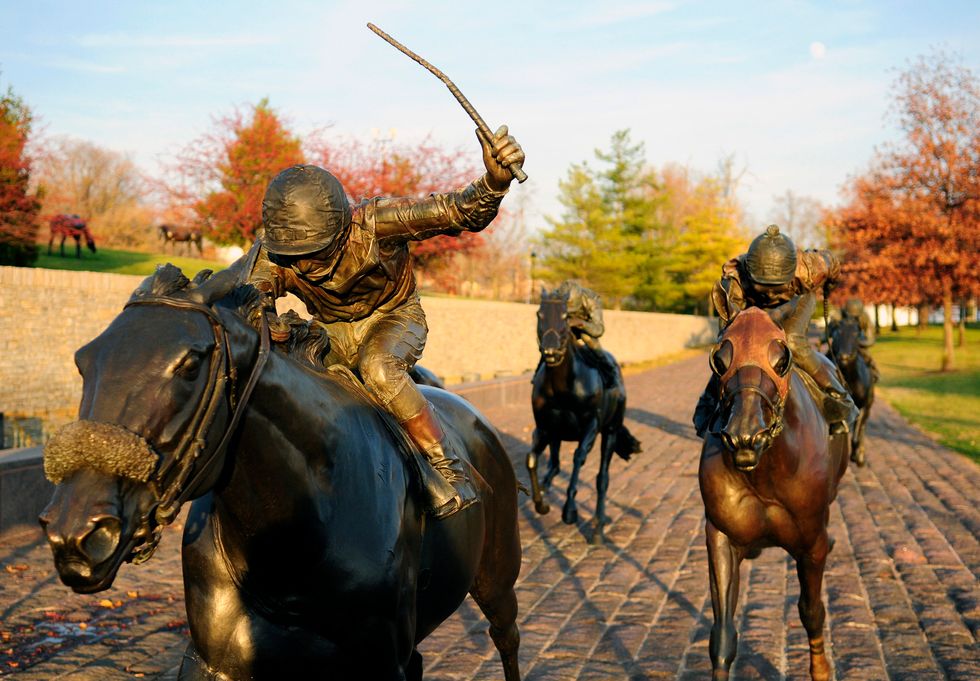 By Tom Eblen, Lexington Herald-Leader (TNS)
LEXINGTON, Ky. — Scenic drives have long been a local pastime in the Lexington area, but the best way to experience the beauty of the Bluegrass region is either on two feet or two wheels.
Drive by too fast and you miss the architectural detail of an old house or the craftsmanship of a dry-laid stone fence, either of which may be 200 years old. From a car window, you can't fully appreciate a giant burr oak or blue ash tree, which may be 400 years old. And you certainly can't hear the birds in the branches.
Several downtown walking tour maps and guides are available at the Lexington visitors' center, 401 W. Main Street. Some also are online at Visitlex.com, or the Blue Grass Trust for Historic Preservation's website, Bluegrasstrust.org. These include neighborhood guides to historic homes and the African American Heritage Trail.
Another option: Download the free LexWalk iPhone app, which has a 19-location tour with full multimedia.
Even without a map, app or agenda, Lexington's downtown and the surrounding neighborhoods are easy, pleasant places to walk, thanks to a wise decision decades ago to run Interstates 75 and 64 around the city rather than through it.
The Gratz Park Historic District, two blocks north of Main Street between Broadway and Limestone, is one of my favorite places to walk. There you will find beautiful buildings that have sheltered some of Lexington's most prominent citizens, including first lady Mary Todd Lincoln, educator Horace Holley, artist Victor Hammer and horseman John Gaines.
Don't miss the recently restored fountain that writer James Lane Allen left to the "children of Lexington" when he died in 1925. It is in the park across Third Street from the campus of Transylvania University, the oldest college west of the Allegheny Mountains.
If you have time for a tour, stop by the Hunt-Morgan House. It was built in 1814 by millionaire businessman John Wesley Hunt and was the birthplace of his great-grandson, Thomas Hunt Morgan, the father of genetics and the first Kentuckian to win a Nobel Prize (for medicine, 1933). Hunt's grandson, Confederate Gen. John Hunt Morgan, visited but never lived in the house.
From there, head west on Short, Second or Third streets and admire the eclectic mix of 1800s houses. When you reach Jefferson Street, you will find plenty of places to take a break: It is one of Lexington's hottest new restaurant districts.
Triangle Park on the west end of downtown is another good place to relax. On the east end of town, don't miss Thoroughbred Park, with Gwen Reardon's life-size bronze sculptures of a horse race. It may be Lexington's most-photographed place.
Downtown north of Main Street is surprisingly easy to bicycle around, despite one-way street patterns that can seem baffling.
With a bicycle, you also can cruise around the scenic Northside neighborhood up to West Sixth Brewery at the end of Jefferson Street, or up North Limestone Street to the edgier, up-and-coming NoLi district of shops, restaurants and bars.
If you prefer a walk in the country, drive out to Raven Run Nature Sanctuary, 3885 Raven Run Way near the end of Jack's Creek Pike. This 734-acre city park along the Kentucky River Palisades has some great hiking trails.
For rural bike rides, the Legacy Trail between downtown and the Kentucky Horse Park is a good place to start. More information: Mylegacytrail.com.
For experienced cyclists, rural Fayette and surrounding counties can be a road biker's paradise, if you know where to go. Lexington's hub-and-spoke road system can make the spokes dangerous places to ride. But between the spokes are many beautiful, lightly traveled country roads.
Many tried-and-true routes are available on popular cycling apps such as Ridewithgps.com and Mapmyride.com. If you want company, visitors are welcome at Bluegrass Cycling Club rides, which are scheduled frequently with a variety of speeds and distances. See the ride calendar at: Bgcycling.org.
(c)2015 Lexington Herald-Leader (Lexington, Ky.) Distributed by Tribune Content Agency, LLC.
Gwen Reardon's bronze statue group of a horse race in Thoroughbred Park is one of the most photographed places in Lexington. (Tom Eblen/Lexington Herald-Leader/TNS)