Is​ The New York Times​ Doing To Biden What It Did To Hillary In 2016?
@LucianKTruscott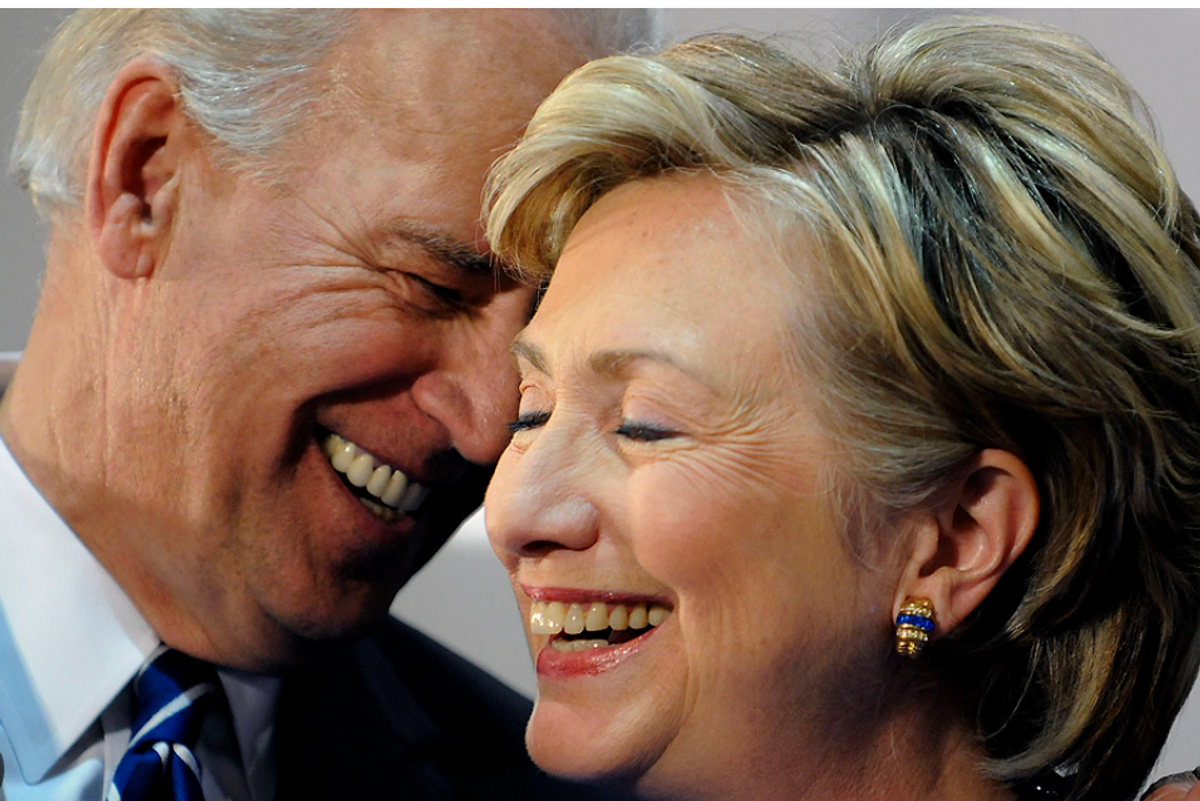 Let's begin with the New York Times/Siena poll, out just a few days ago. "The results show Mr. Biden losing to Mr. Trump, his likeliest Republican rival, by margins of four to 10 percentage points among registered voters in Arizona, Georgia, Michigan, Nevada and Pennsylvania. Mr. Biden is ahead only in Wisconsin, by two percentage points, the poll found. Across the six battlegrounds — all of which Mr. Biden carried in 2020 — the president trails by an average of 48 to 44 percent."
Boy does that sound bad. Newspaper and cable news chryons have blared the ugly numbers for Democrats ever since the Times headlined the grim news. Who would blame them? News outlets love, and I mean just L-O-V-E bad news, and it doesn't really matter what it is. The Maui fires in early August. Ninety-nine people died in Lahaina alone. The news showed photos of the burned-out little seaside town for days.
Newspapers and cable news love covering wars. They steadily covered Ukraine's war against Russian invaders until Hamas terrorists attacked villages and Kibbutzim in southern Israel on October 7. You couldn't avert your eyes from the images of the dead and destroyed homes in Israel if you wanted to. Just picking up your phone took you there. The news stayed on the Hamas slaughter for a week or so, especially as cable news could continue to show Hamas rockets being intercepted by Iron Dome missiles over southern Israel. Cable news reporters wore helmets and bulletproof vests for the first few days, then their helmets came off, followed by their flak vests as Hamas rocket barrages grew fewer in number.
And just like that, as if a switch was thrown somewhere, the news began showing scenes of Gaza from a distance with explosion after explosion from Israeli air attacks visible at night. Then as if another switch was flipped, they showed images within Gaza of the destruction wrought by Israeli missiles – blown up houses, civilians and ambulance workers carrying victims through the rubble.
Then the coverage included New York City and college campuses where demonstrations against Israel's response to the Hamas slaughter had hit the streets. The carnage of October 7 had begun to take a back seat to the plight of the Palestinians. You started to hear demonstrators interviewed who called Israel an "apartheid state." You heard demonstrators calling out a long-time Palestinian slogan, "From the river to the sea, Palestine will be free."
On October 18, Israel was charged – incorrectly it turned out – with bombing the Al-Ahli hospital in Gaza City. Headlines screamed for days that 500 had been killed in the alleged Israeli strike. By the 18th, it was being reported that 5,000 Gazan civilians had died in Israeli bombing. On October 31, Israel hit a neighborhood in the Jabalia Refugee Camp just north of Gaza City, killing one of the Hamas commanders who was in charge of the Hamas slaughter of Israelis on October 7. First, it was reported that dozens of Palestinian civilians had been killed, then it was hundreds. By November 1, the news was almost entirely about the damage done in Gaza by Israeli bombing, and reports from the region said that at least 8,000 civilians had been killed in Gaza.
This bad news about the war filled television screens every night. The numbers of civilian dead were increasing, and the numbers were ending up in Biden's lap. He was pushing for a humanitarian pause, but with Netanyahu in the way, it wasn't happening. All you saw every night was more civilian dead in Gaza and world opinion beginning to turn against Israel. But Biden's support of Israel's right to defend itself stayed strong.
And right in the middle of all this, the New York Times decides that now would be a good time to poll Americans about what they think about Joe Biden, who is connected at the hip to Israel and the savage war people are seeing on TV every night, and Donald Trump, who has nothing to do with it. Polls are going to be taken throughout the next 12 months, and support for Biden and Trump will go up and down, but the two weeks between October 22 and November 3, when the poll was taken, was a terrible time to take a poll.
While college demonstrations were occurring all over the U.S. against the Israel-Hamas war, the Times/Siena poll was discovering, to everyone's astonishment, that "Voters under 30 favor Mr. Biden by only a single percentage point." This came after several polls over the summer showed that young voters were for Biden over Trump by twenty or more points. What explains that incredible drop in Biden's support among young people? One thing, and one thing only: the Israel-Hamas war and the incredible carnage it has yielded. Biden was standing by Israel as the news showed scenes of death and destruction in Gaza every single night as the civilian body count went steadily up.
The Times/Siena poll was full of more bad news for Biden: 54 percent of Biden's own voters thought he is "too old to be an effective president," while only 19 percent of Trump's voters found him too old. The poll pointed out that Biden is only four years older than Trump, but no matter, the damage was done. With right-wing media and liberal media, too, talking about Biden's age every day, what did they expect? The way the age question was worded, it reflected Republicans' slavish devotion to Trump no matter what, especially on the age issue. Other poll questions will be challenged in coming days, and it does not reflect a turn of the Times against Biden, but rather sloppy wording of poll questions. The same thing was true of polling in 2016, when polls were so wrong about who would win that election.
Donald Trump was busy with his legal trials and tribulations, which everyone, including the New York Times, has seen don't affect his polling among Republicans, or make his numbers go up. Has he been asked even a single question about where he stands on Israel's war against Hamas? I can't think of a direct question he has answered one way or another. Wait a minute. He called Hezbollah "brilliant" at one point, but that stupid remark quickly dropped into the media memory hole.
Gone was the news about the 1,400 Israeli dead on October 7, and the fact that Hamas took 240 hostages. Gone were the scenes of Israeli dead lined up outside destroyed homes in southern Israel. Gone, in fact, was the world's outrage at the Hamas attack. The world was on Israel's side, it seemed, only a few days, before support for Israel was replaced with outrage at the killing of Palestinian civilians as Israel tried to kill the Hamas terrorists responsible for the attack on October 7.
The numbers, taken by themselves, look terrible for Israel. The news yesterday was that 10,000 civilians had been killed by Israeli bombs in Gaza. Put up against the 1,400 Israelis killed in cold blood by Hamas terrorists, 10,000 seems lopsided in the extreme. But the 10,000 figure comes from Hamas-controlled Gaza hospitals, is suspected to be inflated, and we will probably never get an accurate figure.
I think the Times/Siena poll is the first time we are seeing the effect of the war on Biden's support in this country.
Remember the way the New York Times covered the election in 2016? If Hillary Clinton got a hangnail, it was because she caught it on her "emails" Donald Trump was screaming about at every one of his rallies, which the Times was dutifully covering as front-page news. By election day, the Times still had not used the word "lie" even once to describe the daily spew that shot out of him as if from a firehose. Whole stories would be written in 2017 about the agonizing that went on inside the Times and the Washington Post and other news outlets about whether to call Trump's false utterances lies. When they got around to counting his lies, they quickly surged into the thousands, where they are today, and still going up.
Joe Biden is going to have to live with the wars in Israel and Ukraine. They happened on his watch. But some context is needed. The context that every time Donald Trump opened his mouth in 2016, he was lying about Hillary Clinton and her emails, was missing from the Times coverage of that election. And the context of what is happening right now in Israel and Gaza was missing from the Times/Siena poll as it was taken during the last two weeks of October.
Could the ongoing bad news about the war between Israel and Hamas have anything to do with what people are thinking about Biden, who has a direct connection to the war with his support of Israel, or about Trump, who doesn't? WTF is this? 2016 Redux at the New York Times?
Lucian K. Truscott IV, a graduate of West Point, has had a 50-year career as a journalist, novelist, and screenwriter. He has covered Watergate, the Stonewall riots, and wars in Lebanon, Iraq, and Afghanistan. He is also the author of five bestselling novels. You can subscribe to his daily columns at luciantruscott.substack.com and follow him on Twitter @LucianKTruscott and on Facebook at Lucian K. Truscott IV.
Please consider subscribing to Lucian Truscott Newsletter, from which this is reprinted with permission.