Americans May Not Approve Of Biden -- But They Despise Trump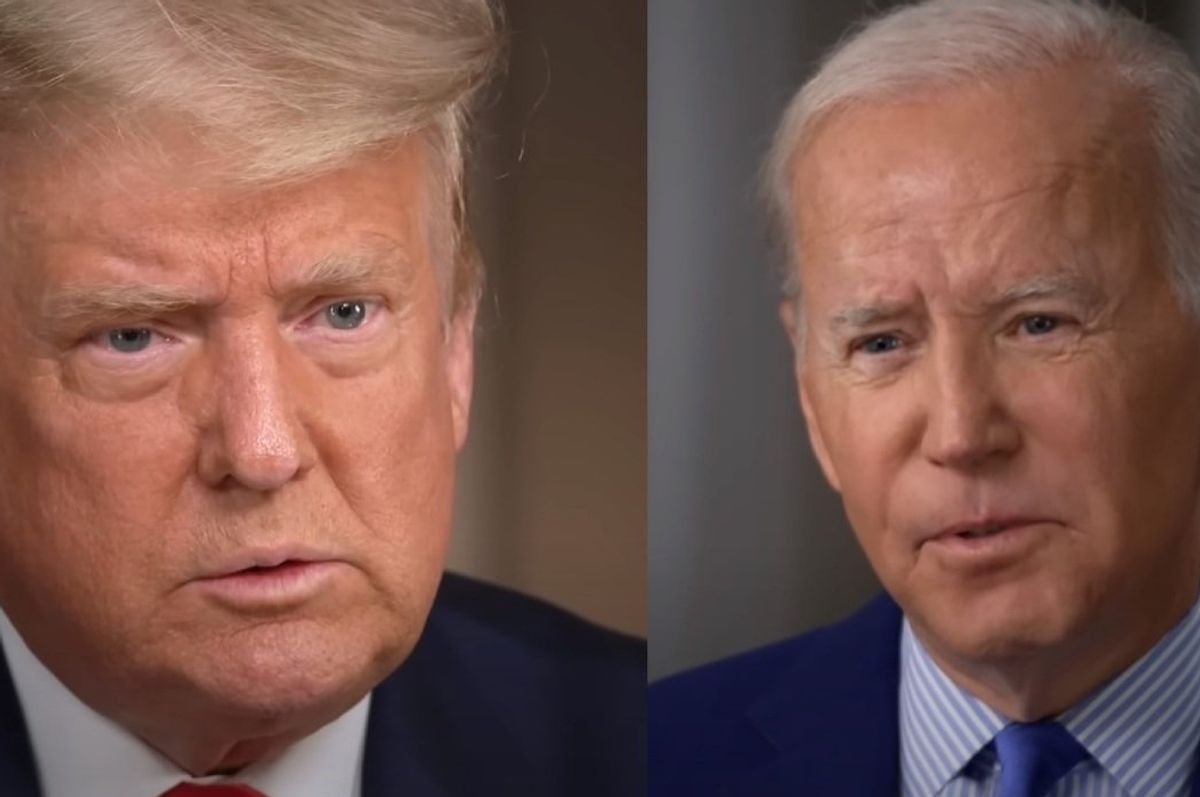 To hear pundits tell it, the 2024 presidential contest is shaping up like an Alabama vs. Texas football game. That is, one in which most people wish both teams could lose. (Substitute your own two least favorite teams if you like.) Right now people tell pollsters they dislike both putative nominees—Donald Trump and Joe Biden—in equal numbers.
According to polling averages compiled by Real Clear Politics, both candidates hover around 40 percent positive and 55 percent negative, with Trump a couple of points worse.
A few caveats: First, polls mean little so early in the election cycle. Most voters aren't paying attention. Second, no politician in the RCP averages polls positively, reflecting public grumpiness more than anything else. Most aren't even close. Senate Majority Leader Mitch McConnell, for example, clocks in at 20 percent positive.
Third, and maybe most important, polls tell us very little about the intensity with which certain figures are disfavored. Trump, for example, is feared and detested by many Americans, while Biden is merely disliked by all but fervent partisans.
That said, the president's approval rating among Democrats in the most recent Quinnipiac poll stood at 84 percent. It's the fence-sitters he'd have to win over.
You know, people who keep saying they want bipartisanship and compromise, but are perennially disappointed when they get it.
The "meh" vote normally favors the incumbent.
I was moved to these observations by colloquy between New York Times podcaster Ezra Klein and former Barack Obama speechwriter Jon Favreau. Based upon their own experience of life, does anybody think Joe Biden will be up to the rigors of the presidency when he's 86, the age he'd be during the last year of his second term?
Klein reports a recent Times focus group in which not a single participant raised a hand to indicate that they thought so.
Favreau countered by pointing out that at age 80, Biden "is still doing multiple events per day. He goes on these foreign trips, and he's up at all hours. He did that surprise trip to Ukraine where he's on the train for many hours, and he's barely sleeping."
He tells a story about a recent White House visit where the president recognized his family (Favreau's father-in-law was an Obama-appointed federal judge), took them up to the Oval Office, and regaled them with jokes and stories for more than an hour.
"He was incredibly kind, gracious with his time, very sharp…remembered everything," Favreau said.
Did some of Biden's stories run long? Apparently so. "I think this gets to the age thing" Favreau said. "He's always been like that. When he was vice president back in 2009, '10, when I first got to the White House, he was telling long, long stories, right? The stutter that he deals with has always been there. His tendency to gaffe [sic] has always been there…I came away thinking, the guy's still pretty sharp."
The president is visibly older. "But as far as mental acuity," he added, I did not see any reason for concern."
Indeed, observing a couple of Republican acquaintances carrying on recently about Biden's imagined dementia, I was reminded of the only funny bar fight I ever saw: on Staten Island back in the day between a college friend who'd been 197 lb. wrestling champion of Pennsylvania and a local greaser who kept yelling threats about what he was going to do after the grappler turned him loose. Which he did, with prejudice, on the hood of a car. The threats ended there. Nobody got seriously hurt.
Just so Joe Biden, who after depositing GOP Speaker Kevin McCarthy on the hood of a metaphorical car during recent budget negotiations, praised him as a worthy and patriotic adversary, rendering him more or less speechless.
Historically, Ezra Klein points out, it's not unusual for presidents to have high negatives during their first term. Both Presidents Reagan and Obama hovered in the forties, but won re-election handily. Klein wryly recalls how pundits kept insisting that Obama "should drop the dead weight of Joe Biden and bring the political juggernaut of Hillary Clinton in as his vice president."
In practical terms, Favreau recommends a kind of rope-a-dope strategy in which Biden does what he's started doing: appearing before friendly audiences touting his legislative accomplishments—the infrastructure deal, the CHIPS Act, the Violence Against Women Act—and reminds them of all the terribly unpopular things Republicans have in mind: regulating childbirth, interfering in personal medical decisions, censoring schoolbooks and jailing librarians, the whole right-wing authoritarian playbook.
The bottom line, Favreau thinks, is making people feel that the president's on their side. "You don't have to like Joe Biden to vote for him. He doesn't have to be your dream presidential candidate. But he's a tool against letting Trump and Republicans like Trump back into power, and that that's fundamentally the choice."
And that should be good enough.
Gene Lyons is a National Magazine Award winner and co-author of The Hunting of the President.