Biden Becomes First Sitting President To Visit Union Picket Line (VIDEO)
@LauraClawson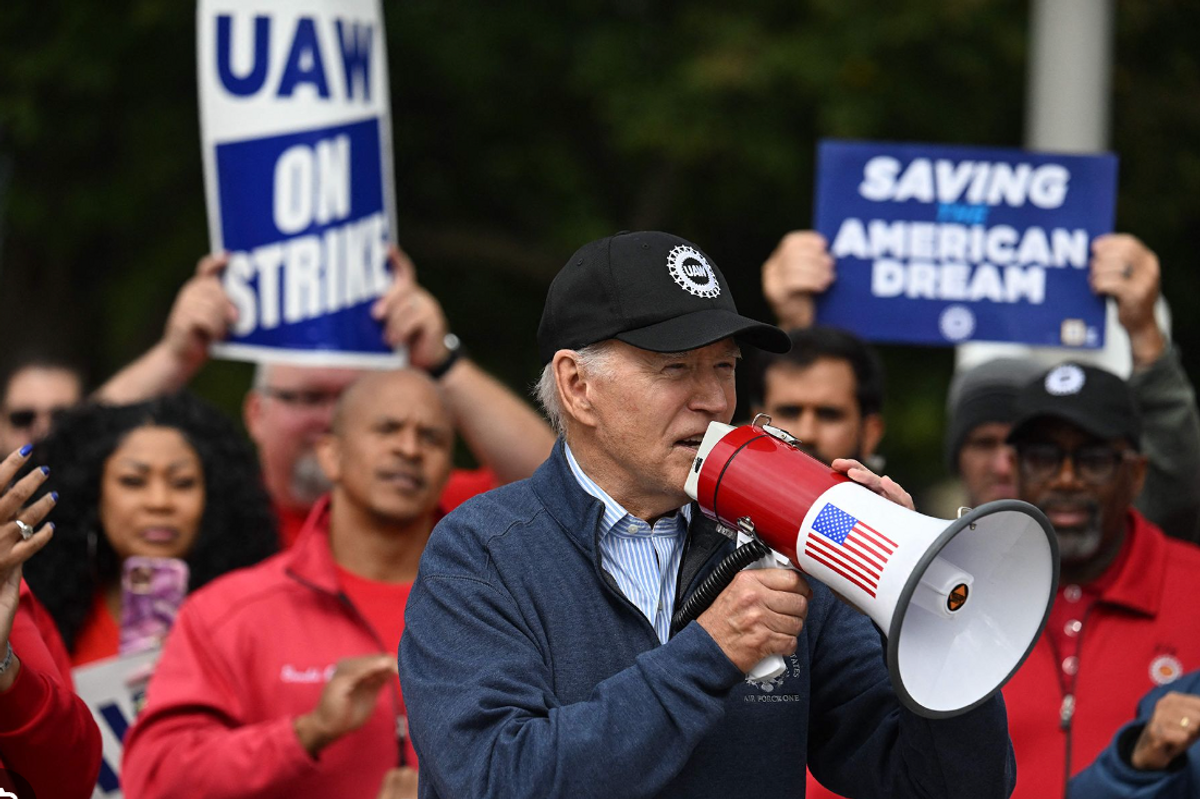 Joe Biden
When President Joe Biden arrived at a Michigan picket line Tuesday, it was the first time a sitting U.S. president is known to have done so, historians say . Biden made the trip at the invitation of United Auto Workers President Shawn Fain, who accompanied him as he spoke to striking workers.
"You guys, UAW, you saved the automobile industry back in 2008 and before. You made a lot of sacrifices, gave a lot when the companies were in trouble, and now they're doing incredibly well. And guess what, you should be doing incredibly well too," Biden said , who was at times drowned out by applause. "You deserve a significant raise you need, and other benefits. Let's get back what we lost, okay? We saved them, it's about time for them to step up for us."
Biden's visit to Michigan came a day ahead of a Donald Trump speech that was initially billed as outreach to union workers but is being held at a nonunion auto parts manufacturer . Trump is trying to play the populist and the stronger job-creator, but it rings false on both fronts:
While the UAW has not yet endorsed Biden for reelection, Fain strongly rebuffed Trump's efforts to portray himself as an ally of union workers.
"Every fiber of our union is being poured into fighting the billionaire class and an economy that enriches people like Donald Trump at the expense of workers," Fain said in a statement shared with news organizations when Trump announced his Michigan speech. "We can't keep electing billionaires and millionaires that don't have any understanding what it is like to live paycheck to paycheck and struggle to get by and expecting them to solve the problems of the working class."
During Trump's time in the White House, his record was one of hostility to workers and unions, even as he occasionally claimed to be on the side of workers for political advantage. Trump's administration, the Economic Policy Institute summarized , "rolled back worker protections, proposed budgets that slash funding for agencies that safeguard workers' rights, wages, and safety, and consistently attacked workers' ability to organize and collectively bargain."
Reprinted with permission from Daily Kos .