Big Loopholes In Florida Governor's 'Blind Trust'
@FAWFULFAN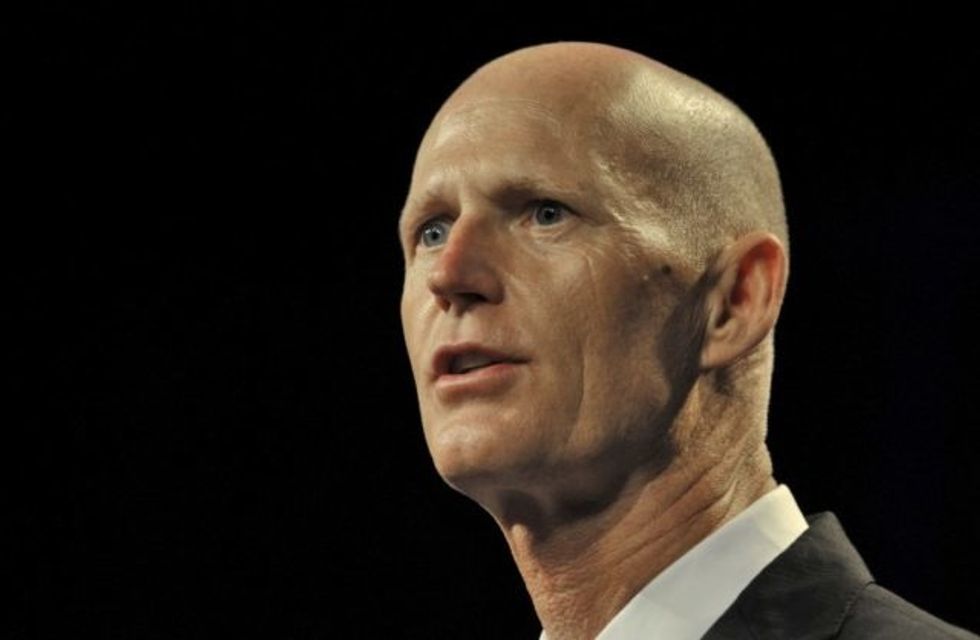 Reprinted with permission from AlterNet.
As reporters have uncovered a steady stream of ethically questionable investment holdings by Florida governor and GOP Senate candidate Rick Scott that appear to have been affected by decisions made by the state government, he has stuck to a singular refrain: there is no conflict of interest because his investments are in a "blind trust."
The New York Times, however, points out that Scott's "blind trust" is in fact full of loopholes that would, if he wanted, have allowed him to be aware of his holdings:
To shield himself from future conflict charges, Mr. Scott, who is now running to unseat the incumbent senator Bill Nelson, created a $73.8 million investment account that he called a blind trust. But an examination of Mr. Scott's finances shows that his trust has been blind in name only. There have been numerous ways for him to have knowledge about his holdings: Among other things, he transferred many assets to his wife and neither "blinded" nor disclosed them. And their investments have included corporations, partnerships and funds that stood to benefit from his administration's actions.

Only in late July, when compelled by ethics rules for Senate candidates, did Mr. Scott disclose his wife's holdings. That report revealed that his wife, Ann Scott, an interior decorator by trade, controlled accounts that might exceed the value of her husband's. Their equity investments largely mirrored each other, meaning that Mr. Scott could, if he wanted, track his own holdings by following his wife's.

 
Among the suspect assets owned by Scott and his wife include $3 million in a credit fund for an investment group that owns All Aboard Florida, a private rail company that Scott supported as governor while rejecting a federal high-speed rail project along the same corridor. He also has holdings in Gilead Sciences, a pharmaceutical manufacturer that overcharged Florida Medicaid for drugs to treat hepatitis C, although state health officials deny that they or Scott had any role in forcing doctors to prescribe Gilead's products to beneficiaries.
Scott's financial arrangement has been considered suspect for months. He is also facing a lawsuit that alleges his trust does not comply with financial disclosure laws.
The Times further notes that, with assets between himself and his wife estimated to be worth anywhere from $254-510 million, should he win, "Mr. Scott could well become the richest member of the next Congress. His broad menu of investments might regularly present conflicts that require recusal. He has declined to say whether he would use a blind trust in the Senate, where the rules controlling them are far more stringent."
The Florida Senate race is one of the most competitive in the country, and early voting has begun with three weeks left until Election Day.
Matthew Chapman is a video game designer, science fiction author, and political reporter from Austin, TX. Follow him on Twitter @fawfulfan.