Big Oil Lobbyist Jack Gerard Lies About Industry Not Getting Subsidies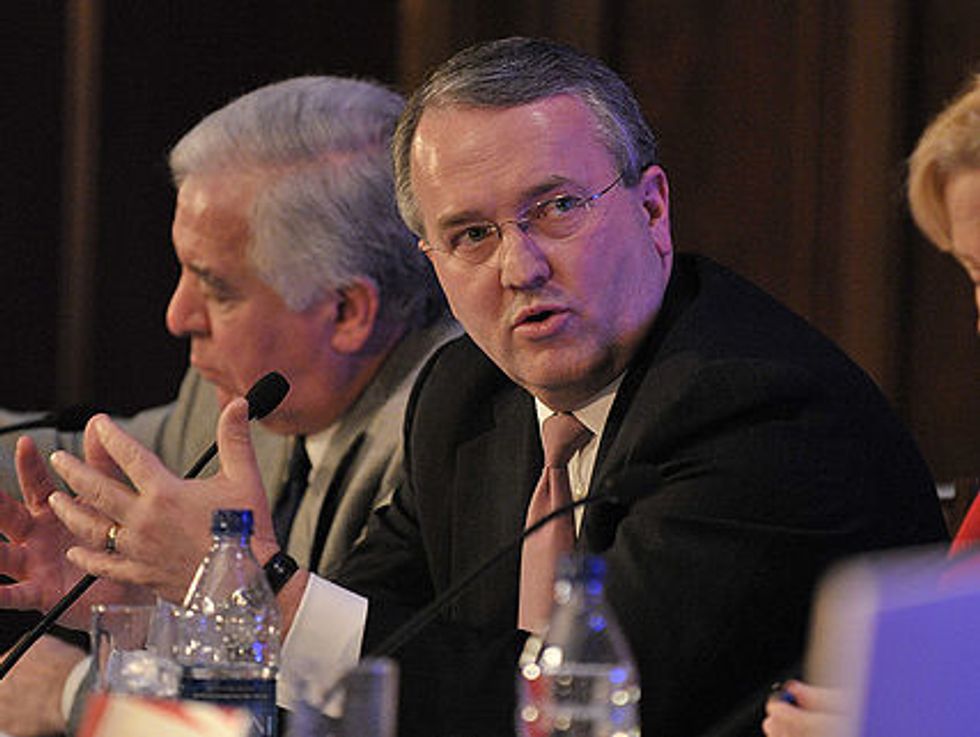 Just when you think you've heard it all from the fossil fuel industry, along comes American Petroleum Institute (API) chief executive Jack Gerard actually claiming on Tuesday that "the oil and gas industry gets no subsidies, zero, nothing."
Gerard went on to argue that "we get cost-recovery benefits, much like other industries. You can go down the road of allowing economic activity, generating hundreds of billions to the government, or you can take the alternative route by trying to extract new revenue from industry by increasing their cost to do business. We not only pay our fair share, we pay more than our fair share."
President Obama has proposed eliminating the $4 billion a year in subsidies and tax breaks to an industry that exceeded $100 billion in profits last year. These tax breaks for the oil and gas industry go all the way back to the 1920s and many argue should not be given to such a mature industry, and instead should be redirected to clean energy technologies of the future.
In addition to the $4 billion annual tax breaks, ThinkProgress reports that ExxonMobil, Chevron, and ConocoPhillips pay well below the corporate tax rate of 35 percent, with ExxonMobil paying only a 13 percent tax rate in 2011.
Washington, D.C.-based API is the the largest U.S. trade association for the oil and gas industry and claims to represent 400 companies. API spent $8.6 million on lobbying in 2011 and in last year's election cycle spent heavily on funding groups running political ads against Democrats and in support of Republicans.
Gerard, who is close to fellow Mormon Mitt Romney and would have wielded enormous influence in a Romney administration, epitomizes the Republican "drill, baby, drill" attitude that ignores the environmental, public health and climate consequences of pumping all that carbon into the atmosphere. With his latest comments, he is ignoring America's long history of subsidizing Big Oil.
While Gerard, whose salary was $6.4 million in 2010, disengenously states that Big Oil doesn't receive subsidies, API actually ran ads two years ago against the Obama administration's proposal to end tax subsidies for the oil and gas industry.
Photo credit: EnergyTomorrow via Flickr