Big Spenders Blow Big Money On Political Ads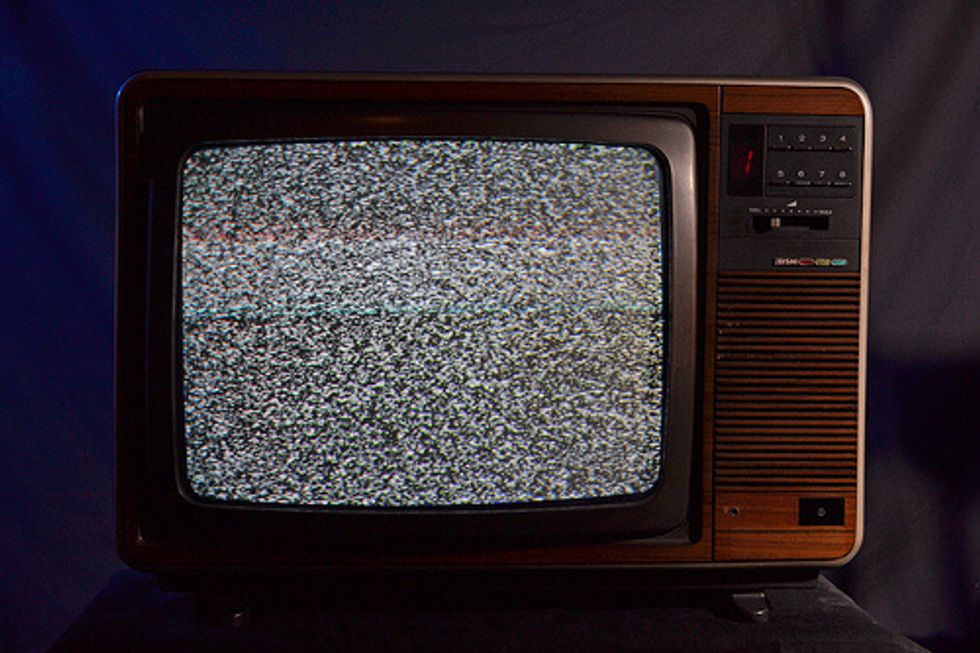 Oct. 24 (Bloomberg View) — In department-store owner John Wanamaker's famous estimation, half of all the money he spent on advertising was wasted; he just couldn't tell which half. Watching the gobs of money thrown into television's maw in the costliest midterm election in history, some political pros are beginning to wonder if the correct answer isn't "both."
"We may find out," said Republican consultant Mike Murphy. "In the cheaper states we have hit crazy overkill."
The expensive states are getting pretty goofy, too. Last week, with ample time for more spending before Election Day, the U.S. Senate race in North Carolina eclipsed the 2012 Senate race in Virginia to become the most expensive in history. In other battlegrounds, local television news programs, the traditional favorite of political advertisers, have been cutting back on news to make more room for more political ads. Time magazine reported yesterday that in Des Moines, Iowa, the NBC affiliate extended its nightly newscast by an hour to profit from the deluge, "but demand was still too great."
The Center for Responsive Politics, which tracks money in politics, projects that the 2014 midterm elections will cost almost $4 billion. Even freedom-loving Representative Michele Bachmann of Minnesota thinks that might be a tad over the top.
Fortunately, all this advertising has produced a highly knowledgeable electorate, deeply versed in complex issues and prepared to make discerning judgments at the ballot box. With some exceptions. According to an October Pew Research Center poll, fewer than half of registered voters can identify which party controls each house of Congress. (It's possible, however, that they know more about Ebola-laden terrorists at the border.)
I asked some political pros if they think that battleground states — especially those with highly competitive Senate races, such as Louisiana, New Hampshire and Georgia — are now saturated with political advertising, leaving voters incapable of absorbing any more (mostly negative) information.
Here are some responses, rendered via email except where noted.
"It depends," said Republican strategist David Winston. "If it is a new topic or idea, people will listen. If it's just a variation on a familiar theme, then less so as they have already heard it. Hearing a point the 96th time is not likely to generate a different reaction from when it was heard the 73rd time."
Democratic pollster Anna Greenberg basically agrees that the persuasion phase of the campaign is exhausted. "Unless there is some new revelation about a candidate, I think there are diminishing returns to these ads," she said. "I think the Get Out The Vote field effort is as important, if not more important, now."
Republican consultant Ed Rollins sees a battered electorate that can't take another 30-second detonation. "We are at a full saturation point and voters are tuning out the message," he said. "The more money spent, the fewer voters are paying attention." Democratic pollster Stanley Greenberg concurs. Saturation? "Already reached it," he said.
Democratic pollster Ben Tulchin says it ain't over 'til it's over. "The challenge is that very narrow slice of swing voters who don't pay that much attention and don't absorb a lot of what's been going on," Tulchin said. "So you can never do too much to win over that last wayward swing voter who doesn't follow politics like us professionals. It takes A LOT to get through to them, and lots of media to do it."
Democratic pollster Paul Maslin reckons that campaigns will surely have reached "sheer overkill at some point."
But when?
The answer, of course, is elusive. And that, said former Democratic strategist Robert Shrum, is why the ads will never stop. "Everybody's going to keep broadcasting because nobody can tell when that point is," Shrum said in a telephone interview. "It doesn't matter if there is a saturation point, because campaigns can't know where it is."
So maybe half the money candidates and political committees spend on television is wasted. Maybe far more at this hour. But with so many rich people writing checks, nobody cares.
Photo: smokeghost via Flickr
Want more political news and analysis? Sign up for our daily email newsletter!