Blame Trump For The GOP's LGBT Vote Switch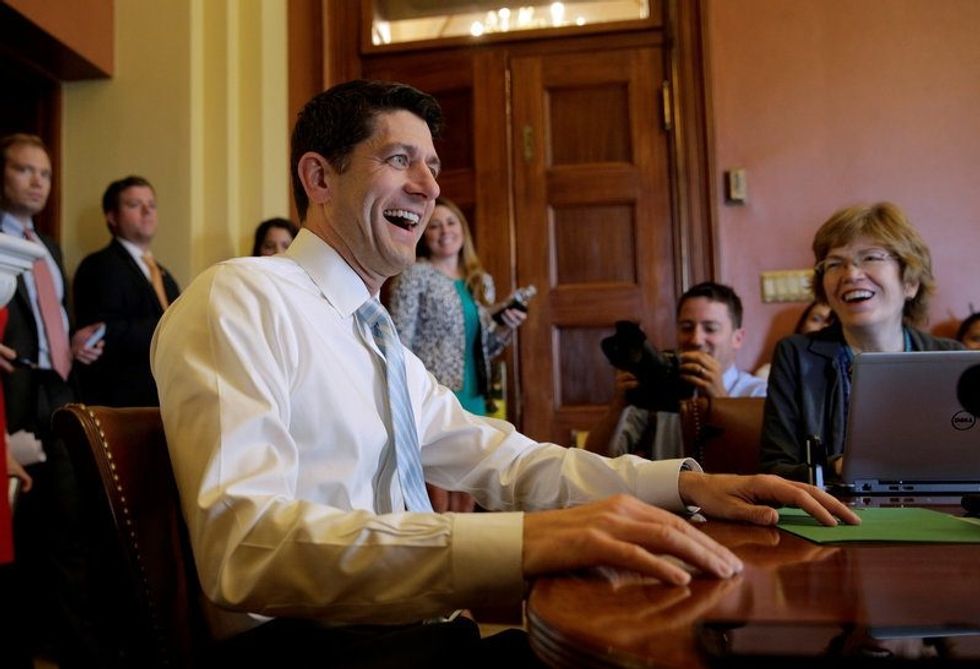 Last week, seven House Republicans switched their votes after the allotted voting time to kill an amendment that would have prevented businesses contracted by the Federal government from discriminating against LGBT employees, effectively bringing furor to the House floor
The votes were changed in secret: What was supposed to be a two minute process took more like eight minutes, after House Speaker Paul Ryan failed to gavel voting to a close when he was supposed to. By then, GOP leaders managed to coerce just enough of their caucus to snuff a provision bound for adoption. The final tally was 212–213. Democrats chanted "SHAME!" as Minority Whip Steny Hoyer (D-MD) took to the floor to condemn the action.
For a week Democrats have lambasted the Republican move, alleging trickery, treachery, bigotry, and cowardice and assuring constituents that the fight for LGBT rights will continue.
Ryan's clever delay tactic was a legal action, but it was low, even for the House of Representatives — a classic case of "Just because you can, doesn't mean you should."
It was no surprise to learn, afterwards, that the bombastic presence of Donald Trump on the political scene may have sparked a latent resurgence of conservative confidence; that Donald's constant boundary-pushing in the name of "winning" — which, surely, ought to be the ultimate goal of our politics, right? — is fueling what would otherwise be seen as an awfully old-fashioned, hardline swing to the right.
Last Thursday, after the vote, Rep. Steve Israel (D-NY) told Roll Call the amendment "wouldn't have failed without the narrative of hatred Trump has created."
"I'm sure Donald Trump was very proud of House Republicans today," Israel said, adding that Trump has been "vilifying from day one."
"When you have a Republican Party that is built on the premise of vilification, hatred and marginalization, nobody should be surprised by what happened on the floor."
"You know, you reap what you sow."
Although we don't know who switched their votes — because Speaker Ryan didn't require them to record the changes — Democratic leadership is fairly certain the seven culprits are Reps. Darrell Issa, Jeff Denham, David Valadao, and Mimi Walters of California, Oregon Rep. Greg Walden, Iowa Rep. David Young and Rep. Bruce Poliquin of Maine — none of whom have admitted guilt, so to speak, though, as Roll Call reported, Valadao, Young, and Poliquin are facing competitive re-elections.
Rep. Charlie Dent (R-PA) — who not only voted for the amendment, but approached last Thursday's vote thinking his Party would following the course of the country, which, as he put it, "clearly is evolving, socially, on issues like this" — said it was obvious some Republicans switched to shield members who wanted to avoid voting for the LGBT amendment, and speculated such protection was intended to help those worrying about future Republican challengers.
Dent said "Members are more worried about their primaries than general elections" — meaning some will be inclined to up the conservative ante, which could require bending rules to get things done, as was evidenced last Thursday.
Throughout his campaign, Trump has stretched the rules on almost every informal institution in modern political life: decorum, process, basic manners and human decency, and, not least, pandering. Yes, he can and will build an impossibly expensive and useless wall if it makes fearful nativists happy. No, he won't disavow the Ku Klux Klan — but he will accept the application of the country's most prominent white nationalist to be a national delegate for his campaign — if he can convince some corner of the conservative Internet that he's right for them.
Trump has created a new standard for politicking, one without morals. Whether Trump will be able to deliver for his base remains to be seen — the Constitution might have a thing or two to say about some of his ideas — and perhaps he won't get the chance. But House Republicans were able to switch their votes last week, privately, because Paul Ryan kept the vote-tallying computers running longer than customary.
Why? Because it was up to him. He did it for the greater good of the Republican Party, and nothing more.
This was a very Trumpian move for Ryan to make, and it's the kind of behavior we can expect to see from the Republican Party should Trump keep succeeding by doing and saying whatever he wants.
In January, New York Times opinion editorialist Thomas Edsall posed the question "What has Donald Trump tapped into that other Republican candidates are missing?"
Jonathan Haidt, a professor at N.Y.U.'s Stern School of Business and author of The Righteous Mind: Why Good People are Divided by Politics and Religion, told Edsall that many American voters "perceive that the moral order is falling apart, the country is losing its coherence and cohesiveness, diversity is rising, and our leadership seems to be suspect or not up to the needs of the hour. It's as though a button is pushed on their forehead that says 'in case of moral threat, lock down the borders, kick out those who are different, and punish those who are morally deviant.'"
Haidt posted his complete response to Edsall's question on RighteousMind.com, which includes the passage, "So it's not just rising immigration and diversity that has activated American authoritarians — it may be our rising political polarization itself, which has activated and energized a subset of the electorate that is now lionizing Trump as the first major candidate in a long time who has spoken to their fears and desires."
Perhaps Trump is already leading by example.
Photo: Speaker of the House Paul Ryan (R-WI) laughs as he speaks to reporters on Capitol Hill in Washington, U.S., May 25, 2016.      REUTERS/Joshua Roberts