In Blow To GOP Establishment, Tea Party Forces Run-Off
@AFP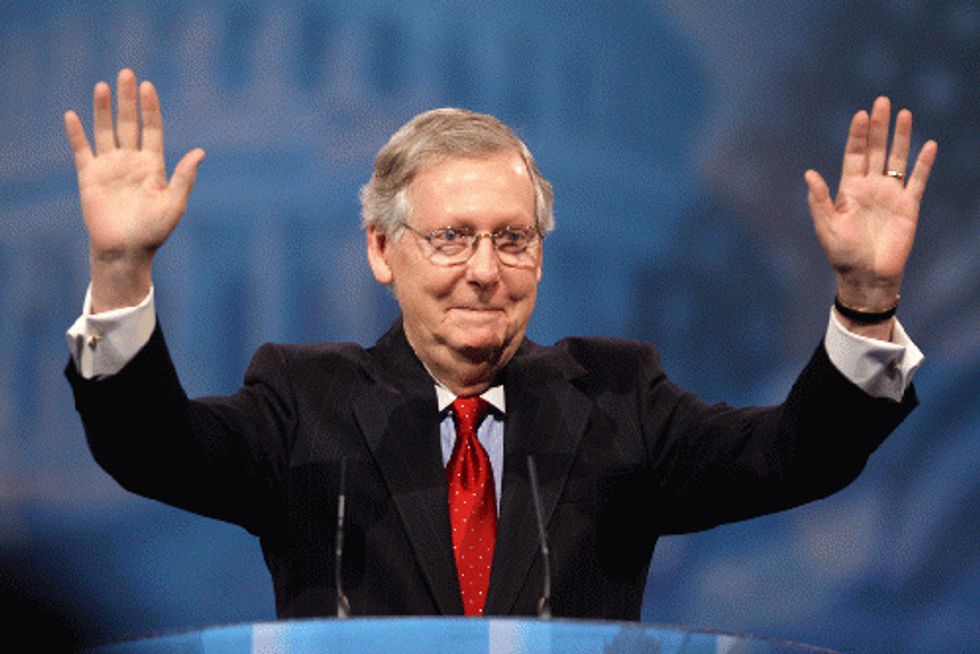 Washington (AFP) – The U.S. Republican establishment suffered an embarrassing political setback Tuesday courtesy of a Tea Party challenger, who battled a long-time Senate incumbent to a draw in a Mississippi race with national implications.
Seven other states also held primaries in one of the biggest vote nights of the 2014 campaign season ahead of November's congressional mid-term elections in which Republicans are aiming to take back the Senate from President Barack Obama's Democrats.
But all eyes were on Mississippi, where the Tea Party movement poured outside funding into its best chance to oust an establishment Republican Senate incumbent.
The conservative movement that promotes small government and lower taxes has had a rough 2014 campaign season, mostly failing to oust mainstream Republicans including Senate Minority Leader Mitch McConnell.
It pinned its hopes on constitutional conservative and spending-slasher Chris McDaniel, a 42-year-old Mississippi state senator pitting himself against the old guard in the form of genteel Senator Thad Cochran, 76, who first won the seat in 1976.
With 95 percent of precincts reporting, McDaniel was leading Cochran by half a percentage point in the Republican Party primary battle in Gulf coast Mississippi, one of America's poorest and most politically polarized states.
But with neither man crossing the 50 percent threshold in the multi-candidate race, McDaniel and Cochran were forced into a run-off to be held later this month.
Speaking to supporters, McDaniel said he expects to win, "whether it's tomorrow or three weeks from tonight. This is a historic moment in this state's history. And because of your hard work, because of your dedication, we sit here tonight leading a 42-year incumbent."
Cochran did not speak to supporters Tuesday night.
McDaniel has seized on Cochran's old-school style of behind-the-scenes negotiating with opponents, a quality increasingly absent in a gridlocked chamber where a take-no-prisoners attitude has come to prevail.
Experts say McDaniel could claim the momentum going into the run-off, having survived a Mississippi mudfight that saw four McDaniel supporters arrested after one sneaked into a nursing home to take pictures of Cochran's wife, who is being treated for dementia.
Mainstream Republican strategists have quietly warned that a McDaniel primary victory could give Democrats an opening in November, complicating GOP efforts to retake the Senate.
Meanwhile candidate Joni Ernst won Iowa's Republican primary for the seat vacated by retiring liberal Democrat Senator Tom Harkin.
Ernst is that rare Republican who managed to be courted by both the Tea Party and the establishment, and should she defeat Democratic congressman Bruce Braley in November she would become the first woman ever elected to Congress from the Hawkeye State.
In California, septuagenarian House Democrat Mike Honda finished first with a hefty margin in a primary challenge from Ro Khanna, 37, in what had been a tight Silicon Valley race.
Property lawyer and former Obama administration official Khanna drew on support from tech giants, reportedly including Facebook's Sheryl Sandberg and Yahoo chief executive Marissa Mayer.
Under a new California 'top-two' system designed to break up entrenched partisanship, both will advance to a run-off in November. Both men are liberals, but Khanna is seen as presenting a more tech-industry-friendly message.
With more than half the votes counted Tuesday night, Honda had 51 percent compared to about 26 percent for Khanna. Two Republicans trailed far behind, the San Jose Mercury news reported.
The entire US House of Representatives, currently held by Republicans, is up for grabs in November.
Analysts expect the party will retain control in the lower chamber, but polls show the Senate, currently controlled 55-45 by Democrats, could swing the Republicans' way.
Thirty-six Senate seats are in play, and at least seven Democrat-held seats are seen as being at risk.
Photo: Gage Skidmore via Flickr