How Blue State Americans Can Keep Their Health Coverage
@FromaHarrop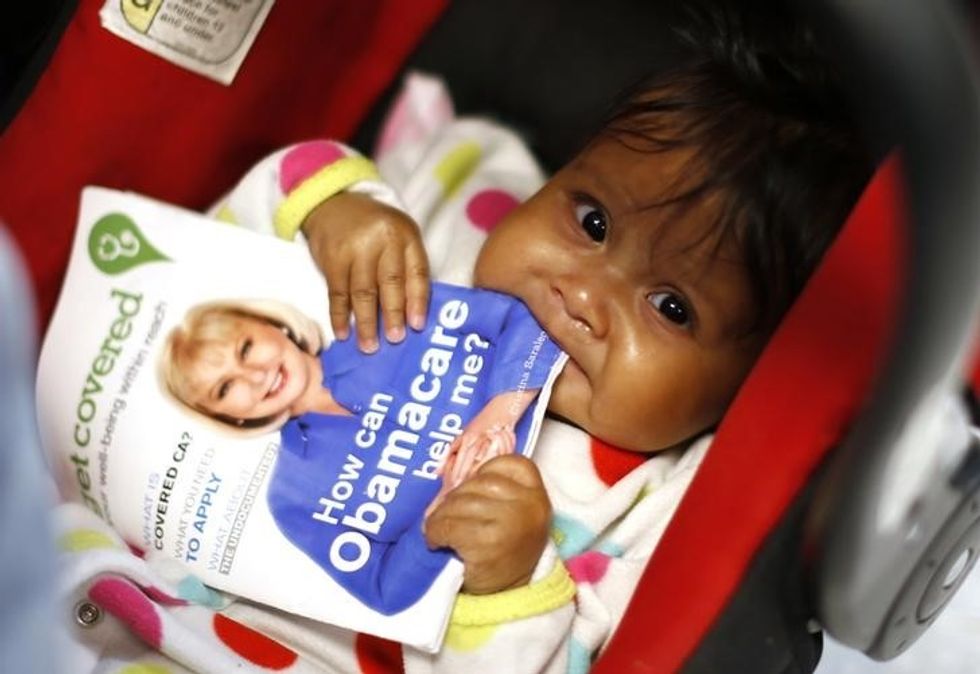 My liberal sister, a hospital worker, staunchly supports Obamacare on moral grounds. Marsha believes that no American should go without needed medical attention for lack of money. But does the prospective repeal of the Affordable Care Act worry her personally? Not in the slightest.
That's because Marsha lives in Massachusetts. "We'll still have Romneycare," she said.
Romneycare is the nickname for the statewide system of universal health coverage signed into law by a Republican governor, Mitt Romney, 10 years ago. Recall Romney's response when Republican rivals in the 2012 presidential race hit him for creating the state-run health plan that became the model for Obamacare. Romney pointed out that it worked quite well in Massachusetts and said he'd leave it to other states — not the federal government — to create their own programs, if they wanted.
We are now entering 2017 with the Obamacare vision about to be killed or eviscerated nationally but, as we see, not necessarily locally. States with the will and the money can enjoy universal health coverage.
The underreported truth is that Obamacare transfers huge amounts of money from blue America to red America. Half of the nearly $33 billion in annual tax credits used to help people pay their health insurance premiums went to residents of just five states, according to the Kaiser Family Foundation. We note without further commentary that four of the five states — Florida, Texas, North Carolina and Georgia — voted for Donald Trump. The one that didn't was California.
Current plans to cancel Obamacare would deliver a considerable tax cut to the coasts and other well-to-do parts of America. The Republican reconciliation bill now serving as the template for repeal would end the Medicare tax surcharge and a tax on investment income. Put them together and you have a tax cut totaling $346 billion over 10 years, according to the Congressional Budget Office. Every penny of those tax cuts would go to households making more than $200,000 a year.
Should Obamacare go down, states could replace it with a Romneycare-like plan or something more along the lines of single-payer. And the blue states would have more money to do that with because they wouldn't be subsidizing others as before.
California, for one, could adopt its own individual mandates, says Nicholas Bagley, a health care expert at the University of Michigan Law School. The requirement that everyone buy coverage, much despised in most Republican circles, is what keeps the insurance pools stable. California's exchange is robust, and with a mandate in place, insurers would find little reason to leave. That would not be the case in markets where the healthy could easily depart and leave insurers burdened with expensive sick patients.
Blue states like Connecticut, New York, Oregon and Washington would be likely candidates to try a similar strategy, according to Bagley.
But what about the struggling people of Appalachia, the South, the Rust Belt? They may have put Trump over the top, but they still greatly need the comprehensive health coverage that the new administration and Republican Congress seem determined to gut.
Liberals should resist their natural urge to jump up and solve everyone else's problems. (I'm sitting on my sister as I write.) Red-state Americans suddenly finding themselves with little or no health coverage would have to fight for what was taken away from them. If they chose not to, that would be their right.
It's possible that Republicans will come to their political senses and leave Obamacare basically in place with a few useful tweaks. But it's not Democrats' job to save them from folly. Blue-state politicians have local needs to attend to. Let them keep the money at home.
Follow Froma Harrop on Twitter @FromaHarrop. She can be reached at fharrop@gmail.com.
IMAGE: Six-month-old Hazel Garcia chews a pamphlet at a health insurance enrollment event in Cudahy, California March 27, 2014. REUTERS/Lucy Nicholson