Boehner Lacks Most House Members' Support As Obama Clashes Near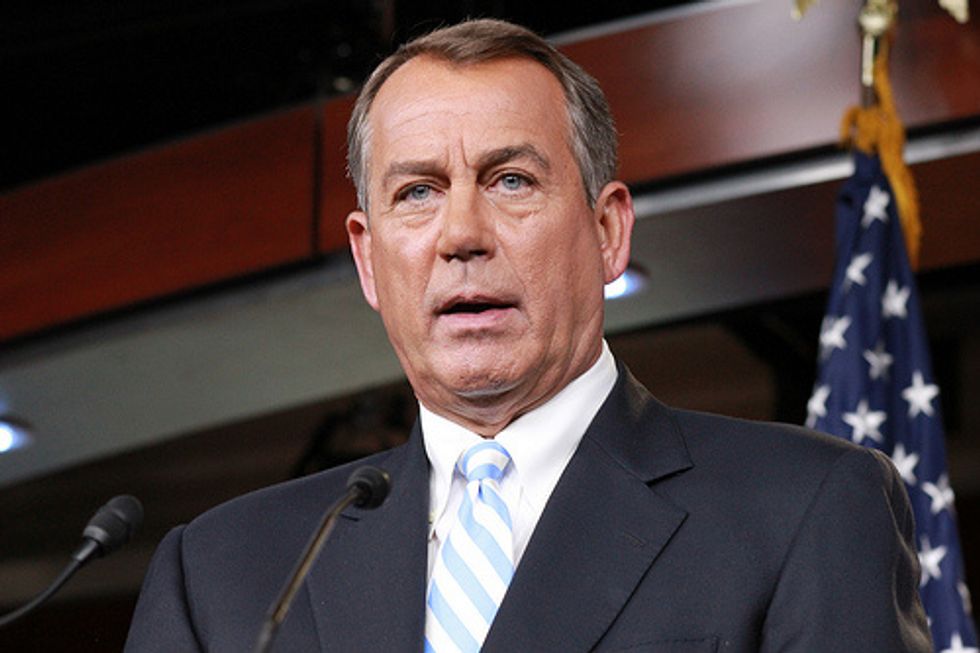 By Billy House, Bloomberg News (TNS)
WASHINGTON — John Boehner must find a way to lead the U.S. House of Representatives after winning a third term as speaker with votes from fewer than half of the chamber's 434 members.
Boehner was re-elected as the 53rd House speaker yesterday although 25 members didn't show up to cast votes and 24 of his fellow Republicans supported someone else. He won with 216 votes to 164 for Democratic leader Nancy Pelosi. No Democrats supported Boehner.
The Ohio Republican quickly dished out payback to some of the party members who voted against him, kicking two off the influential Rules Committee and stopping a third from sponsoring a bill.
Boehner will be tested in coming weeks as he and new Senate Majority Leader Mitch McConnell, a Kentucky Republican, prepare to confront President Barack Obama and congressional Democrats on issues including approval of the Keystone XL oil pipeline. Later in the year, they'll need to address government spending and raising the U.S. debt limit.
Republican Daniel Webster of Florida, who received 12 votes from members of his party, said after the speaker's vote that he hoped a message had been delivered that rank-and-file Republicans want a more "member-driven legislative process."
"I've been a speaker. I've been a majority leader," Webster said in an interview, referring to his time in the Florida statehouse. He said he was seeking to show that leaders need to listen more to their members' concerns.
Boehner, in a short speech after the vote on the first day of the 114th Congress in Washington, urged House members to "prove the skeptics wrong" and find common ground on legislation.
"This won't be done in a tidy way. The battle of ideas never ends and frankly never should," said Boehner, 65.
The returning Republican members of the House Rules panel were announced after the speaker's election. Absent from the list were Florida Representatives Daniel Webster, who voted for himself for speaker, and Rich Nugent, who also voted for Webster.
The two lawmakers, who served on the Rules panel in the last Congress, were on the list to be reappointed until they voted against Boehner, according to a House leadership aide who sought anonymity.
Representative Randy Weber, a Texas Republican, said Boehner won't let him sponsor a bill headed for floor consideration because he voted for fellow Republican Louie Gohmert of Texas for speaker.
"Sometimes there are casualties and changes, and people make decisions," said Rules Committee Chairman Pete Sessions, a Texas Republican. "They make decisions to do things knowing sometimes there can be consequences."
Gohmert, who voted for himself, said in a statement that Webster and Nugent were removed from the Rules panel "simply for voting like their voters wanted."
"It appears before we can work together, we are now going to have another fight," Gohmert said. "It would be a shame if the speaker of the House who has so much power is a sore winner."
Representative Walter Jones of North Carolina, a leader of the anti-Boehner revolt who voted for Webster, declared the rebellion to be a success.
"We listened to the American people and acted," said Jones anti-Boehner group. "We've gotten more calls of support in opposing the speaker than we got on the Wall Street bail- out."
Republican Raul Labrador of Idaho voted for Boehner yesterday after opposing the speaker's re-election in 2013.
"The votes were simply not there to defeat the speaker," Labrador said. "I think it is unwise to marginalize yourself when there is no chance of victory, which was the case today."
In addition to Webster and Gohmert, those who received votes from the 24 Republican defectors included Senator Rand Paul of Kentucky and Representatives Ted Yoho of Florida and Jim Jordan of Ohio.
Four Democrats voted for someone other than Pelosi, with Representative Jim Cooper of Tennessee backing former Secretary of State Colin Powell. House rules don't require that the speaker be a member elected from a district.
Boehner has a more muscular House majority of 246 Republicans — with 188 Democrats — compared with the previous session's 234-201. One seat is vacant following the resignation yesterday of New York Republican Michael Grimm, who pleaded guilty to a federal tax charge.
Second-ranking House Democrat Steny Hoyer of Maryland said some Democrats from New York missed the speaker's vote because they attended former Governor Mario Cuomo's funeral.
Boehner will share the mantle of top Republican in Washington with McConnell, 72, of Kentucky, after having it to himself for four years. Boehner has been a chief foil for Obama and congressional Democrats in battles over the budget, debt and spending. A dispute over Obamacare led to a 16-day partial government shutdown in October 2013.
Boehner and McConnell have promised swift action starting this week on the Keystone pipeline and other bills they say will spur employment — a veterans' hiring measure and a change to Obamacare to require employers to provide health care only to workers who put in more than 40 hours a week. That's up from the current 30-hour threshold.
Opening-day comity didn't last long, as White House spokesman Josh Earnest said that if the Keystone bill passes Congress, the president won't sign it. Boehner responded in a statement that Obama was siding with "fringe extremists" in the Democratic Party.
___
Bloomberg reporters Derek Wallbank, James Rowley and Jonathan Allen contributed to this report.
Photo: Talk Radio News Service via Flickr