Boko Haram Suspected After Nigeria Football Screening Venue Blast
@AFP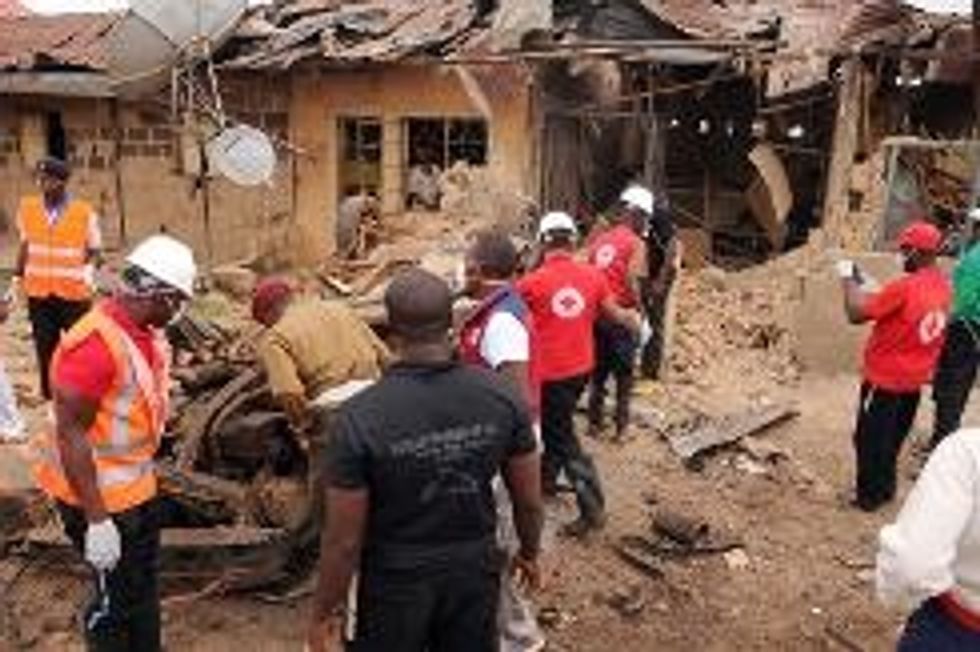 Kano (Nigeria) (AFP) – Boko Haram militants were on Wednesday suspected of carrying out a deadly bomb attack against football fans watching the World Cup in northern Nigeria, in the latest violence targeting the game.
There was no immediate claim of responsibility for the blast in the Nayi-Nama area of Damaturu on Tuesday night but the Islamists have previously carried out attacks on informal, big screen venues.
Boko Haram, which in April kidnapped more than 200 schoolgirls in northeast Nigeria to international condemnation, has been waging a brutal, five-year insurgency that has claimed thousands of lives.
Residents in Nayi-Nama said the bomb appeared to have been hidden in a motorised rickshaw outside the Crossfire venue, where crowds had gathered to watch tournament hosts Brazil play Mexico.
The blast happened at about 8:15 pm, 15 minutes after the match kicked off in Fortaleza.
"We received 21 dead bodies and 27 injured victims from the blast," a source at the Sani Abacha Specialist Hospital in Damaturu, told AFP.
Soldiers and police brought in the dead and injured from the scene of the blast, which was quickly cordoned off, the source said.
"The victims are young men and children. They have burns, ruptured tissue and bone fractures," he added.
Yobe state police commissioner Sanusi Rufa'i said at least 14 people were killed and 26 injured. Conflicting death tolls are common in Nigeria and the authorities often round down the number of victims.
"We still don't know how the incident happened and as security personnel we can't just rely on eyewitness accounts for an incident as serious as this," he added.
"Our forensic experts are conducting on-the-scene assessment to establish what really happened. We will make public our findings when investigations are concluded."
The blast was the latest in a series at so-called "viewing centers" in Nigeria blamed on Boko Haram, which has previously attacked schools teaching a "Western" curriculum and Christian churches.
Boko Haram leader Abubakar Shekau has preached against football as part of the Islamist group's agenda to impose strict Islamic law in northern Nigeria.
In several video clips, he described football and music as a Western ploy to distract Muslims from their religion.
In April this year, suspected Boko Haram gunmen also stormed a packed venue in Potiskum, also in Yobe, shooting dead two people as they watched European Champions League quarter-final matches.
Football is Nigeria's national sport and has a fanatical following but recent blasts targeting fans in northeastern Adamawa and the central state of Plateau have seen the authorities close big screen venues on security grounds.
The World Cup would normally have seen large crowds congregate to watch the matches, including those of Nigeria's national team, the "Super Eagles," but many fans have opted to stay at home for their own safety.
"I'm not comfortable going to any viewing center due to the Boko Haram threats," Danlami Ma'azu, who lives in the northern city of Kano, told AFP last week.
Adamawa and Yobe have both been under a state of emergency since May last year to try to curb the violence, so far with little success.
Borno, which lies between the two states and has been worst hit by the bloodshed, is also under special powers.
East African nations are also on high alert over possible attacks by Somalia's Al-Qaeda-linked Shebab rebels during football screenings.
Britain has released warnings to citizens in several east African nations — including Ethiopia, Djibouti and Kenya, who all have troops in Somalia — speaking of the threat of attacks at public screenings of the World Cup.
"Previous terrorist attacks in the region have targeted places where football matches are being viewed," Britain's Foreign Office said, adding that crowded areas including transport hubs, hotels, restaurants and bars were also possible targets.
©afp.com