Bomb Suspect Posted Dozens Of Angry Pro-Trump Social Media Messages
@alexvhenderson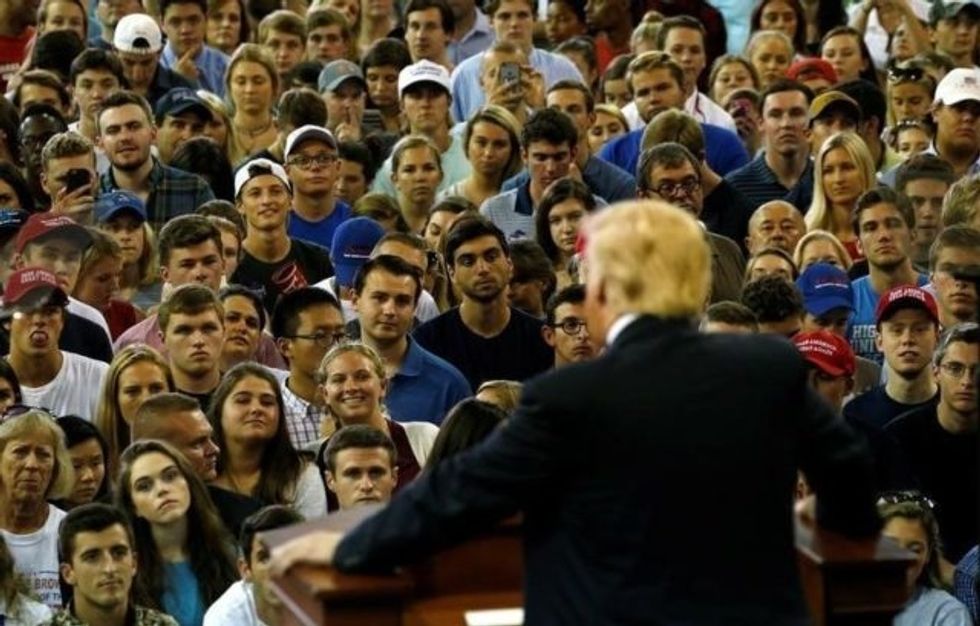 Reprinted with permission from AlterNet.
Investigators have found a suspect in the pipe bombs mailed to Bill and Hillary Clinton, Barack and Michelle Obama, former Vice President Joe Biden and many other major Democrats this week: 56-year-old Florida resident Cesar Altieri Sayoc, who was arrested in an auto parts store in Plantation, Florida. And Sayoc's social media presence has been strongly supportive of President Donald Trump and highly disdainful of Democrats.
Photos show Sayoc (who is sometimes listed as "Cesar Altieri Randazzo" in his posts) at pro-Trump events in 2016 holding a "Make America Great Again" sign and wearing a MAGA hat.
In a September 12, 2016 post, Sayoc embraced the conspiracy theory that Hillary Clinton was terminally ill and was using a double to hide her health problems. Sayoc posted, "Hilary (sic) Clinton health decline and headed to graveyard where she has had many executed. The lord delivering death and America will celebrate. Clinton uses body double fool Americans into her health declines."
Sayoc used racial slurs in some of his posts, misspelling the n-word in reference to Barack Obama as well as two other Democrats who were sent pipe bombs this week: former Attorney General Eric Holder and Rep. Maxine Waters. In an incoherent November 16, 2011 post on Facebook, Sayoc wrote that Obama and Holder "are responsible for killing boarder (sic) patrol" and wrote, "put their asses in jail." And in an equally incoherent Facebook post from September 30, 2011, Sayoc attacked Waters for "stealing money from American tax payer (sic) on federal bailout funds."
On social media, Sayoc described himself as a promoter and a booking agent for live entertainment. CNN has reported that Sayoc registered to vote for the first time in 2016 and registered as a Republican.
In addition to the Clintons, the Obamas, Biden, Waters and Holder, Democrats who were sent suspicious packages included Sen. Cory Booker and actor Robert De Niro—both frequent critics of President Trump. Another suspicious package was addressed to former CIA Director John O. Brennan, forcing the evacuation of CNN's New York City offices.
Alex Henderson is a news writer at AlterNet and veteran political journalist. His work has also appeared in Salon, Raw Story, Truthdig, National Memo, Philadelphia Weekly, Democratic Underground, L.A. Weekly, MintPress News and many other publications. Follow him on Twitter @alexvhenderson.