Book Review: 'Against Football'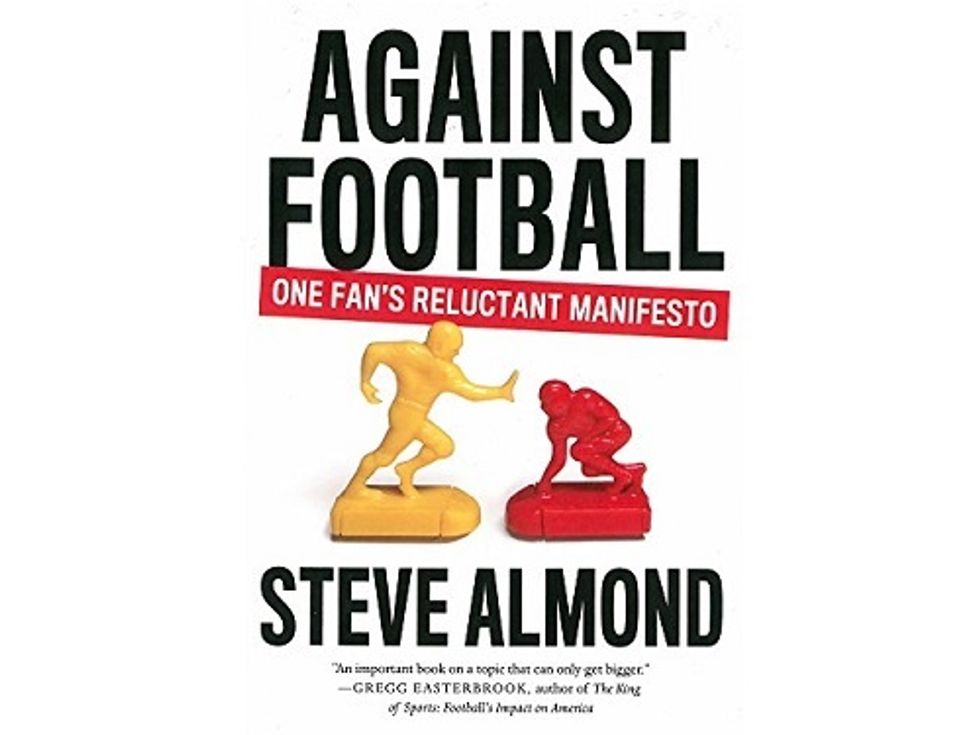 The National Football League has become a scandal machine. Powered by a recently released video, the media spotlight is now shining brightly on former Baltimore Ravens running back Ray Rice, who punched his fiancée in an Atlantic City elevator. NFL Commissioner Roger Goodell, who claimed he hadn't seen the video before it was released to the public, has asked former FBI chief Robert Mueller to conduct an investigation of the incident. It's no isolated case; NFL players have been arrested for domestic violence 85 times since 2000.
That kind of violence is a serious problem for the NFL, but it's not the league's only headache. Last year, it agreed to pay $765 million to settle 4,500 lawsuits from former players with chronic traumatic encephalopathy (CTE), Lou Gehrig's disease, dementia, and other afflictions related to head injuries incurred on the field. The NFL admitted no wrongdoing, but a 2013 Frontline documentary showed that the league sponsored dubious medical studies to support its claim that no players had suffered brain damage. In 2005, the New York Jets' team physician, who was the lead author on nine of those studies, even called for the retraction of a peer-reviewed article about the brain of former Pittsburgh Steeler Mike Webster. Before his death at age 50, the Hall of Fame center suffered from amnesia, dementia, and depression. A 2002 autopsy revealed that he also had CTE.
The settlement was another black eye for the NFL, but after a full decade of mendacity and obfuscation, it was the best way to keep the cash registers ringing. The league now generates more than $9 billion in annual revenue, and $44 million of that lands in the pocket of Roger Goodell. Nobody doubted that the show would go on.
The NCAA has its football problems, too: not only routine headlines about recruiting violations, but also Taylor Branch's broader indictment in his 2011 Atlantic cover story, "The Shame of College Sports." Branch, who won a Pulitzer Prize for his books on Dr. Martin Luther King, claimed there was an "unmistakable whiff of the plantation" in the way college football and basketball generated huge sums of cash for everyone but the athletes. The same year, Penn State defensive coordinator Jerry Sandusky was indicted on 52 counts of child molestation between 1994 and 2009. Penn State's president, athletic director, and head football coach resigned amid allegations that the university enabled or covered up the crimes, for which Sandusky received a minimum sentence of 30 years. The moral of that sad story was that preserving Penn State's football program was thought to be more important than protecting young boys, one of whom was sodomized in the team's shower room.
What's a football fan to do? Fiction writer and essayist Steve Almond feels your pain and wants to intensify it. For four decades, the Bay Area native carefully followed the once mighty and now woeful Oakland Raiders. But in Against Football, he maintains that football has become too toxic for him to enjoy. And you shouldn't enjoy it, either.
Almond's book isn't a manifesto; rather, it's a searching and personal essay on the game and its powerful appeal. His attitude throughout is deep ambivalence. For him, football is "a lovely and intricate form of art" that is "perfectly engineered to hit our bliss point." Unfortunately, it's also shrouded in a culture of violence, crony capitalism, racism, and homophobia. Furnishing examples of each social disorder, Almond also reminds us that the NFL goes out of its way to promote militarism. The Armed Forces are major sponsors, fighter jets buzz the stadiums, and remote feeds from military bases are commonplace. The NFL allowed the White House to use the 1991 Super Bowl as an infomercial for the Gulf War, which launched 11 days before that game. Addressing the massive television audience at halftime, President Bush described that conflict as his Super Bowl. When the second Bush administration invaded Iraq in 2003, the league held a kickoff concert at the National Mall. "Supporting the military is part of the fabric of the NFL," the league's official website declares.
Almond understands what he's up against, and he sorts opposing views into several buckets. The first is a kind of flat amorality that passes for realism. "Football is the most popular thing in America," ESPN commentator Scott Van Pelt said in response to the Frontline documentary. "Not the most popular sport. The most popular thing." As an argument, Almond writes, Van Pelt's reaction is "creepy and frankly fascistic." But he nowhere contradicts Van Pelt's assessment. Indeed, football's enormous popularity only dramatizes the moral problems Almond raises.
Another reaction mirrors Almond's own for many years. Many fans acknowledge the NFL's shortcomings but dissociate them from the considerable pleasures of spectatorship. Upon interviewing the Boston University brain scientist who has painstakingly documented the game's destructive effects, Almond discovers she's a diehard New England Patriots fan. He also recounts a friend's plea after learning about his book's thesis: "Please don't take this away from me."
The third kind of reaction says a lot about the male culture the NFL helps to create. After Almond wrote a related piece for The New York Times Magazine, he received copious hate mail, a large portion of which referred to the size of his vagina.
Certainly more fans are expressing discomfort with the game and the NFL, but much of the backlash has focused on broader social problems rather than the damage the game itself produces every day. The league could be perfect on domestic violence, for example, and still be a menace. For this reason, the backlash seems unlikely to lead to the systemic reform or outright boycott Almond recommends. Current levels of disgust with the NFL resemble those reserved for our industrial food system or besmirched financial institutions. Some of us will become vegetarians or move our money to less rapacious local banks; others will simply harbor fewer illusions about those institutions and their leadership.
Meanwhile, more parents are wondering whether their children should play football in the first place. President Obama claimed that if he had a son, he wouldn't let him play pro football. "I don't really know where to begin here," Almond writes. "Is the life of Obama's hypothetical son worth more than the lives of the kids who grow into pros?" He thinks the president should "admit that it's wrong to watch a sport so dangerous he wouldn't let his own son play it." Yet Obama's comment probably reflects the views of many middle-class parents. Nation sportswriter Dave Zirin predicts that football will increasingly resemble boxing: a pathway out of poverty but a rare option for suburban children. If Zirin is right, the NFL may have trouble reaching their next financial goal: $25 billion in annual revenues, much of it expected to come from attracting more female fans. One wonders how many more American women will embrace a game that's damaging brains, employing scores of domestic abusers, and wrapping the whole package in the American flag.
Almond has a knack for putting human faces on these issues. Toward the end of his essay, he recounts his mother's sudden and rapid descent into dementia. In one week, she changed from a high-functioning psychoanalyst to an invalid requiring 'round-the-clock care. Almond describes her response to that decline. "One night, as I tried to explain to her for perhaps the 10th time that she could not go home yet, she looked at me in a panic. 'Something terrible is happening to me,' she said, and began to weep inconsolably." Her dementia turned out to be a reaction to her medication; once home, she recovered quickly. "But no one," Almond writes, "can come face to face with dementia and look at football in the same way. At least, I couldn't."
Almond doesn't pretend to have all the answers, but sometimes it's enough to raise the right questions at the right time. Against Football does that with disarming humor and humanity.
Peter Richardson is the book review editor at The National Memo. His history of Ramparts magazine, A Bomb in Every Issue, was an Editors' Choice at The New York Times and a Top Book of 2009 at Mother Jones. In 2013, he received the National Entertainment Journalism Award for Online Criticism. No Simple Highway, his cultural history of the Grateful Dead, is scheduled for January 2015.
Get exclusive book excerpts delivered straight to your inbox — sign up for our email newsletter!