What 'Crisis'? Border Agent Encounters With Migrants Drop By 70 Percent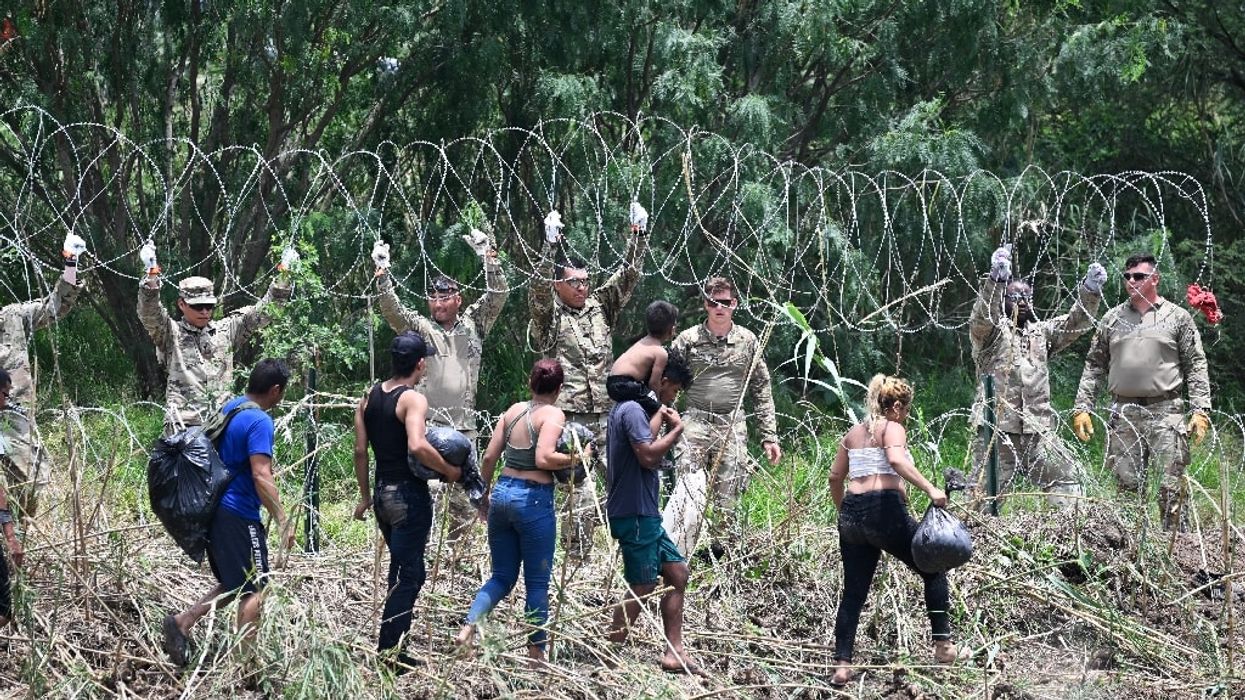 The Department of Homeland Security reports hat there has been a sharp drop in the numbers of encounters between border agents and migrants at the U.S.-Mexico border since May 11, when border policies implemented by the administration of former President Donald Trump expired.
However, Republican lawmakers continue to describe the situation at the border as a "crisis."
"We have seen, as I think everybody knows, a significant decrease in encounters at the border, more than 70 percent reduction since the lifting of Title 42 on May 11," Assistant Secretary for Border and Immigration Policy Blas Nuñez-Neto told reporters at a press conference at the Port of Brownsville, Texas last Wednesday.
Following the outbreak of the COVID-19 pandemic in March 2020, the Trump administration invoked Title 42, a section of the Public Health Service Act of 1944 that governs public health measures. The policy allowed the government to deny migrants the ability to seek asylum, which aligned with Trump's calls to restrict immigration at the southern border.
The public health emergency ended on May 11, and the government reverted to Title 8, the section of the U.S. Code that governs what its name calls "Aliens and Nationality." The Biden administration put in place policies that prohibit asylum applications from migrants who have traveled through Canada and Mexico after leaving their home nations.
Nuñez-Neto said that through several of the post-Title 42 procedures the administration has set up, such as enhancements to the Customs and Border Protection agency's app, CBP One, migrants seeking travel to the United States made more than a thousand appointments.
At the Brownsville border crossing, he said, he had observed migrants choosing to make voluntary withdrawals, exercising the option to return to Mexico to avoid detention and deportation after an unauthorized border crossing. Nuñez-Neto attributed this to policies put in place under Biden that allow for expedited removal from the United States of those who have crossed the border unlawfully, including a five-year ban on reentry for those who have been removed.
"Our approach, to build lawful, safe, and orderly pathways for people to come to the United States, and to impose tougher consequences on those who choose not to use those pathways, works," Secretary of Homeland Security Alejandro Mayorkas said during a May 11 White House briefing.
As the administration announced the reduction in border encounters and drug seizures, congressional Republicans continued to characterize the situation at the border as a crisis, a claim they have been making since early in Biden's presidency.
"It is time for this administration to face the toll its refusal to enforce our nation's laws takes on the men and women who are charged with defending it," Rep. Mark Green, chair of the House Committee on Homeland Security, said in a press release posted on the committee's website marking the retirement of U.S. Border Patrol Chief Raul Ortiz. "Amid a devastating and historic border crisis created by his boss and President Biden, Chief Ortiz had an impossible job, but one he did with honesty and dedication."
Rep. Clay Higgins, chair of the committee's Subcommittee on Border Security and Enforcement, announced that he would hold a hearing on June 6 "to examine the Biden administration's failure to prepare for the end of Title 42 on May 11."
"I look forward to this opportunity to shed light on this devastating border crisis and demand the Biden administration enforce our nation's laws in the wake of Title 42," Higgins said in a statement announcing the event, falsely claiming, "President Biden and Secretary Mayorkas have failed this country with their open border policies."
Republican lawmakers and officials at the state level expressed similar concerns. Virginia Gov. Glenn Youngkin announced that he would be sending National Guard units to the southern border, as did South Carolina Gov. Henry McMaster.
The language Republicans use to describe the situation is the same as that used by the anti-immigration group Federation for American Immigration Reform, which in a January 21, 2021, press release accused Biden of "inducing an immigration and border crisis."
The federation has been designated a hate group by the Southern Poverty Law Center, which noted:"FAIR leaders have ties to white supremacist groups and eugenicists and have made many racist statements. Its advertisements have been rejected because of racist content."
As part of their ongoing attacks on Biden over immigration policy, many Republicans in Congress recently promoted a hoax, heavily featured on Fox News, that homeless veterans had been displaced from housing in hotels in New York state to make room for asylum seekers.
In a tweet responding to the false story, Speaker Kevin McCarthy said that it had occurred due to Biden's "open-border policies." McCarthy has not mentioned the hoax since the original story was disproven, and his inaccurate tweet was not deleted.
Reprinted with permission from The American Independent