Republicans Blast Biden For Sending Troops To Border -- As Trump Did
@next2godwin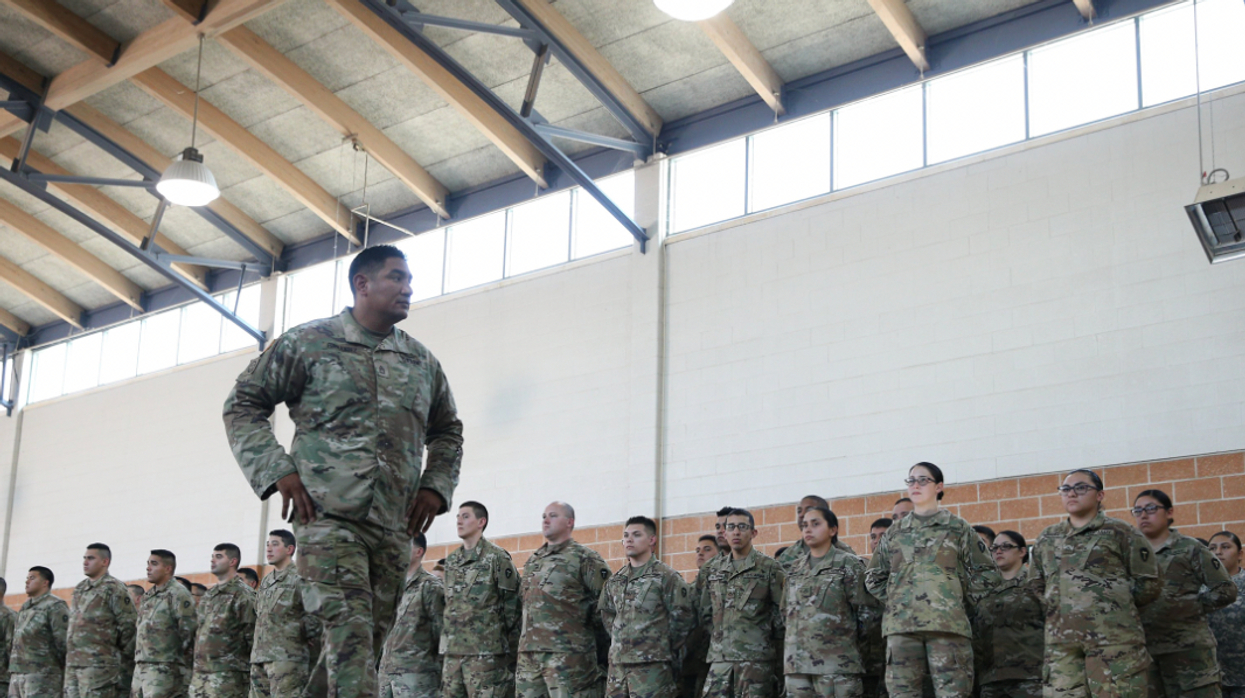 Republicans have accused the Biden Administration of deploying troops to the US-Mexico border as a political stunt, despite their clamor for hardline border enforcement and past support for ex-President Donald Trump doing the same days before the 2018 midterms.
The Pentagon announced Tuesday that it would deploy 1,500 active-duty military troops to the US-Mexico border ahead of a massive influx of migrants expected when Title 42 — a Trump-era public health policy that quickly expels border crossers — expires next week.
Deployed to the border for 90 days at the behest of the Department of Homeland Security, the troops would undertake administrative tasks, including "ground-based detection and monitoring, data entry, and warehouse support," not law enforcement, the Pentagon confirmed in a press release.
Trump deployed over 5,000 troops to the border days before the 2018 midterm election to help border officials "harden the border" against "invasion of our country." The troops, it turned out, weren't tasked with law enforcement and served only in administrative roles, providing logistical support to border agents.
Yet, on Tuesday, Texas Governor Greg Abbott slammed the Biden Administration for deploying troops "primarily to do paperwork" and claimed, without any apparent basis in fact, that his own deployment of National Guardsmen filled "the gaps created by Biden's reckless open border policies."
Speaking to the press on Wednesday, Senator Lindsey Graham (R-SC), whose tearful plea on Fox News for donations to Trump earlier this month drew mockery, denounced Biden's deployment as "ridiculous theater" that won't help law enforcement at the border.
But, when a reporter asked if he felt the same about Trump's 2018 deployment, Graham praised the twice-impeached former president for doing "the best job in my political lifetime."
Senator Ted Cruz (R-TX), who was with Graham, said Biden would "accomplish nothing" in his efforts to secure the border.
"As long as the Biden administration keeps in place catch and release, he could send 1,500 troops; he could send 10,000 troops, he could send 100,000 troops. It would do nothing to secure the border," Cruz said.
"Joe Biden is the last mile of the human trafficking network," Cruz added, alleging without evidence that the Biden officials would send migrants to "whatever city in America they want to go to."
The roughly 2,100 National Guardsmen Trump sent to the border in April 2018, seven months before the midterms, performed only administrative tasks, too, from "everything from shoveling manure to changing tires," miles away from the border, Politico reported at the time.
However, Sen. John Cornyn (R-TX) mocked Biden for the non-law enforcement roles that the soon-to-be-deployed troops would take up, saying, "When they can't enforce immigration law, all they can do is change diapers and push paper, in other words under the law they can only perform administrative functions."
Far-right agitator Rep. Marjorie Taylor Greene (R-GA) denounced the Biden deployment as political gamesmanship at "our border because the crisis is so dangerously out of control that it has driven his poll numbers to impeachment levels."
Greene tweeted, "It's not about protecting our country, it's all about protecting himself. Joe Biden doesn't care about border security or you."
According to Time, however, despite Trump's persistent immigrant fear-mongering and enactment of hardline immigration policies, which Republicans branded the "Trump effect," illegal Mexican border crossings ballooned to a 12-year high under his presidency. In 2018, the National Border Patrol Union called Trump's decision to deploy National Guard troops to the border "a colossal waste of resources."