Bossie Confesses: There Was A Right-Wing Conspiracy Against Clinton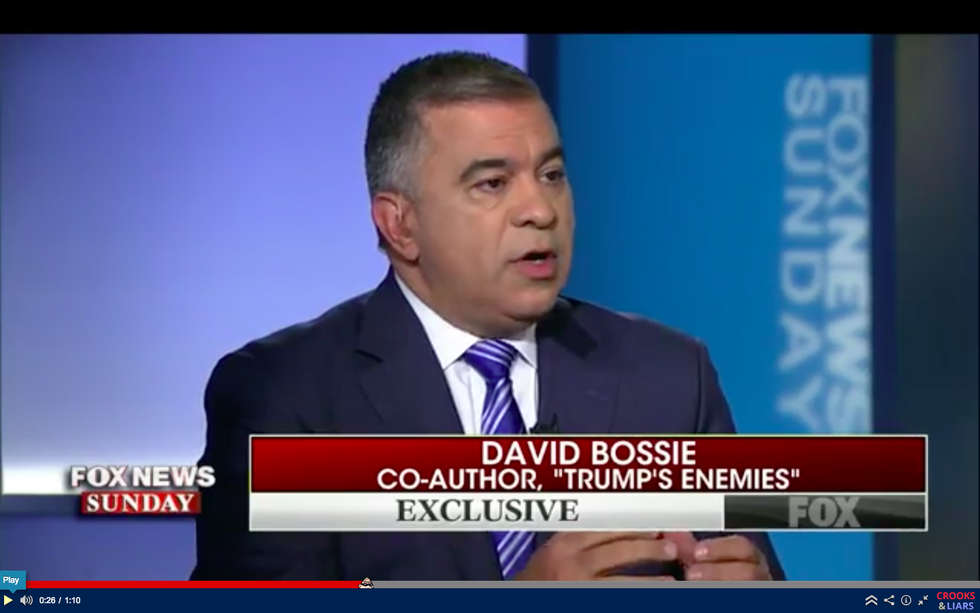 More than 20 years after the fact, following decades of smug denials, one of the operatives in the "vast right-wing conspiracy" has confessed to its existence.
The longtime far-right activist David Bossie of Citizens United offered that confession on Fox News Sunday, where he appeared to promote a new book he co-authored with former Trump campaign manager Corey Lewandowski. Bossie, who also toiled in the Trump campaign and remains close to the president, blurted the truth to host Chris Wallace almost inadvertently. But with someone who lies almost as routinely as his idol Trump, Americans have to be satisfied with his moment of truth.
Describing several White House aides attacked by Bossie and Lewandowksi, Wallace said that "they wanted to control the president instead of, as you said in your first book, to 'let Trump be Trump.'"
"Exactly," replied Bossie (although his diction isn't always easy to follow). "Let us remember what is going on here. There's a vast left-wing conspiracy going on that has been going on since the president won this election. All throughout the transition and during those first two years — a vast left-wing conspiracy. Very similar words to what I'm using to what Hillary Clinton called the vast right-wing conspiracy."
Wallace said, "Which didn't turn out to be true."
"No, it did turn out," he insisted. "There was an effort by the conservative movement to undermine President Clinton."
Wallace replied, "I understand, but he did have a relationship with Monica Lewinsky."
For the full story of Bossie's role in the conspiracy against Clinton — which dated back to his dirty tricks campaign during the 1992 campaign — see my account with Gene Lyons in The Hunting of the President. Among his allies in that crusade was the late "Justice Jim" Johnson, diehard segregationist ringleader in Arkansas and a close Bossie pal.
The more things change, the more dismally they remain the same.