Boston Bomber Speaks Out For First Time: 'I Am Sorry For The Lives I Have Taken'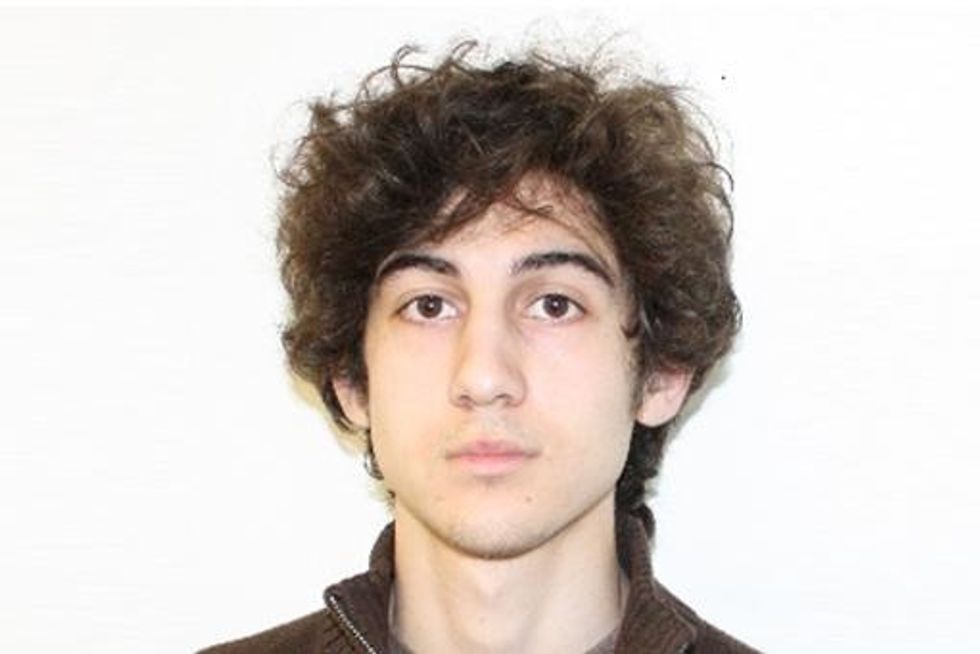 By Richard A. Serrano, Tribune Washington Bureau (TNS)
BOSTON — Speaking for the first time publicly about the explosives he and his brother set off at the finish line of the Boston Marathon two years ago, Dzhokhar Tsarnaev apologized for the bombings and to the victims of the worst terrorist attack in the U.S. since Sept. 11.
"I am sorry for the lives I have taken, for the suffering I caused, for the damage I have done — the irreparable damage," he said.
In a slight voice and apparently racked by nerves ahead of his formal sentencing, Tsarnaev thanked his defense team and praised the survivors and relatives who spoke in the courtroom earlier "with strength, with patience, with dignity."
"They told how horrendous this was," he acknowledged.
Tsarnaev and his older brother, Tamerlan, detonated two pressure-cooker bombs at the race's finish line in April 2013, killing three and wounding more than 260. Tamerlan Tsarnaev was killed days later in a massive manhunt for the bombing suspects. Tsarnaev told investigators days after the bombing that they were motivated by extremist Islamic beliefs and that the attack was in retaliation for the U.S. military presence in Iraq and Afghanistan.
Wednesday's remarks were a departure from Tsarnaev's behavior during his trial and even earlier in the day, when he showed no emotion during heart-wrenching testimony from victims and the exhibition of the photographs and videos from the bombing. He did not testify.
"I also asked Allah to have mercy upon me and my brother and my family and I pray to Allah to bestow his mercy upon victims and their families," Tsarnaev said, noting his own Muslim faith.
In emotional remarks earlier Wednesday, victims of the bombing talked about the lasting damage they suffered.
Tsarnaev, referred to only as "the defendant" by victim after victim, remained still throughout. He gave no sign that he was listening as runners and spectators spoke of invisible injuries and the horror of learning that loved ones were grievously wounded.
One woman confessed to remaining too afraid to sleep, but went on to say she had forgiven Tsarnaev.
Other victims expressed anger. Elizabeth Bourgault, who ran in the race, told those gathered: "The defendant will now die for what he did. Whatever God the defendant believes in will not welcome him."
A prosecutor had to help hold up Liz Norton, whose two children were gravely wounded. "Who could harbor so much evil and so much hate?" she asked Tsarnaev.
Jennifer Maybury, whose nephew lost both legs, told him: "That day changed the course of an entire family."
A federal jury voted last month that Tsarnaev, 21, a Russian immigrant, should be put to death. On Wednesday, a judge formally sentenced Tsarnaev to six death sentences and 10 terms of life in prison without parole.
In the federal court system, there is an automatic appeal of the verdict and death sentence. But Tsarnaev will soon be moved to a federal facility in Terre Haute, Indiana, where he will become the youngest inmate waiting to be put to death.
The last federal execution was carried out 12 years ago when Louis Jones Jr., a decorated Army soldier, was put to death for kidnapping and killing a female enlistee.
(c)2015 Tribune Co. Distributed by Tribune Content Agency, LLC.
AFP Photo