Boxer's Exit Opens 'Door Of Opportunity'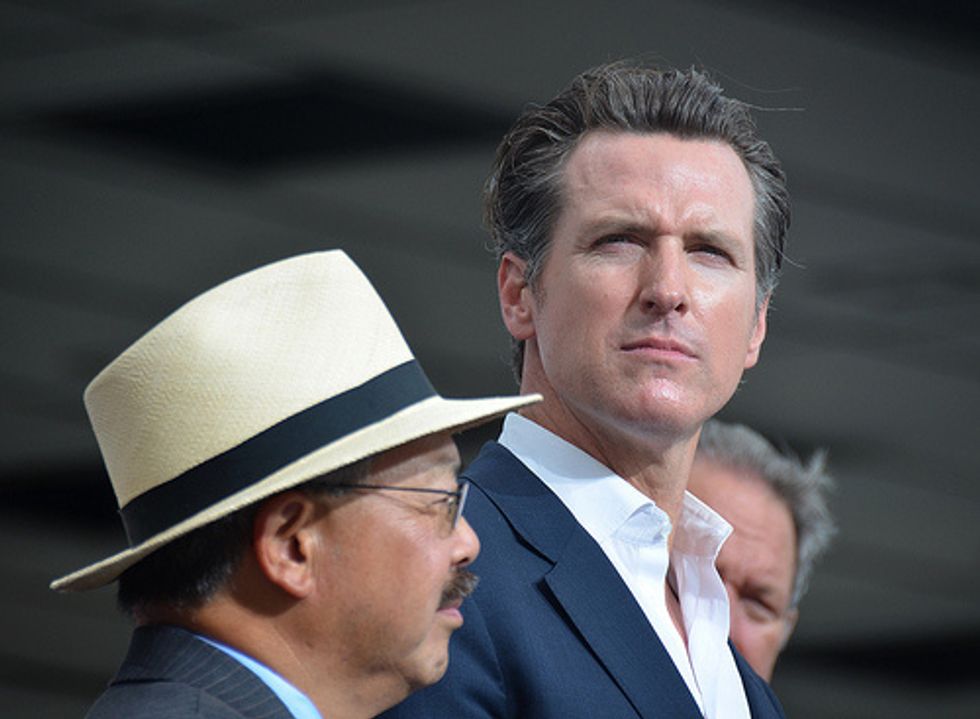 By Michael Finnegan, Los Angeles Times (TNS)
Sen. Barbara Boxer's announcement Thursday that she will not seek re-election put an end to years of frustration on the part of a younger generation of California politicians who can now start elbowing their way upward in the state's first wide-open U.S. Senate race since 1992.
More than a dozen names quickly surfaced as potential contenders for Boxer's seat in the 2016 election, chief among them state Attorney Gen. Kamala Harris and Lt. Gov. Gavin Newsom.
California's strongly Democratic tilt makes it likely that the party will hold the seat, but not without a fierce contest among those whose Senate ambitions have long been thwarted by Boxer and fellow Democratic incumbent Dianne Feinstein.
"There's a lot of pent-up demand among Democratic officeholders for opportunities to advance their careers," said Parke Skelton, a Democratic strategist. "This is like a keystone coming out of the bridge."
Boxer, 74, and Feinstein, 81, captured California's Senate seats in the 1992 "year of the woman" election.
While speculation focused most on Harris, 50, and Newsom, 47, neither offered immediate clues to their intentions. Both are also weighing a potential 2018 campaign to succeed Gov. Jerry Brown.
With the exception of a few would-be candidates who took themselves out of the running — such as Los Angeles Mayor Eric Garcetti — Thursday was a day to publicly celebrate Boxer and to privately begin a furious effort to analyze the possibilities.
One key question was who could come up with the tens of millions of dollars needed to run a viable Senate campaign in a state as vast as California. Strict federal fundraising limits make it hard even for big-name politicians to build a large war chest in less than two years.
That gives at least some edge to wealthy contenders who can dip into personal fortunes. Former state Controller Steve Westly, a Democrat, has been itching to return to elected office after losing a 2006 governor's race in which he spent millions of dollars he earned as an early eBay executive.
Tom Steyer, the San Francisco Bay Area hedge fund billionaire who has poured tens of millions of dollars into Democratic campaigns as part of his fight against global warming, is also weighing a Senate run. As a rookie candidate, he would face the danger of stumbling — at great personal expense — the way wealthy but losing gubernatorial contenders Meg Whitman did in 2010 and Al Checchi did in 1998.
Former Los Angeles Mayor Antonio Villaraigosa is often mentioned as a potential Senate candidate. But like Newsom, a former San Francisco mayor, he has openly stated his preference for an executive job, the one Brown will hold for the next four years.
For Republicans, Boxer's seat would be one of the toughest in the nation to win, particularly because it coincides with the Democratic advantage of high voter turnout in a presidential election.
Banker Neel Kashkari, Brown's GOP challenger in November, and two Republican mayors, Kevin Faulconer of San Diego and Ashley Swearengin of Fresno, signaled Thursday that they were not inclined to run.
And the state's most powerful Republican, House Majority Leader Kevin McCarthy of Bakersfield, is unlikely to leave his leadership post for an effort to become California's junior senator.
But former state Republican Chairman Duf Sundheim, a Bay Area court mediator, said he was "seriously exploring the possibility of running."
State GOP Chairman Jim Brulte recalled the party's failure to unseat Boxer and Feinstein in one election after another. "But this opens the door of opportunity," he said. "We will see if we can take advantage of it."
Still, there is a remote chance that Republicans could benefit from California's new "top two" primary system. Candidates who finish first and second in the primary — regardless of party — compete in a November runoff. The nightmare scenario for Democrats would be to have so many candidates on the ballot that they splinter the primary vote and two Republicans wind up facing off in November.
"You can't rule that out," said political scientist Bruce Cain of Stanford University.
But it was also possible — perhaps more probable — that two Democrats could make their way to the general election, prompting the sort of internal bloodletting that marked some congressional contests last year.
Many of those eyeing Boxer's job are among the 53 Californians in the U.S. House of Representatives. Leading names circulating on Capitol Hill include Democratic Reps. Xavier Becerra, Jackie Speier, John Garamendi and Adam Schiff.
In Sacramento, statewide elected officials were pondering the attraction of representing the nation's most populous state in the Senate. For some Democrats, such as newly elected Secretary of State Alex Padilla and state Treasurer John Chiang, an inevitable question was how it might appear to be seen coveting a new post just days after taking office.
"It's pretty hard for those folks on Monday to say, 'I'm so proud to have been sworn in as such and such,' and on Thursday to say, 'Now I'm running for Senate,' " said Roy Behr, a former Boxer campaign adviser. "This race may take a while to take shape because of that."
But after Boxer, Feinstein and Brown, who is 76, stood in the way for so long, the sudden opening of one of the state's top jobs was nothing if not tantalizing. Feinstein has not yet said whether she plans to seek re-election in 2018, but Brown is barred by term limits from seeking another term.
"There's obviously a whole generation of younger, very talented politicians waiting to make their mark," said Democratic pollster Paul Maslin. "And this is their first opportunity to do it."
Boxer said she felt no obligation to step aside for the many younger California politicians eagerly awaiting a chance of upward mobility.
"Am I stepping aside to hand the torch to a new generation? No, I am not," Boxer said in a phone call with reporters. "I don't believe in ageism."
___
(Staff writers Mark Z. Barabak, Evan Halper, Lisa Mascaro, Seema Mehta and Michael A. Memoli contributed to this article. Barabak reported from San Francisco, Mehta from Los Angeles, and Halper, Mascaro and Memoli from Washington.)
Photo:  Steve Rhodes via Flickr