California's Wealthy Lagging In Water Conservation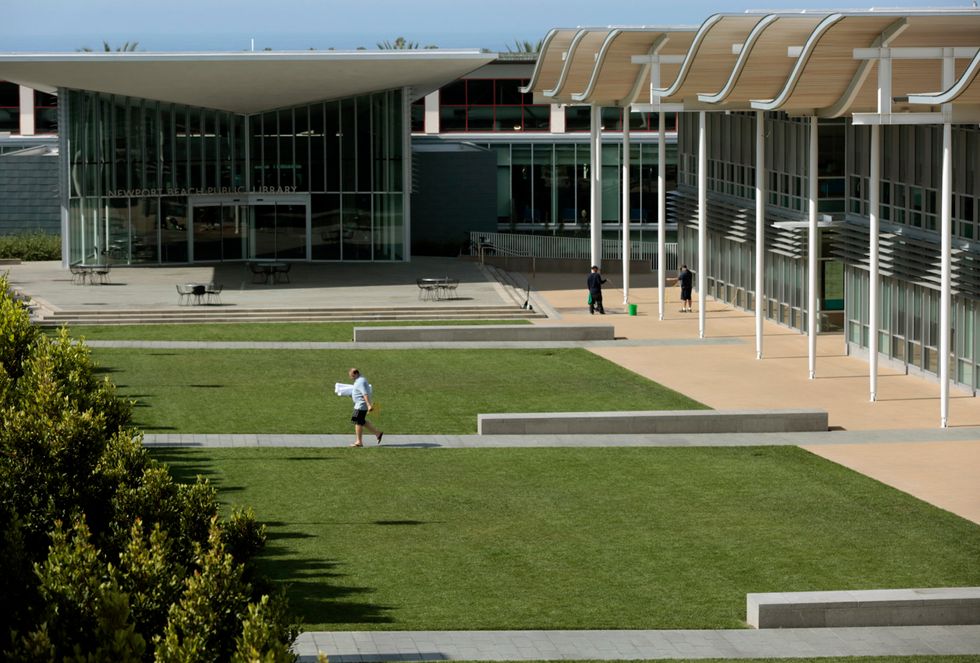 By Frank Shyong, Hailey Branson-Potts, and Matt Stevens, Los Angeles Times (TNS)
LOS ANGELES — There are few signs of California's epic drought along a stretch of Maple Drive in Beverly Hills.
Deep-green front lawns stretch out, dotted with healthy trees and sculpted foliage. The only brown lawn in sight is at a home under construction.
As California gears up for the first mandatory water restrictions in its history, a long-standing class divide about water use is becoming increasingly apparent.
Beverly Hills and other affluent cities use far more water per capita than less wealthy communities, prompting some to cast them as villains in California's water conservation effort.
Residents in communities such as La Canada Flintridge, Newport Beach, Malibu and Palos Verdes all used more than 150 gallons of water per capita per day in January. By contrast, working-class Santa Ana used just 38 gallons, and communities in southeastern L.A. County used less than 45.
Los Angeles water usage was 70 gallons per capita. But within the city, a recent UCLA study examining a decade of Department of Water and Power data showed that, on average, wealthier neighborhoods consume three times more water than less affluent ones.
With Governor Brown's order requiring a 25 percent cut in water consumption, these upscale communities are scrambling to develop stricter laws that will work where years of voluntary standards have not. Many believe it's going to take a change in culture as well as city rules to hit the goal.
"Some people — believe it or not — don't know we are in a drought," said George Murdoch, Newport Beach's utilities general manager, whose city is beginning to fine chronic water wasters. "We have people that own a home here but aren't around a lot, so they could miss a leak."
Stephanie Pincetl, who worked on the UCLA water-use study, said wealthy Californians are "lacking a sense that we are all in this together."
"The problem lies, in part, in the social isolation of the rich, the moral isolation of the rich," Pincetl said.
Beverly Hills officials said that until now they have focused on educating, rather than penalizing, water wasters. The city is in the second stage of its emergency water conservation plan, which calls for voluntary limits on pavement washing, lawn watering, and the use of fountains that do not use recycled water, to reduce water consumption by ten percent.
But last Friday, water from fountains, sprinklers, and hoses seemed to flow freely throughout the city.
Across from City Hall at the Beverly Gardens Park, perfectly green hedges frame rows of blooming flowers, tended by columns of black sprinkler heads. A fountain balanced on the backs of four stone satyrs burbled pleasantly. Tourists posed for pictures in front of the iconic Beverly Hills sign, which overlooks a water feature the size of a racquetball court.
City officials plan to introduce a stricter plan at a council meeting this month; they say it will achieve the governor's 25 percent reduction target. There is some debate over how much residents can change.
Kay Dangaard, a longtime Beverly Hills resident who recently moved to a condo just outside the city, said she's seen much apathy about the drought.
"In this part of town, everyone is just too important to see outside themselves," Dangaard said as she shopped at the Beverly Hills Whole Foods Market. "Where are these people going to go with all their money when the water is gone?"
Despite the bountifully lush landscaping, there are signs that Beverly Hills is beginning to get the message.
Marianna Dzierzbinska, 76, listed her water conservation tactics as she hefted strawberry cartons at the Whole Foods. She uses cold water that runs before the shower gets hot to water her plants. When her finicky wire terriers Alfie and Lily knock some food into their water and refuse to drink it, she collects the leftovers in a bucket.
She leaned in close to share her last strategy.
"When I don't have guests, I don't flush every single time," Dzierzbinska whispered.
At Bouchon, an upscale Thomas Keller restaurant in the heart of Beverly Hills that seats 120, general manager Justin Williams says the restaurant is doing all it can to help. Water is only available on request. He instructs his bartenders to scrape the ice for drinks, not scoop it. They use less water to wash dishes and keep the restaurant clean.
"Of course, we take every measure we can," he said. "But we don't have a lot of water usage we can cut."
There are some early signs that Beverly Hills may be conserving more. According to state data, the city's water use dropped from 226 gallons per capita per day in July to 144 in January. Water use is seasonal, however, so the true test will come this summer when temperatures rise.
But some residents aren't sure how far they're willing to go. Eric, an entertainment industry worker who did not want his full name used, said he tries to conserve water, making sure the faucet doesn't run as he brushes his teeth or washes dishes. But there's also his fountain and the whirlpool and the lemon and orange trees to consider.
Seated at a sidewalk table at Urth Caffe in Beverly Hills, he said he could probably conserve more.
"This is America. You gotta live it up a little bit, right?" he joked.
High water use by upscale cities is about more than lifestyle. These communities tend to have fewer apartments and less dense housing. The dwellings tend to be larger and include sprawling grounds in need of water.
The Santa Fe Irrigation District, which serves affluent communities in northern San Diego County, recorded the state's highest residential per-capita water use during one month in 2014. The district recently began sending engineers to large properties to perform water savings checkups that identify areas of waste.
The resort communities that dot the Palm Springs area also use large amounts of water, needed to keep backyards and a plethora of golf courses verdant amid scorching desert heat.
In Orange County, resident Mike Bennett said some locals think twice about curtailing their landscaping because they are concerned about reducing their property values. Bennett said he thinks Newport Beach uses more water than other areas because of the way it was designed.
"It was designed for quality of life, with big, open spaces, compared to urban areas with smaller lots," he said.
Newport Beach, like Beverly Hills, has seen a steady drop in water use over the last few months. Officials say they have limited lawn watering to four days a week in the spring and summer and that they slap water wasters with fines. The city says it's prepared to increase restrictions, such as prohibiting the filling of swimming pools.
Some Newport Beach residents are even taking on the role of drought cop.
Glen Beliakoff, a 53-year-old professional dog walker, recently sprayed some water on the languishing, small strip of grass in front of his house.
A neighbor — a landscape architect with drought-tolerant landscaping and no grass in his yard — snapped a photo of Beliakoff, hose in hand, and sent it to the board of the local homeowners association.
Beliakoff was angry and embarrassed, but the shaming made him think. He would be willing to take out all of his grass if the state's water situation doesn't improve, and adds that he and his neighbors no longer hand-wash their cars. He follows drought news more closely, and he's troubled by what he reads.
"It scares me big-time, especially if we don't get a handle on it. It's in the back of my head, always."
Photo: Mark Boster via Los Angeles Times/TNS