A Call For Activists For Journalism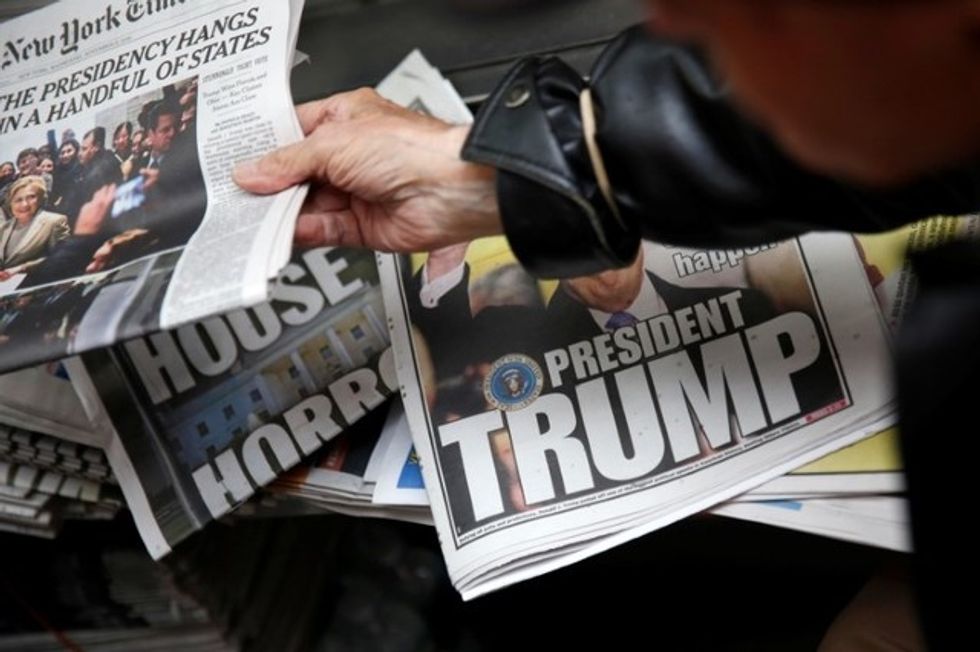 Well, that was quite the spectacle.
In his first news conference since July, President-elect Donald Trump on Wednesday likened the U.S. intelligence community to Nazi Germany, talked about himself in the third person as he described Vladimir Putin's affection for him, and attacked not one but two news organizations.
He refused to take a question from CNN reporter Jim Acosta, accusing him of working for "fake news." He called BuzzFeed "a failing pile of garbage" for publishing 35 pages of unverified allegations about ties between Trump and the Russian government.
"I think they're going to suffer the consequences," he said about BuzzFeed.
He also predicted, "I will be the greatest jobs producer that God ever created."
"And I mean that," he added, in case anyone might have wondered aloud, "Did he just say 'God'?"
Oh, yeah.
For the rest of that afternoon, emergency alert tests kept popping up on my TV screen. Coincidental, I'm sure, but it does have a way of focusing one's mind.
CNN, by the way, only reported that both President Barack Obama and Trump had received a two-page synopsis of the allegations, without providing details. Trump still thinks CNN is stinky. So there.
Social media were full of criticism of the other reporters in the room for not defending Acosta in the moment. I hope to see such unity in the future, but I won't pile on here. We've never seen the likes of this. No president loves the media, but in the past, they've typically vented their grievances privately and, sometimes, strategically.
Trump hates us and loves reminding all of America just how much. The journalists in that room had a lot of questions and no idea how long they'd have before he shut the whole thing down. I appreciate their attempts to get answers, even after it was clear that Trump had no intention of giving straight answers.
Everything's going to be very, very great. That's all you need to know.
As for BuzzFeed, this is not its finest hour.
Its initial explanation for the story: "BuzzFeed News is publishing the full document so that Americans can make up their own minds about allegations about the president-elect that have circulated at the highest levels of the US government."
That's not what we're supposed to do as journalists. Our job is to hunt down the claims and prove or disprove them. "Sources," we call them. "Facts," too.
In a memo to staff, BuzzFeed Editor-in-Chief Ben Smith wrote: "As we noted in our story, there is serious reason to doubt the allegations. We have been chasing specific claims in this document for weeks, and will continue to.
"Publishing this document was not an easy or simple call, and people of good will may disagree with our choice. But publishing this dossier reflects how we see the job of reporters in 2017."
I would not characterize myself as one of those people of goodwill at this moment. As a journalist, I'm steamin' mad right now, because the last thing we need is a high-profile example of jumping the gun for clicks. As someone teaching future journalists, this is Exhibit A of what will not happen in any classroom of mine.
In the meantime, more of us journalists need to become advocates for our profession. One of the things that newspapers got so wrong during their heyday was the insistence that we shouldn't promote what we do. The work speaks for itself, editors used to tell us. Do a good job and the readers will find you.
Boy, was that a losing strategy.
Still, journalists get squeamish at the notion of being activists for anything, for obvious reasons. But that's what we need to be now. We must let our readers and viewers know how we do what we do and why it matters.
It'll be a slog, if Twitter is any indication. After Trump's news conference, I tweeted about the importance of being an activist for journalism. Trump supporters climbed all over that one, calling me the kind of stuff best left for those dark fantasies most people don't say out loud.
It's clear that the angriest of Trump supporters feel emboldened by his election and his behavior ever since.
What they don't seem to understand yet is that so do we.
Connie Schultz is a Pulitzer Prize-winning columnist and professional in residence at Kent State University's school of journalism.
IMAGE: A man hands a newspaper to a customer at a news stand in New York, U.S., November 9, 2016. REUTERS/Shannon Stapleton