Cameron Meets Obama, Vows Cyber Security Cooperation
@AFP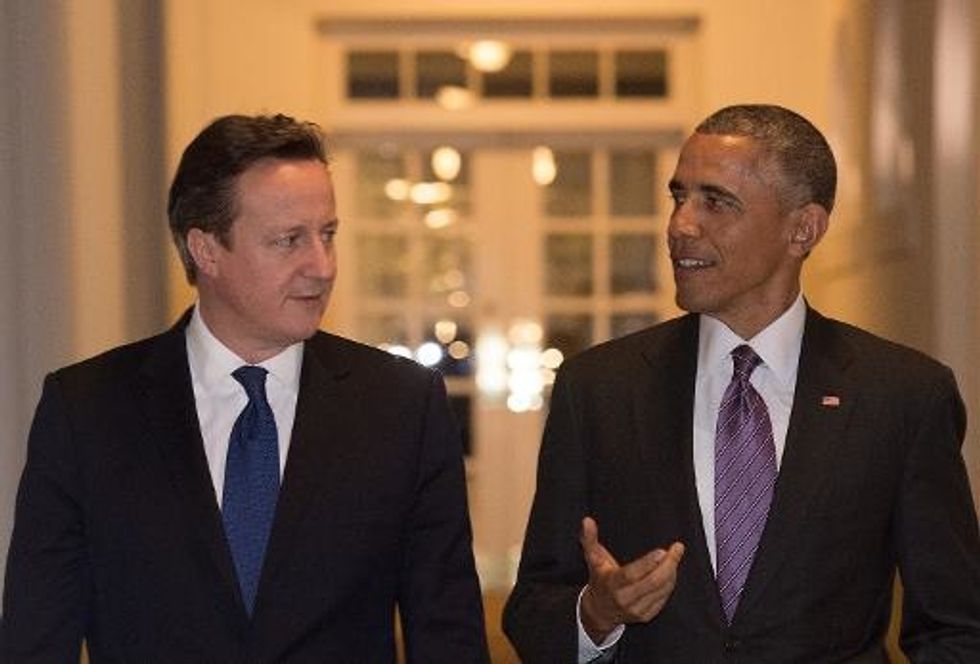 Washington (AFP) – U.S. President Barack Obama and Britain's Prime Minister David Cameron kicked off two days of talks Thursday at the White House, with the British leader promising progress on the "new threat" of cyber security.
Cameron referenced the recent cyberattack allegedly launched by North Korea against Sony Pictures in a video posted just before the talks.
"I think it really matters that Britain and America properly cooperate and work together," Cameron said in the clip posted on his Twitter feed.
"We'll be making some important announcements about how we keep our businesses and our people safe from these new cyber threats," he said.
The two leaders are expected to discuss joint anti-terror efforts during the talks that come in the wake of last week's attacks in France.
They wrote a joint editorial published Wednesday in Britain's The Times newspaper, vowing a united front against Islamic extremists after radicalized gunmen killed 17 people in and around Paris over three days last week.
White House spokesman Josh Earnest said both governments would touch on the issue.
"I'm confident that the close counterterrorism partnership that we have with the United Kingdom will be discussed," Earnest said.
Earlier this week, Cameron reiterated his commitment to beef up surveillance of suspected terrorists.
The issue of counterterrorism cooperation from online giants such as Facebook, Twitter or Google and how that help could tip the balance of privacy and security could also be discussed.
The subject is a sensitive one in the U.S. following Edward Snowden's disclosures of sensitive data collection programs by the U.S. National Security Agency.
A reform of government surveillance techniques in the United States has begun but has not yet be completed.
Obama and Cameron said in the Times that they are determined to pressure Russia over its "aggressive actions" in Ukraine.
They said the recent upsurge of fighting in the pro-Russian east could lead to a serious continental conflict.
"We will continue working in lockstep and putting pressure on Russia to resolve the crisis diplomatically," the article said.
"At the same time we will keep supporting Ukraine as it works to fulfill the economic and democratic aspirations of the Ukrainian people."
On the economic front, the leaders are likely to discuss free trade agreements between the U.S. and the European Union that has been promoted as a job creator.
EU Trade Commissioner Cecilia Malmstroem has put a damper on hopes for a quick trade deal, saying the "skeleton" of the massive proposal could be ready by the year end at the earliest.
Obama and Cameron were to meet for dinner late Thursday and have several meetings scheduled Friday, when they are also expected to hold a joint press conference.
Obama is beginning his last two years in office, while Cameron is preparing for general elections in May that are predicted to be very close.
AFP Photo/Nicholas Kamm