Cardinals Defeat Dodgers For 3-1 Lead
@AFP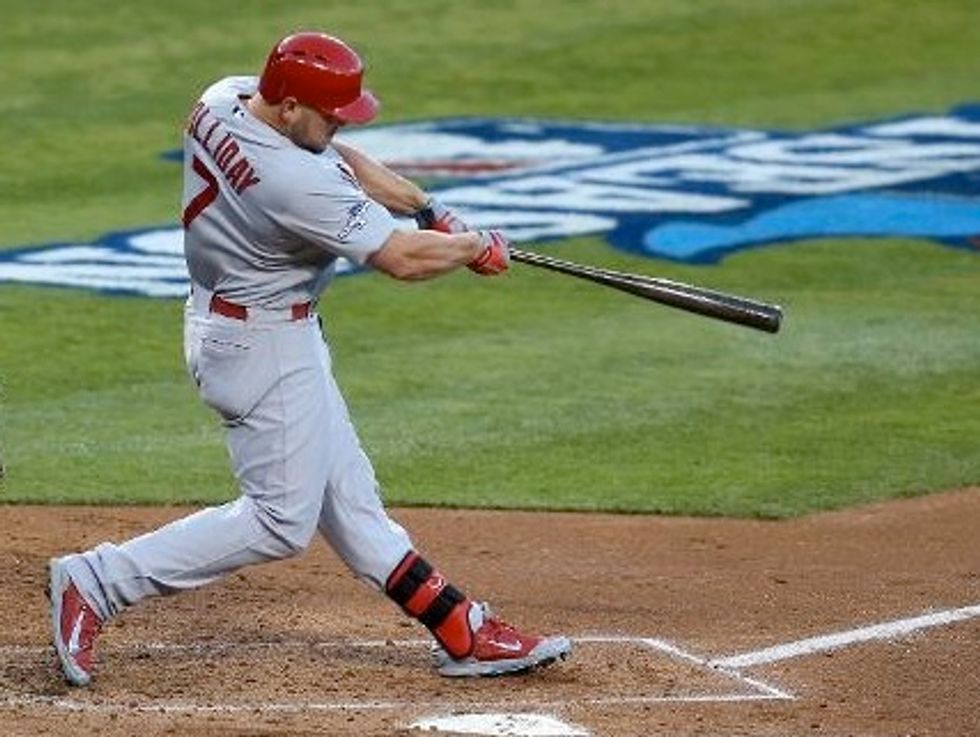 Los Angeles (AFP) – Matt Holliday blasted a 426-foot homer and Shane Robinson hit a pinch-hit solo shot as the St. Louis Cardinals beat Los Angeles 4-2 Tuesday in game four of the NLCS.
Holliday's monster shot into left field in the third inning was the first home run of the series for the Cardinals who now lead 3-1 as they try to reach their second World Series in three years.
"I got it good," Holliday said. "Have I hit further ones? Maybe, but not in that kind of situation."
The National League Central Division champion Cardinals can advance with a victory over the Dodgers on Wednesday afternoon.
Holliday's homer scored Matt Carpenter to make it 3-0 in front of a crowd of 53,992 at Dodger Stadium. It followed Carpenter's double earlier in the inning that plated Daniel Descalso to open the scoring.
St. Louis picked an opportune time to break out of their home run slump as they batted an anemic .134 through the first three games of the series.
Holliday was two-for-four with two RBIs for the Cardinals, who finished with six hits in the contest.
"Right now we have no problem celebrating this one," Cardinals manager Mike Matheny said. "Every one of these in the postseason are so tough to come by."
The winner of this series will play the winner of the other Major League Baseball semi-final, between Boston and Detroit. Boston edged the Tigers 1-0 earlier Tuesday to take a 2-1 series lead.
The Dodgers have dug themselves into a huge hole as they have faced a 1-3 deficit just twice before in the NLCS and lost both times in 2008 and 2009.
"We don't have time to feel sorry for ourselves," said Dodgers manager Don Mattingly. "We didn't do what we needed to do.
"We are down 3-1. That's not a real secret."
Yasiel Puig got the Dodgers on the board with an RBI single in the bottom of the fourth off Cardinals starting pitcher Lance Lynn.
Later in the Dodgers' half of the fourth, Mark Ellis singled to center field to score Andre Ethier and cut the Cardinals lead to 3-2.
"To get two back right there makes you feel like you are back in it," said Mattingly. "You've got a ball game. Our bullpen gave us a chance, we just didn't put up another run."
Cuban rookie Puig clubbed his single up the middle after being brushed back by a Lynn pitch during the same at bat.
The brush back that sent Puig tumbling to the dirt was in retaliation for Puig's over-the-top celebration after hitting a triple the night before against St. Louis.
This time there was no celebration as Puig stopped at first base. Puig was terrific on Tuesday as he finished two-for-three at the plate with one RBI and one walk.
Lynn threw five innings and allowed two runs on six hits and three walks with five strikeouts for the Cardinals. Closer Trevor Rosenthal struck out Dodgers third baseman Juan Uribe for the final out of the contest.
"I was throwing the ball pretty well," said Lynn. "To get three runs like that gives you a little bit of breathing room so you don't have to try to make a perfect pitch every time. They got after me in the fourth but I was able to make some pitches."
Dodgers starter Ricky Nolasco took the loss as he allowed three runs on three hits in just over four innings in his career playoff debut.
Carlos Martinez highlighted his two innings of relief by picking off Dodgers Nick Punto at second in the seventh inning.
Punto inched too far off the bag and then didn't recover in time for Martinez's whirling pickoff.
"I don't know many guys that pull that off," Matheny said of Martinez. "To have the guts to wheel and let it fly like that in a game like we have right now, it's off the charts."
Zack Greinke is slated to start for Los Angeles in game five, while the Cardinals turn to Joe Kelly for a game one rematch that lasted 13 innings.
AFP Photo/Jeff Gross