Casinos Just Aren't The Answer
@FromaHarrop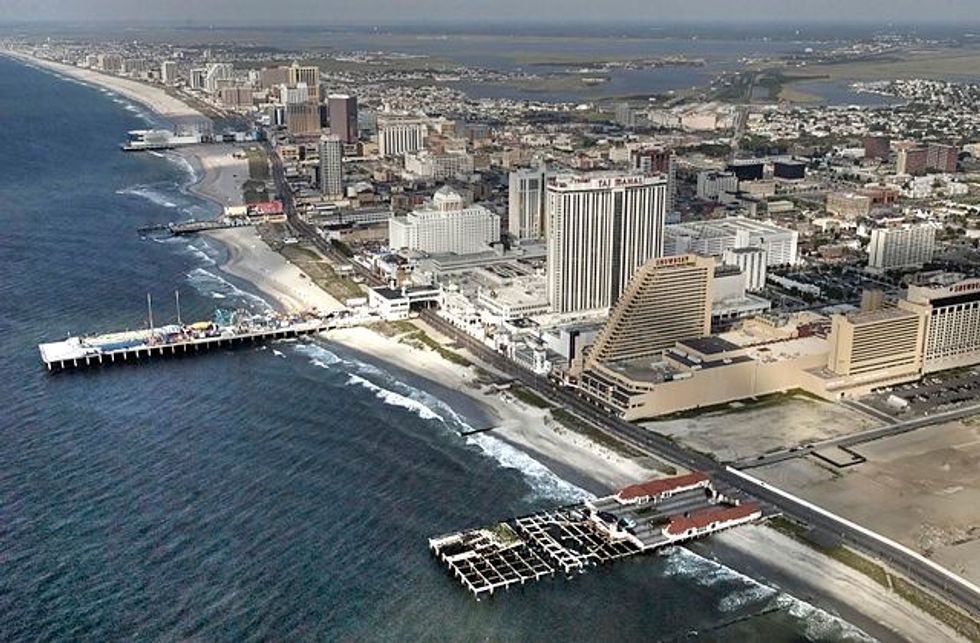 The video for the Bruce Springsteen song Atlantic City opens with a scene of the grand Marlborough-Blenheim Hotel imploding into a pile of dust. That was almost 40 years ago. The Traymore Hotel and other grand hotels were leveled in much the same spectacular fashion.
In their place rose glass boxes and concrete hulks to house new casinos. The Atlantic City dream was to fill New Jersey state coffers with gambling gold.
At the time, Nevada held a monopoly on casinos. The plan was to turn Atlantic City into a Las Vegas East drawing rollers — high and low — preferably from other tax jurisdictions.
But that dream went bad all around.
At least four Atlantic City casinos are closing this year, in part because of intense competition from newer gaming establishments in nearby Pennsylvania and elsewhere. Another problem for casinos nationally is the tough economy for their core market — blue-collar and middle-income workers.
Casino revenues in New Jersey are down 44 percent from their 2006 high, but the business is rough everywhere. The huge Harrah's in Tunica, Mississippi, has also shut its doors.
The casino business is now in the advanced "cannibalizing" stage as competitors eat what's left of each other's lunch. By "competitors," we mean both the casinos and the states relying on their revenues.
Atlantic City's special tragedy is what was traded for the casino fantasy. Nowadays cities run entire visitor campaigns around the sort of fabulous old architecture Atlantic City so easily discarded. Imagine what today's entrepreneurs could have done with a mythical beach resort smack in between New York and Washington!
Casino lust persists, but the argument has changed. Casinos are rarely portrayed as a font of tax revenues from out-of-state pockets. In most of the country, casino customers are increasingly locals who would have spent their spare dollars at local restaurants, theaters and other entertainment venues.
The new sales pitch for casinos rings more of desperation: If the state's working class is going to be milked by gaming conglomerates and the states that tax them, better that the milking take place at home than in a neighboring state.
Some states have valiantly managed to hold the line. Nebraska, for example, does not allow full-fledged casinos even though Iowa has placed three in Council Bluffs, right across the Missouri River from Omaha. (Iowa's gambling tax revenues are also falling.)
Massachusetts seems to be succumbing and is now involved in an odd negotiation with Mohegan Sun, an Indian casino operator applying to build an outlet near Boston. Mohegan Sun already has a big-league casino in eastern Connecticut, not far from the state border. Massachusetts wants a promise that it will not entice the state's high-stakes gamblers to its flagship in Connecticut (where casino taxes are lower). Mohegan Sun has yet to agree.
The statesmen running New Jersey now figure: If casinos aren't making it in South Jersey, perhaps the solution is casinos in North Jersey. How about putting them "somewhere in the swamps of Jersey" — a Springsteen reference to the Meadowlands?
The Meadowlands sit a mere nine miles west of Manhattan, a casino-free zone. New York state, however, seems to have its own plans. It is now considering several industrial-strength casinos just north of New York City (and, for that matter, the New Jersey state line).
Jersey's casino boosters seem undeterred. A North Jersey state senator — mindful of South Jersey's fear of new competition — recently ventured that a couple of big casinos in his part of the state "could produce in excess of $1 billion over 10 years to be reinvested in Atlantic City."
Sure. If you say so.
Follow Froma Harrop on Twitter @FromaHarrop. She can be reached at fharrop@gmail.com. To find out more about Froma Harrop and read features by other Creators writers and cartoonists, visit the Creators Web page at www.creators.com.
Photo: Bob Jagendorf via Flickr
Want more political news and analysis? Sign up for our daily email newsletter!