Celebrating Those Remarkable Mothers Of Social Security
@SSWorks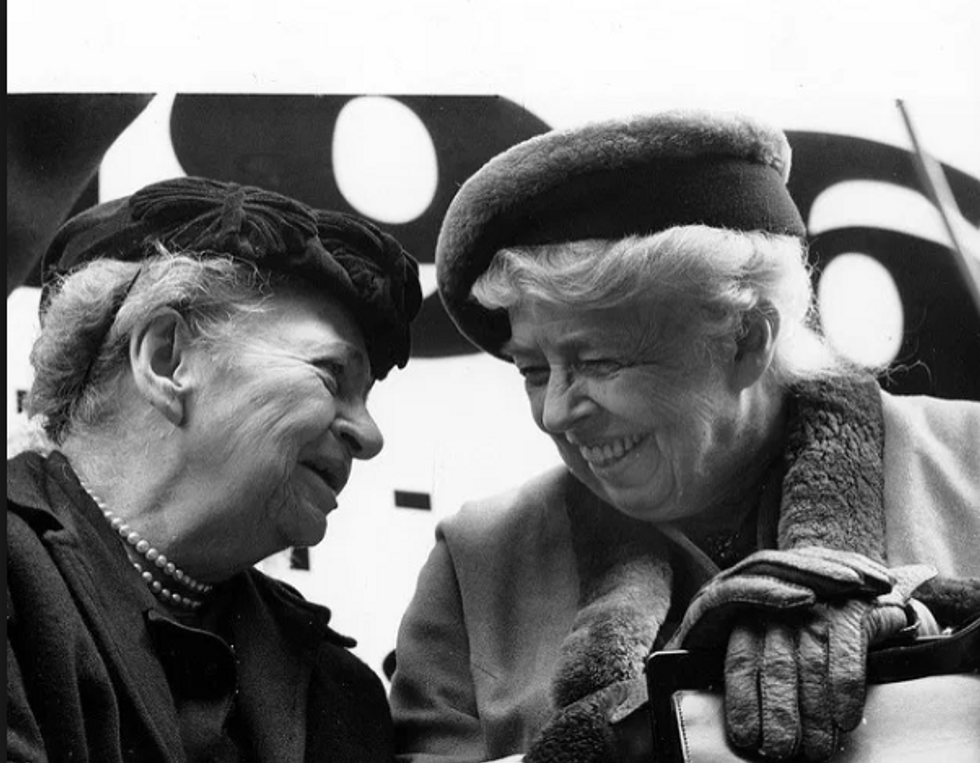 This Mother's Day, let's celebrate the remarkable Mothers of Social Security. Without them, this essential program may never have been born. It certainly would be much less successful and effective.
The Mothers of Social Security pushed for an expansive, ambitious program. When necessary, they fiercely resisted men too cautious to embrace their bold vision. All of us benefit immensely from their work—particularly women, for whom Social Security's modest benefits are especially important.
Best known of Social Security's many mothers is Frances Perkins, the first female member of a presidential Cabinet in the history of the country. When President Franklin D. Roosevelt first asked Perkins to become Secretary of Labor, she told him that she would only accept his history-making offer if he agreed to fully support her fight for Social Security, as well as other significant measures to increase all of our economic security. He did. True to her principles and values, she was a driving force behind the healthy start of Social Security, from the system's conception to its birth and its early growth.
A less-known pathbreaker was Dr. Barbara Nachtrieb Armstrong, the first tenured female law professor in the country. A Ph.D. economist, she taught both law and economics at Berkeley and authored a landmark treatise, Insuring the Essentials, an exhaustive study of social insurance and minimum wage programs around the world.
Armstrong chaired the Roosevelt administration working group that invented Social Security. Other policymakers, concerned about the constitutionality of Social Security, argued that it should be a state-based program. Armstrong successfully convinced them that only a federal program was workable. When those who oversaw her work contemplated dropping Social Security because they feared it was too big a lift, she leaked their plan to friendly journalists whose exposés got Social Security back on track.
Without Armstrong's bold leadership and keen intellect, Social Security might not even exist at all today. If that sounds hyperbolic, those same policymakers whom Armstrong outwitted later decided to not propose national, guaranteed health insurance. Cautiously, they decided it was better left for the future. Today, we are still fighting for improved and expanded Medicare for All.
Other remarkable Mothers included two members of the Social Security Board, which administered Social Security prior to a 1946 reorganization that replaced the Board with a single commissioner. Four other women were members of the 1938 Social Security Advisory Council, whose recommendations to add benefits for wives, widows, and dependent children were enacted into law in 1939.
Perhaps it is in part because these and other women were so important to the birth and early development of Social Security that it is so important to women today. Social Security is essential for virtually everyone, but it is particularly critical for women, as well as people of color, the LGBTQ community, and others who have been discriminated against in the workplace.
Even in 2019, women experience a substantial wage gap. It is commonly reported that, on average, a woman earns just 80 cents for every dollar earned by a man. Yet even that understates the facts. A recent report by the Institute for Women's Policy Research reveals that women today actually earn, on average, just 49 cents for every dollar earned by men.
Moreover, the same report exposes the drastic penalty for taking time out of the paid labor force. Women who take just one year off from work suffer 39 percent lower earnings than women who do not. This is especially detrimental since 60 percent of caregivers are female.
Social Security cannot offset all of the ills of society. However, it does seek to offset, to the extent it can, this kind of discrimination in the workplace. From the beginning, Social Security has employed a progressive benefit formula that provides larger benefits, as a percentage of pay, for those who have lower lifetime earnings.
Social Security is also especially important to women, because on average, women live longer than men. Unlike savings, you can't outlive Social Security, even if you live to be 110. It's no surprise that women are approximately two out of every three beneficiaries aged 85 and older.
Moreover, Social Security benefits are indexed to inflation, no matter how high inflation is. That is imperative to prevent benefits from eroding as you age. This automatic inflation adjustment, which needs updating, nevertheless is an extremely important feature for everyone, but particularly women. That is because, without adjustment, inflation causes the erosion of benefits to compound with each passing year.
As good as Social Security is, it can and should be better. Past generations of women and men have fought to improve it. Now it is our turn. Our elected Democratic policymakers in Congress are fighting to expand Social Security.
They are fighting to increase Social Security's modest benefits for all current and future beneficiaries. They are also fighting for targeted improvements. They want to restore the minimum benefit, which no longer provides a meaningful floor because it has eroded so substantially. They are also fighting to update the method of indexing benefits, because the current method under-measures the cost of living of seniors and people with disabilities, who have, on average, higher medical and other costs.
Updating both the minimum benefit and the automatic inflation index disproportionately benefits women. So do other improvements Democrats in Congress are fighting for. These include providing caregivers credit toward Social Security for their invaluable but unpaid caregiving work, and improving benefits for those who are divorced and widowed.
Historically, forward-looking women and men have improved Social Security for those who would follow. It is so appropriate that today's Democratic leaders, who are growing more diverse, have taken their place in the fight. Perhaps the best way to celebrate this Mother's Day is for all of us to commit to fighting to expand Social Security, in memory of those brilliant, hard-driving, creative, and compassionate Mothers of Social Security.
Nancy J. Altman is a writing fellow for Economy for All, a project of the Independent Media Institute. She has a 40-year background in the areas of Social Security and private pensions. She is president of Social Security Works and chair of the Strengthen Social Security coalition. Her latest book is The Truth About Social Security. She is also the author of The Battle for Social Securityand co-author of Social Security Works!.
This article was produced by Economy for All, a project of the Independent Media Institute.
IMAGE: Former Secretary of Labor Frances Perkins and Eleanor Roosevelt at the 50th anniversary commemoration at the site of the Triangle Shirtwaist fire in New York City, March 25, 1961.