Charlotte In State Of Emergency After Second Night Of Violence
@reuters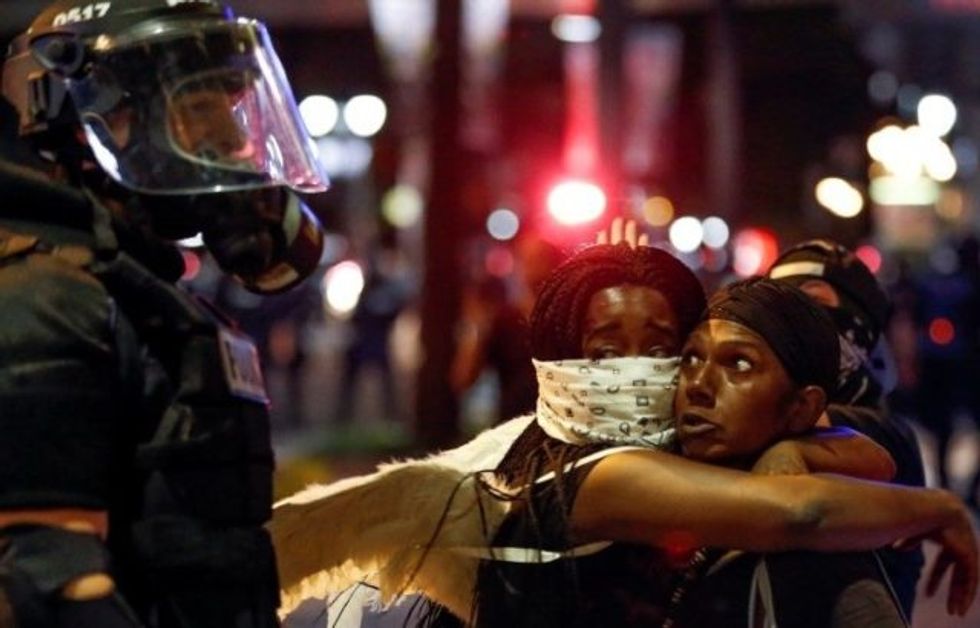 By Greg Lacour and Andy Sullivan
CHARLOTTE, N.C. (Reuters) – Residents of Charlotte, North Carolina, woke to a state of emergency on Thursday with National Guard troops deployed on the streets after a second night of violent protests over the fatal police shooting of a black man.
One person was on life support after being shot by a civilian late Wednesday as riot police used tear gas, rubber bullets and flash-bang grenades to try to disperse demonstrators who looted stores and threw rocks, bottles and fireworks.
Four police officers suffered non-life threatening injuries, city officials said.
The latest trouble erupted after a peaceful rally earlier in the evening by protesters who reject the official account of how Keith Scott, 43, was gunned down by a black police officer in the parking lot of an apartment complex on Tuesday afternoon.
Authorities say Scott was wielding a handgun and was shot after refusing commands to drop it. His family and a witness say he was holding a book, not a firearm, when he was killed.
A spokesman for the Charlotte Fraternal Order of Police told CNN on Thursday he had seen video from the scene showing Scott holding a gun.
Scott's wife, Rakeyia Scott, said on Wednesday evening that her family was "devastated" and had "more questions than answers" about her husband's death.
She said she respected the rights of those who wanted to demonstrate, and asked that they do so peacefully.
But the pleas appeared to go mostly unheeded. Overnight, protesters smashed windows and glass doors at a downtown Hyatt hotel and punched two employees, the hotel's manager told Reuters. The slogan "Black Lives Matter" was spray-painted on windows.
Looters were seen smashing windows and grabbed items from a convenience store as well as a shop that sells athletic wear for the National Basketball Association's Charlotte Hornets. Protesters also set fire to trash cans.
It was the second night of unrest in North Carolina's largest city and one of the biggest U.S. financial centers. Sixteen police officers and several protesters were injured on Tuesday night and in the early hours of Wednesday.
'VIOLENCE NOT TOLERATED'
Governor Pat McCrory declared a state of emergency late Wednesday night and began the process of deploying the National Guard and state highway patrol officers to the city to help restore peace.
"Any violence directed toward our citizens or police officers or destruction of property should not be tolerated," McCrory said in a statement.
Charlotte Mayor Jennifer Roberts was considering a curfew and Bank of America Corp , which is headquartered in Charlotte, told employees not to report to work at its uptown offices, local media reported.
The American Civil Liberties Union has called on the police in Charlotte to release camera footage of the incident. Authorities have said the officer who shot Scott, Brentley Vinson, was in plainclothes and not wearing a body camera. But according to officials, video was recorded by other officers and by cameras mounted on patrol cars.
Todd Walther, the Charlotte Fraternal Order of Police official, said the plainclothes officers were wearing vests marked "police" and that he saw them do nothing wrong. Releasing the video would satisfy some people, but not everyone, he added, and people will have to wait for the investigation to conclude.
"The clear facts will come out and the truth will come out. It's unfortunate to say that we have to be patient, but that's the way it's going to have to be," Walter said.Mayor Roberts said she planned to view the footage on Thursday, but did not indicate if or when it would be made public.
The killing of Scott came just days after a fatal shooting of an unarmed black man in Tulsa, Oklahoma that was recorded on video. Protesters have held peaceful rallies demanding the arrest of the female officer involved.
U.S. President Barack Obama spoke by telephone on Wednesday with the mayors of Charlotte and Tulsa, a White House official said.
The two deaths were the latest in a series of police shootings over the last couple of years that have raised questions about racial bias in U.S. law enforcement. They have also made policing and community relations a major topic ahead of the presidential election in November.
William Barber, president of North Carolina's chapter of the NAACP, called for the "full release of all facts available," and said NAACP officials planned to meet with city officials and members of Scott's family on Thursday.
(Additional reporting by Brendan O'Brien in Milwaukee; Editing by Jeremy Gaunt and Jeffrey Benkoe)
Photo: Two women embrace while looking at a police officer in uptown Charlotte, NC during a protest of the police shooting of Keith Scott, in Charlotte, North Carolina, U.S. September 21, 2016. REUTERS/Jason Miczek