After Charlottesville, A Surge In Anti-Racism Rallies Across The Country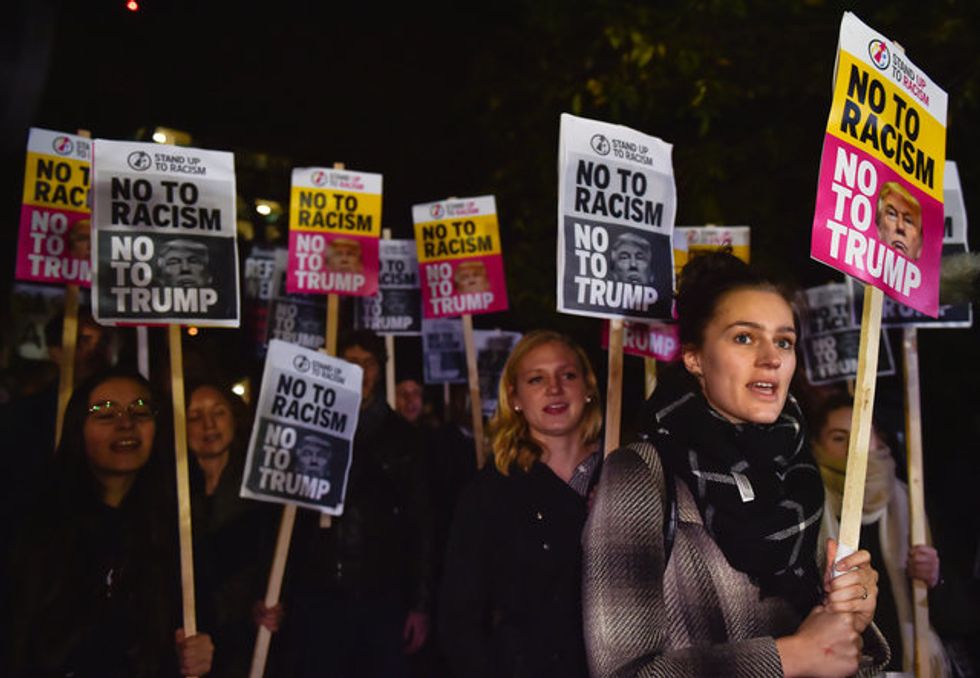 Reprinted with permission from AlterNet.
Sadie, 3, wore red-rimmed sunglasses to the Rally for Peace and Sanity at Grand Army Plaza in Brooklyn, New York. As elected officials denounced racism and war, she sat in her father's lap, carrying two neon green signs. One said "Love one another." The other, "Black Lives Matter."
"Everything that happened yesterday was horrifying and demanded a response," said her father, Justin. He was referring both to Donald Trump's threats of nuclear war and the white supremacist demonstration in Charlottesville, Virginia, that left an activist and two police officers dead. Justin said he attended the rally to set an example for Sadie and his two other daughters, to stand up for social justice.
(Photo by Ilana Novick)
Sadie and Justin were just two of thousands across the country who organized nearly 700 rallies (and counting) following the violence in Charlottesville. From California to New York to Atlanta, where multiple progressive groups were attending the Netroots conference, to Ohio and Arkansas and countless other states, Americans took their anger and fear into the streets, starting Saturday night, and still underway Sunday evening.
"In Trump's America, the KKK doesn't need a hood anymore," Dan Cantor, the national director of the Working Families Party, said in response to Saturday's events, joining a coalition of organizations including the Women's March, Black Lives Matter, Indivisible, Democracy for America, Resist Here, MoveOn, Progressive Change Campaign Committee, Million Hoodies, and many others in condemning the white supremacist-fueled violence. Events started Saturday night, but will continue for the next few days. (Find or register a protest in your area.)
Activist leaders emphasized the difference in police responses between the fascist march in Charlottesville and the protests following the death of black men and women by police, particularly in Ferguson, Missouri after the killing of Michael Brown.
"When people of color have led peaceful protests in recent years, the police response has been swift," Cantor noted. "In a crowd with clear violent intent, the response of law enforcement today in Charlottesville was comparatively restrained. They would not have treated a similar demonstration by young black men with such restraint."
Elected officials at the Brooklyn rally, including New York City Council Member Jumaane Williams also noted that the violence in Charlottesville is not an anomaly, but part of a long tradition of hatred in America.
"I've been frustrated," Williams said. "There are many people who are shocked about what they saw. They are in awe about what they saw. That is America…It has been in the DNA of this country from its birth. We have to be honest about that. Because if we pretend that it's not who America is, that it is something new, we are missing the point."
Indivisible co-executive directors Ezra Levin and Leah Greenberg tied the violence in Charlottesville to multiple facets of American society. Their statement read, "In addition to condemning openly violent acts motivated by racism and nationalism, we must also confront white supremacy in all its sinister forms—including structural racism in our criminal justice system, our education system, our financial system, and throughout our society."
Protest in Cleveland, Ohio. (Photo by Tristan Rader)
More photos and videos below.
Ilana Novick is an AlterNet contributing writer and production editor.