Freedom Caucus Still Whining About Speaker McCarthy's 'Broken Promises'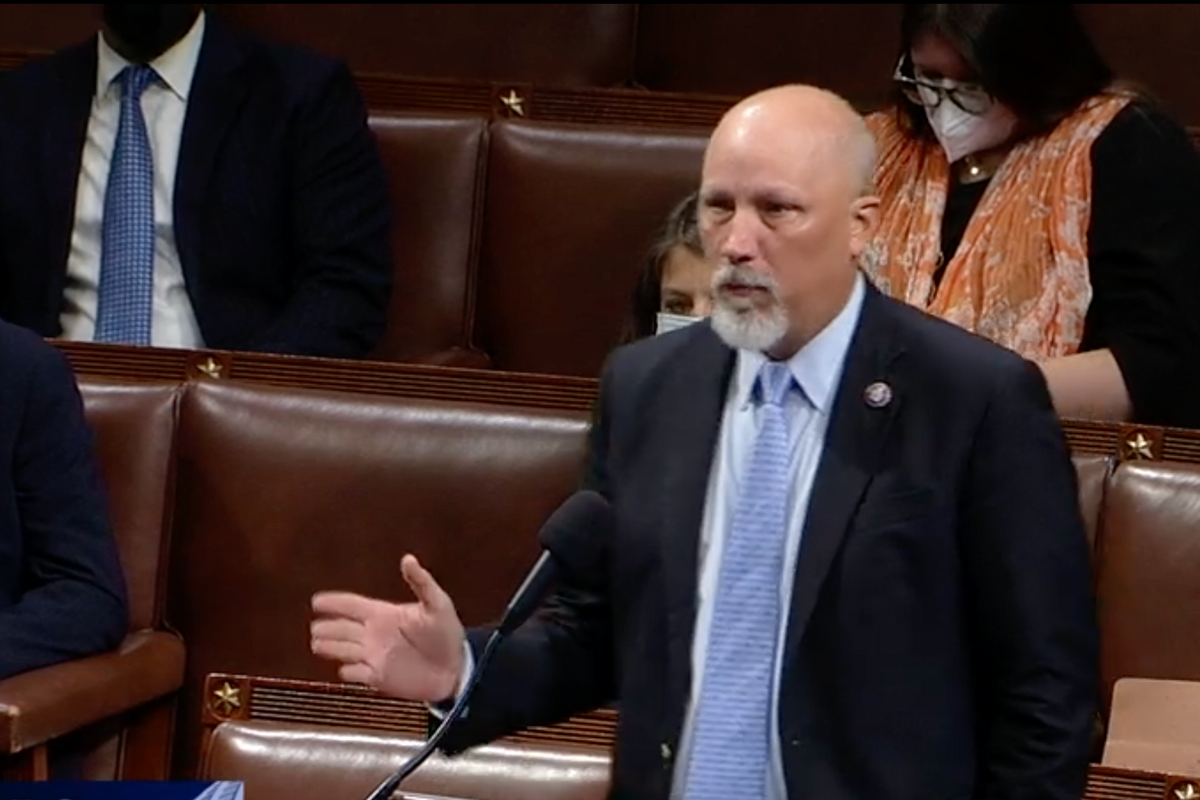 Members of the House Freedom Caucus are still seething at Speaker Kevin McCarthy (R-CA) for coming to an agreement with President Joe Biden that avoided a catastrophic default. They insist he broke promises made in order to secure that final, 15th round of balloting that put him in the speaker's chair—promises McCarthy and his team insist didn't happen.
The Freedom Caucus swear that McCarthy promised he would never let a bill pass with more Democratic votes than Republican. The debt ceiling agreement passed with 165 Democratic votes, and 149 from Republicans. "We were told they'd never put a bill on the floor that would take more Democrats than Rs to pass it. We were told that," Rep. Andy Biggs of Arizona whined last week. Reps. Chip Roy of Texas and Ralph Norman of South Carolina, who extracted coveted seats on the powerful Rules Committee in their deal-making with McCarthy, also insist he promised them nothing would be allowed out of that committee and onto the floor unless it had the unanimous vote of all nine Republicans.
\u201cA reminder that during Speaker negotiations to build the coalition, that it was explicit both that nothing would pass Rules Committee without AT LEAST 7 GOP votes - AND that the Committee would not allow reporting out rules without unanimous Republican votes. #DebtCeiling\u201d

— Chip Roy (@Chip Roy) 1685381457
The rest of the Rules Committee and McCarthy's team deny that he ever made those promises, and there isn't any public evidence that he did. There is, however, that unresolved mystery of the secret documents that plenty of people said they saw circulating during that chaotic week in January, when McCarthy was wheeling and dealing his way to the gavel. Plenty of rank-and-file Republicans believed at the time that the secret addendum to the rules package governing this session existed, and felt sold out.
There is one promise that he's not denying, and this one is most dangerous for the future stability of the government: McCarthy reportedly told the Freedom Caucus that he would roll back funding for the 2024 fiscal year to 2022 levels. Colorado Rep. Ken Buck repeated that claim on CNN last weekend. "He promised when he was running for speaker that we would use the 2022 baseline numbers as the appropriation numbers for this year, and then went back on that promise with this particular legislation, where he promised and signed into law the 2023 numbers."
The danger in this claim, which again McCarthy isn't denying, is in those 12 spending bills that Congress has to agree to before Oct. 1 to avoid a government shutdown and/or a one percent across-the-board cut to everything starting in January. The topline spending for the next fiscal year was set in this debt ceiling agreement at nearly $1.6 trillion. Where Biden and the Democrats are looking at that as $1.6 trillion in guaranteed spending, the Freedom Caucus and Republicans could very well be looking at that as a cap, with the intention of spending much less.
McCarthy, maybe in a bid to recapture the hearts and minds of the Freedom Caucus, hinted at spending fights to come in the next few months, including getting all the "wokeness" out of government. No. Really.
\u201cWashington\u2019s reduced spending limits will soon become law. Next up \u2014> we advance our priorities further in the fight to protect taxpayer money:\n\n- Root out wokeness in government\n- NO new $4 billion FBI building\n- Secure the border\u201d

— Kevin McCarthy (@Kevin McCarthy) 1685734030
There's no denying that members of the Freedom Caucus were the biggest losers in the debt ceiling agreement, but they could still regroup to make that appropriations process impossible and threaten a government shutdown if they don't see the cuts they say McCarthy promised them. The ultimate threat they have over McCarthy—the motion to vacate the chair and boot him—completely fizzled out this time around. It does, however, still exist as a possibility, and the fight over the 12 appropriations bills is a likely place for it to bubble up again.
One of the negotiators in the debt ceiling deal for McCarthy, Louisiana Rep. Garret Graves, acknowledged that threat on CBS's Face the Nation on Sunday. "I'm not ruling out anything. It depends on how reasonable each side is, obviously, in the negotiations. It's very difficult to predict."
Between now and October 1, when the new funding agreement has to kick in, the House is scheduled to work a grand total of 36 days. That's subject to change—they can always cancel recess and work.
Reprinted with permission from Daily Kos.