McCarthy Admits Biden 'Walled Off' Social Security And Medicare In Buidget Talks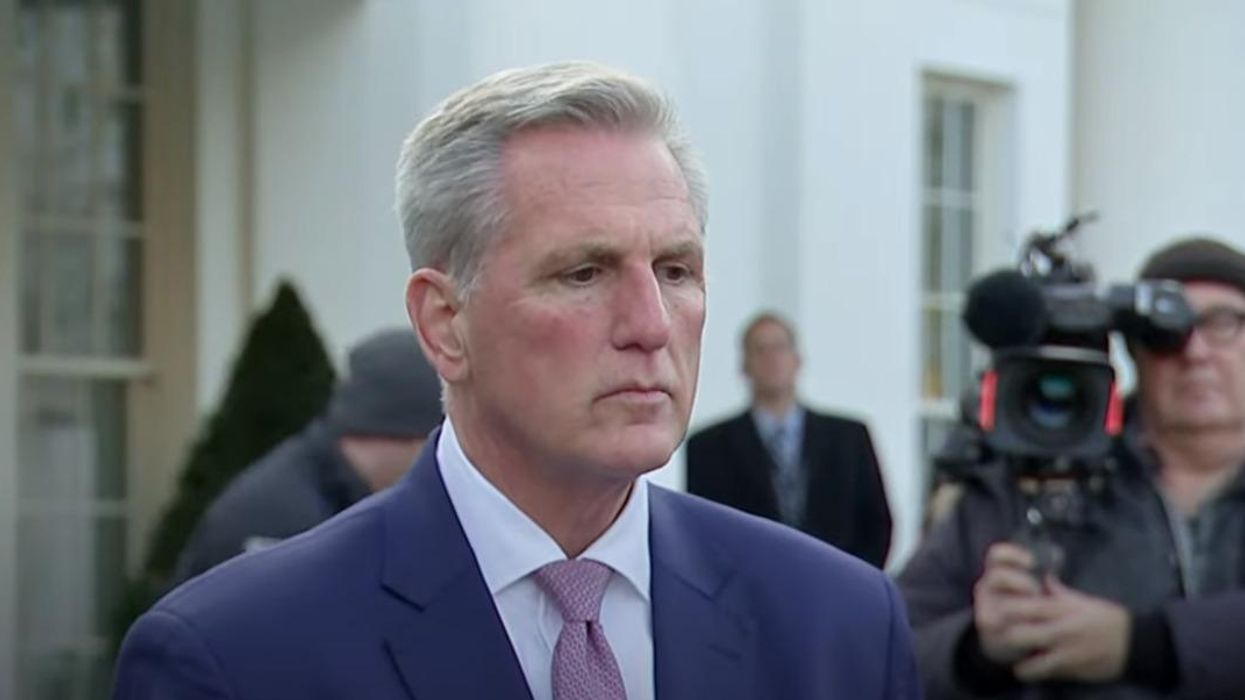 House Speaker Kevin McCarthy said on Wednesday that he wants to create a commission to look into future cuts to Social Security and Medicare because President Joe Biden refused to allow any cuts to the programs during negotiations over raising the debt ceiling.
"We only got to look at 11 percent of the budget to find these cuts. We have to look at the entire budget," McCarthy said during an appearance on Fox News.
When anchor Harris Faulkner asked McCarthy why Republicans didn't see the entire budget during debt ceiling talks, McCarthy replied, "The president walled off all the others."
McCarthy said: "The majority driver of the budget is mandatory spending. It's Medicare, Social Security, interest on the debt." He told Faulkner that Congress was not done cutting spending out of the budget: "You know what, I'm going to make some people uncomfortable by doing that, but I'm not going to give up on the American people. … This is the first step. I'm going to announce a commission coming forward from the speaker, from bipartisan on both sides of the aisle," to look for possible further budget cuts.
It's unclear who would be on the committee, or how it would be different from the House Budget Committee, which exercises oversight of the annual federal budget. A McCarthy spokesperson did not return a request for comment from the American Independent Foundation regarding the committee's makeup.
But Democrats are already slamming the proposal.
"The Speaker is once again making it clear that Republicans cannot be trusted to protect these lifesaving programs and that's why voters will relegate them back to the minority next year," Viet Shelton, a spokesperson for the Democratic Congressional Campaign Committee, which works to elect Democrats to the House, told the American Independent Foundation.
McCarthy and House Republicans had been refusing to raise the debt ceiling without any cuts in federal spending, claiming the national debt is out of control and needs to be reined in. Republican lawmakers, however, played a large role in the debt, voting to pass a massive tax bill and multiple COVID-19 packages that added $7.8 trillion in debt during former President Donald Trump's tenure, according to a report from ProPublica.
In remarks prepared for his State of the Union address in February, Biden asked Republicans to agree that they would not force cuts to Social Security and Medicaid in exchange for raising the debt ceiling:
Let us commit here tonight that the full faith and credit of the United States of America will never, ever be questioned. Some of my Republican friends want to take the economy hostage unless I agree to their economic plans. All of you at home should know what their plans are. Instead of making the wealthy pay their fair share, some Republicans want Medicare and Social Security to sunset every five years. That means if Congress doesn't vote to keep them, those programs will go away. Other Republicans say if we don't cut Social Security and Medicare, they'll let America default on its debt for the first time in our history. I won't let that happen. Social Security and Medicare are a lifeline for millions of seniors.
When Republicans booed Biden's comments, he ad libbed, "As we all apparently agree, Social Security and Medicare is off the books now, right?"
As a result of Social Security and Medicare cuts being taken off the table during the debt ceiling negotiations, White House concessions to House Republicans were confined to caps on discretionary spending for the next two years, some cuts to IRS funding, and new work requirements for food stamps.
Republican hard-liners have railed against the deal, which would suspend the debt limit through January 2025, after which it would raise the cap by one percent, saying it did not make enough cuts.
"No. Republican. Should. Support. This," Rep. Chip Roy, a Texas Republican leading the opposition to the deal, tweeted on Tuesday.
Combined, Social Security and Medicare account for nearly one-third of the federal budget, according to data from the Treasury Department.
But cutting funding to the programs, which provide retirement, survivor, disability and health care benefits to Americans, is deeply unpopular among voters.
An Associated Press poll published in April found 79 percent of voters oppose cutting Social Security benefits or raising the eligibility age, while 70 percent oppose raising the Medicare eligibility age from 65 to 67.
A Fox News poll from March found that 71 percent of voters thought it was more important to keep the Social Security and Medicare programs funded at current levels than to reduce the deficit.
Democrats have applauded Biden for the deal he negotiated.
"I commend President Biden for his leadership in fending off devastating cuts and protecting Social Security, Medicare, and Medicaid," Rep. Kevin Mullin (D-CA) tweeted early Thursday morning.
Reprinted with permission from American Independent.