Chipotle To Customers: Don't Bring Assault Rifles To Meals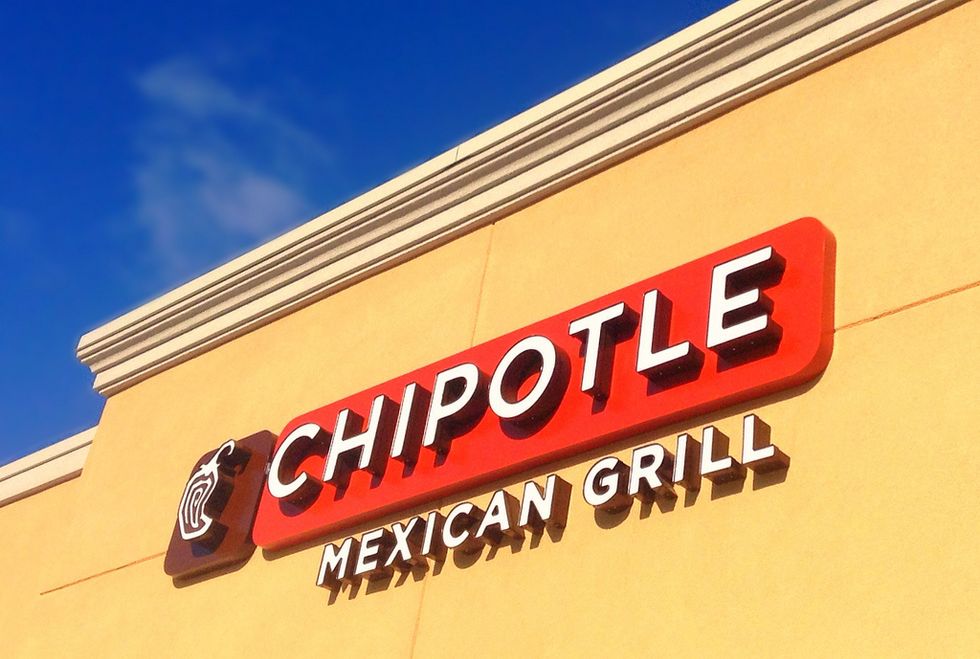 At Chipotle, you can have a side of chips with your order, but not a military assault rifle. Following an uncomfortable situation at a Chipotle restaurant in Dallas, Texas, in which a few customers brought SKS semi-automatic rifles to enjoy along with their food, the company issued a statement in which they urged gun owners to leave their firearms behind when dining at the burrito joint: "The display of firearms in our restaurants has now created an environment that is potentially intimidating or uncomfortable for many of our customers," it read.
The very public display of Second Amendment rights prompted gun control advocacy group, Moms Demand Action for Gun Sense in America, backed by billionaire and former New York City mayor Mike Bloomberg, to petition Chipotle to ban firearms in their restaurants. While it is unclear whether Chipotle's statement serves as an outright ban, it certainly comes as a "bold move" for the chain, according to Erika Soto Lamb, a spokeswoman for the gun control group. Texas is a staunchly pro-gun state, and while Chipotle said that it generally adhered to local gun policies, it seemed that the "weekend armed lunch" was just a little too much to stomach.
Gun rights activists — including those affiliated with Open Carry Texas, whose members brought the rifles into Chipotle last weekend — are no strangers to using restaurants and other public places as platforms for their  lunacy advocacy. Earlier this month, members of Open Carry Tarrant County appeared at a Jack in the Box in Fort Worth carrying plenty of rifles — but not a single sign indicating their purpose. They neither notified the police nor the employees, who, believing they were being attacked, "locked themselves inside a freezer for protection out of fear the rifle-carrying men would rob them," according to a statement by the Fort Worth Police Department. This was apparently too much even for Open Carry Texas, which requires demonstrators to notify police of their intentions before staging any sort of event. The state group severed all ties to the local branch.
But even after warning the police, it seems that having a meal disrupted by a group of gun-wielding individuals would be somewhat terrifying, especially at a family-friendly establishment like Chipotle. Moms Demand Action used #BurritosNotBullets to drive their Twitter campaign that urged Chipotle to keep their restaurants safe and approachable for families and children. Shannon Watts, the founder of the organization, noted that "you can support the Second Amendment while also taking reasonable measures to ensure that Americans are safe and secure in the places we take our children."
And to most, loaded assault rifles simply don't scream "safety and security" in a restaurant. Alex Clark, one of the men who took his gun to Chipotle, informed KRLD-TV of the diversity of guns included in the demonstration, saying "We had all different types of long guns, some people had shotguns. I personally carry an AK-47." And these guns weren't just for show — rather, they were fully locked and loaded, and ready for action. Said Clark, "There's no reason to carry an unloaded weapon — it wouldn't do any good."
Chipotle's statement follows the example set by Starbucks, who made a similar statement last year asking customers to refrain from carrying guns in their stores. However, Starbucks did not issue a full-fledged ban, and like Chipotle, believes that "it is the role of elected officials and the legislative process to set policy in this area."
One thing is for sure: Chipotle certainly doesn't want to serve as a battleground for the gun-rights debate. 
Photo via Flickr
Want more coverage on gun-control laws? Sign up for our daily email newsletter!