'Christian' Abbott Celebrates Christmas By Sending Migrants To Frigid Capital (VIDEO)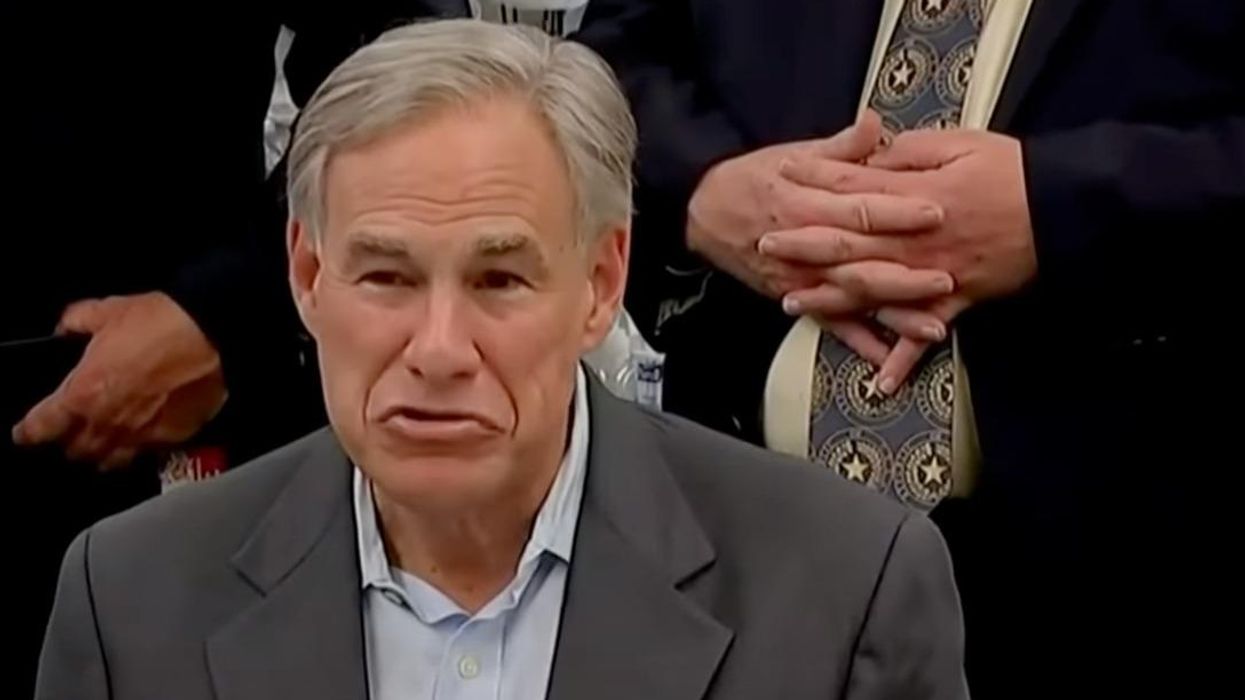 Some say the popular story of Jesus being born in a manger after Mary and Joseph were turned away because there was no room at the inn is likely false. But the Christian ethos of "love thy neighbor" and helping those in need isn't – the Bible has over 100 passages that talk about welcoming strangers.
"Religion and faith of been part of my life for my very beginning," Texas GOP Governor Greg Abbott declared in 2017, adding, "if the core of your life is God-centered, then everything is going to work out just fine."
"I am a Christian, I've committed my life to ensuring justice, I come in peace," Abbott said in 2018.
None of that was on display when Gov. Abbott, ignoring the most basic tenets of his faith, sent three busses of asylum-seeking immigrants from the Lone Star State to Washington, D.C. They arrived in front of Vice President Kamala Harris' official residence late at night on Christmas Eve, as a local ABC News affiliate reports, when the temperature reportedly was just 14 degrees.
CNN managing producer Noah Gray shared this clip of the asylum seekers arriving in D.C. from Texas. They appear to be draped in thin blankets.
\u201cAnother bus just arrived outside @VP residence. One man tells me that traveled 2 days from Texas and he came from Ecuador. He said he was happy to be here. Bus includes children and women- moved to another bus by aid workers on ground after standing outside briefly in 14 degrees\u201d

— Noah Gray (@Noah Gray) 1671937920
"Some migrants could be seen wearing only sweatshirts, with one man even wearing shorts as temperatures dipped in the teens Saturday night," ABC News noted, adding that some of the immigrants "were seen without adequate winter clothes."

Amy Fischer, a core organizer with the Migrant Solidarity Mutual Aid Network told ABC News that it "really does show the cruelty behind Gov. Abbott and his insistence on continuing to bus people here without care about people arriving late at night on Christmas Eve when the weather is so cold. People are getting off the buses, they don't have coats, they don't have clothes for this kind of weather, and they're freezing."
Grey adds that Fischer told him Gov. Abbott sent the buses, which were originally headed for New York.
Fox News notes "the Christmas Eve drop-off is the latest of several instances in which Texas Gov. Greg Abbott has bussed migrants to Washington, D.C."
Ray Wert, a former journalist who happens to be married to Michigan Democratic State Sen. Mallory McMorrow observed: "So Greg Abbott is saying there's no room at the inn on Christmas? If Abbott had been the Bethlehem innkeeper, Mary would have given birth on the side of the road."
Texas Signal features and opinion editor Jessica Montoya Coggins added: "Nothing will encapsulate Greg Abbott's version of Christianity better than him sending busloads of refugees away and into the freezing cold."
As the buses of asylum-seeking immigrants were making their way to Washington, D.C., Gov. Abbott celebrated the season by posting video of the luxurious mansion he lives in, all decked out for Christmas.
\u201c\u2018Twas the Night Before Christmas in Texas\u2026\u201d

— Greg Abbott (@Greg Abbott) 1671924368
Reprinted with permission from Alternet