Christie Heading To Mexico This Week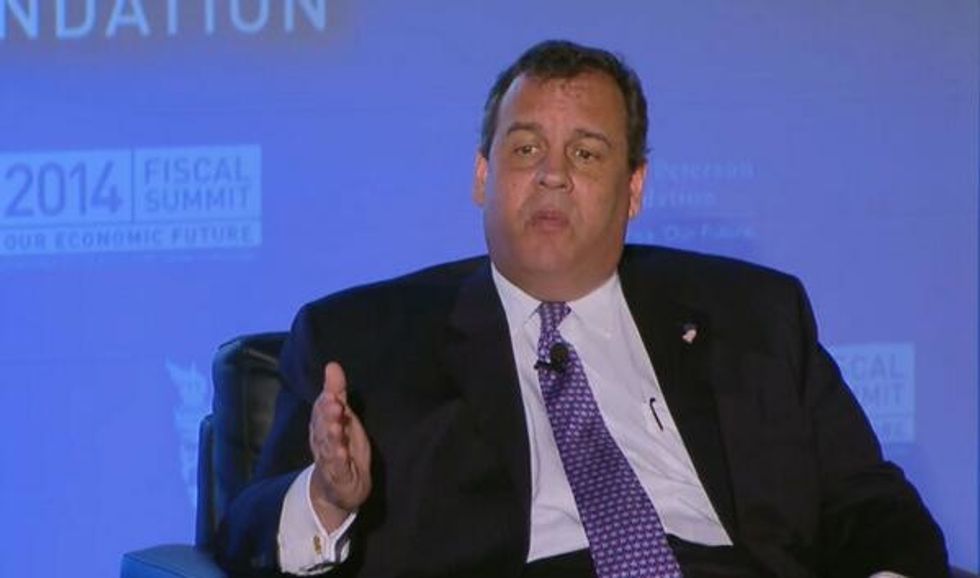 By Melissa Hayes, The Record
In the 1970s, as he was readying a run for the White House, Georgia Gov. Jimmy Carter attended trade and commerce meetings in Israel, Iran and Japan.
About the same time, former California Gov. Ronald Reagan, having lost two bids for a presidential nomination, was traveling to Asia, Iran and England.
And in the 1990s, Texas Gov. George W. Bush routinely visited Mexico, a relationship he used to highlight his foreign policy accomplishments before he won the presidency in 2000.
Now New Jersey Gov. Chris Christie, who says he hasn't decided whether he'll seek the Republican nomination in 2016, appears to be taking a page from their time-honored playbook.
While Christie crisscrosses the country this year as chairman of the Republican Governors Association, raising money for GOP candidates, he'll take a detour this week to spend three days in Mexico. He plans to meet with President Enrique Pena Nieto and business leaders as well as visit the state of Puebla, home of nearly 40 percent of New Jersey's Mexican population.
The governor, who is bringing along business, energy and pharmaceutical executives, noted Friday that New Jersey annually exports more than $2 billion of goods to Mexico and imports almost $3.5 billion. In addition, he said, the Mexican population has increased in the state by about 111 percent since 2000.
"They're a natural partner, natural ally to New Jersey and the country," he said in a phone call with reporters. "While we have strong ties already, I have a feeling we could make them even stronger. There's a lot of untapped potential there."
The trip is being paid for by Choose New Jersey, a non-profit group financed by some of the largest businesses in the state.
While Christie has said he won't announce his presidential intentions before the November elections, a lot of attention is being paid to what he does and says in Mexico.
"It's … a sign of attempted seriousness partly because immigration is such a big issue," said Rodolfo de la Garza, a professor of international public affairs at Columbia University, who sees the trip as a move toward Christie running in 2016.
De la Garza, who specializes in Latino public opinion, said he would like to hear Christie talk about a path to citizenship for those who are living in the United States illegally, and how Christie would stem the trafficking of drugs and weapons between the two countries — a major point, since many states in Mexico are in distress because of drug cartels.
Jennifer Duffy, senior editor of the non-partisan Cook Political Report, said any serious national contenders must include foreign travel in their itinerary.
"I do think governors need to shore up their foreign-policy credentials these days," she said. "It's just a different world than it was in the 1970s and 1980s, where the United States was more isolated from things happening around the globe."
Bush had strong ties with Mexico as governor of Texas, visiting the country more than a dozen times and frequently playing host to Mexico's president and other dignitaries. It was a relationship that resonated with Latino voters, de la Garza said. Bush won 34 percent of the Hispanic vote in his first run for the White House in 2000, and 40 percent when he was reelected in 2004, according to Pew Research's Hispanic Trends Project. GOP candidates haven't come close to that benchmark since then.
Christie, whose reelection campaign included a person responsible for Latino outreach, won 51 percent of the Hispanic vote last year.
"Bush was a good man because he was used to Mexicans," de la Garza said. "He knew Mexicans weren't a threat, they helped make him rich. I don't know that Christie can pull that sort of thing off, but it's an interesting thing."
According to details released by the administration, Christie will arrive in Mexico City on Wednesday morning and meet with the consul general of Mexico in New York and the U.S. ambassador. He is scheduled to give two keynote addresses, one at an investment seminar organized by Choose New Jersey and one at an event planned by the American Chamber of Commerce, where he'll speak about the relationship between Mexico and the United States. He also will meet with Pena Nieto and the secretary of energy and greet business leaders.
On Thursday he'll meet with the Mexican Business Council, a non-profit organization that includes the chief executives of the largest Mexican companies, as well as the leader of Pro-Mexico, a government agency that works to strengthen Mexico's participation in the international economy. The administration said there also will be a signing ceremony involving higher education, though it provided no specifics.
On the last day, Christie will travel east from Mexico City to the state of Puebla, which runs a community center in the City of Passaic for the large number of immigrants living there. He also will meet with the Mexican equivalent of the National Governors Association.
According to the latest census data, 217,715 Mexicans live in New Jersey, but the Mexican Consulate General in New York believes the actual number is significantly higher, based on identification cards it issues to both legal immigrants and those in the country illegally.
This will be Christie's second official trip abroad. In 2012 he went to Israel — a trip taken by many presidential hopefuls — and Jordan.
Carter, a Democrat, promoted trade and commerce in his foreign travels, said Gerald Rafshoon, the public relations architect of Carter's presidential campaign.
"It helps your resume and it helps you get the knowledge," Rafshoon said in a telephone interview.
He said candidates for a presidential bid have to prepare early.
"Anybody who hasn't made up their mind now should not run," he said.
Reagan did not begin traveling abroad until he left the governor's office and failed to capture the GOP presidential nomination in 1976. Then he went to Japan, Taiwan, Hong Kong, Iran, Singapore, London, Paris and Germany — part of a strategy to bolster his foreign policy knowledge, according to an interview that Richard Allen, Reagan's chief foreign policy adviser at the time, gave to the Miller Center of Public Affairs at the University of Virginia.
"The idea was to go abroad, meet people, shake hands, have conversations and then come back and write major speeches about the findings," Allen said.
Christie acknowledged that there are political benefits attached to his trip.
"If you're a national leader of the party and you go abroad and meet other foreign leaders, you learn," he said during an event at the Jersey Shore last week. "Hopefully, if your ears are open you learn, and that will make you a better leader whether you run for anything else or whether you just continue to try to be an influential leader in our country regarding the national debates that come up."
Photo: Fiscal Summit via Twitter