Christie, On Mexico Trade Mission, Skirts Immigration Issue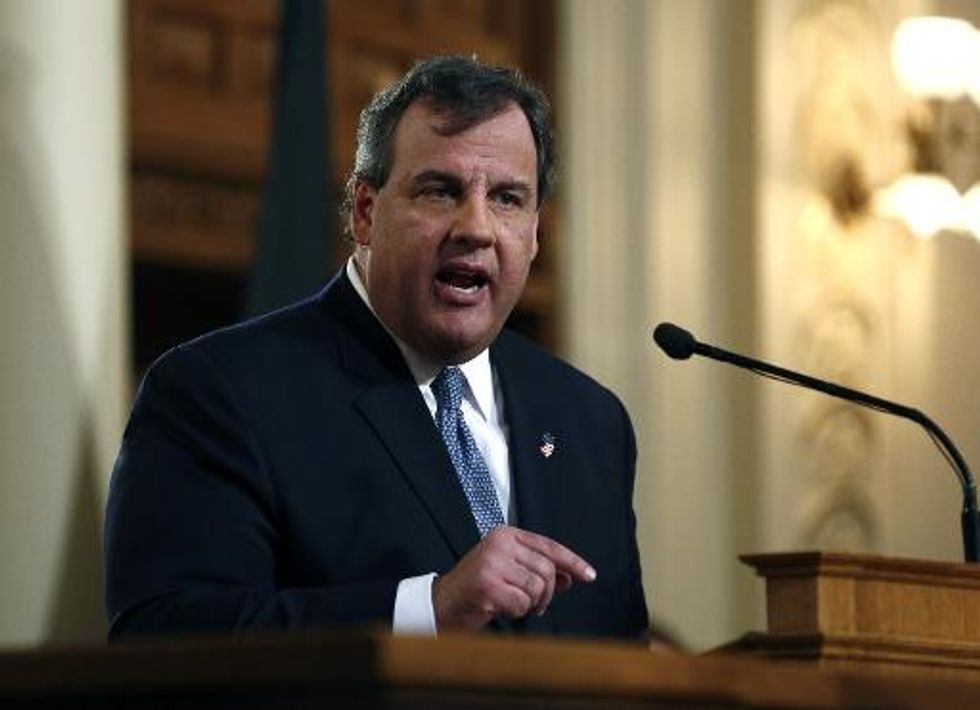 By Maddie Hanna, The Philadelphia Inquirer
MEXICO CITY — He crossed a border that has fueled intense debate over illegal immigration for three days of trade talks in a country once home to many of the more than 11 million undocumented immigrants estimated to be living in the United States.
New Jersey Gov. Christie, however, has not talked much with Mexican leaders about immigration during his trade mission here, he said Thursday. And, he said, he has no interest in airing his views — now, anyway.
The Republican governor will talk about immigration "if and when I become a candidate for president of the United States," he told reporters outside a taco shop, where he stopped for lunch between events with Mexican officials. "Until that time, I have no role in the immigration debate."
He added: "I understand that everybody wants to start a campaign that I haven't decided I want to be in."
Enhancing trade partnerships — not presidential politics — is the stated purpose of the trip, which began Wednesday and has included a slate of meetings between Christie and Mexican business and political leaders, including President Enrique Pena Nieto.
But the trip has been seen by political observers as another inching step by Christie toward a candidacy, presenting him the opportunity to wade into foreign policy on an international stage — even while skirting the topic of immigration.
The governor, who delivered a speech Wednesday focused on energy policy and the need to promote partnerships between North American countries, said Thursday he didn't consider the trip a test of his skills as a diplomat — or his ability to check his Jersey brashness at the door.
"My leadership style has been portrayed rather myopically," Christie told reporters. "I have more than one club in the bag, you know?"
While people like to focus on the "flamboyant" aspects of his personality, Christie said, "that doesn't mean it's the way I am nearly all the time. So when I'm down here, and in a context where a certain measure of behavior is necessary, then that's the way I act."
Accompanied by members of a state delegation, Christie began the day inside the upscale hotel where he is staying, participating in a closed-door breakfast meeting with Mexican business leaders.
After the meeting, Claudio Gonzalez, chairman of Kimberly Clark of Mexico, deemed Christie "a very interesting, informed person," and said he hoped the governor would return.
"This is just my first trip to Mexico, and not my last," Christie said.
Next came private meetings, including with Mexico's secretary of finance — a prominent figure in Pena Nieto's administration. By afternoon, Christie was seated at a table with Mexican officials in the center of the historic Ministry of Education building. He sat quietly with headphones to hear translations of lengthy remarks in Spanish by the officials, who were announcing a new agreement to promote further partnership between Mexico and New Jersey colleges.
Amid the Spanish, one official mentioned, in English, "the New Jersey Dream Act" — a law Christie signed last year that allows undocumented immigrants to pay in-state tuition rates at New Jersey colleges.
Christie, when it was his turn to speak, didn't mention the law as he talked about how Mexico and New Jersey could work together to educate a prepared workforce.
Leaving the event, the governor's motorcade stopped at a small taco shop, where Christie and his 21-year-old son, Andrew, sidled up to the counter and ordered in front of cooks tossing meat on a grill. (Christie's order: Beef, cheese, and onion tacos.)
Christie told reporters he was struck by Mexico City's "extraordinary mix of architecture" and the city's breadth. "You can feel the history as you drive around the city," he said.
He said he was fascinated, "as somebody who's had to work with the opposite party frequently," by reforms enacted under Pena Nieto, and had asked the president about the political process during an hourlong conversation.
And he proclaimed a desire to listen to Mexicans, who "believe they deserve more attention from our country." As the Republican Governors Association chairman, Christie said, he will encourage other governors to visit Mexico, to learn more about the country.
At a cocktail reception with the Latino Coalition, a group founded by Latino business owners, Christie continued to promote Mexico as an important partner to the United States, adding that he told reporters earlier to "stop asking me" about the "differences" between the countries.
"I'm talking about opportunities," Christie said.
But he didn't silence questions about his positions. As Christie left the room, a throng of television crews from Mexican stations crowded around him, and one man with a microphone shouted: "Immigration reform!"
The governor didn't stop to answer. "Maybe tomorrow," the man said.
AFP Photo/Jeff Zelevansky
Interested in U.S. politics? Sign up for our daily email newsletter!