Christie's Refusal To Campaign For Fellow Republican Gives Rivals More Ammunition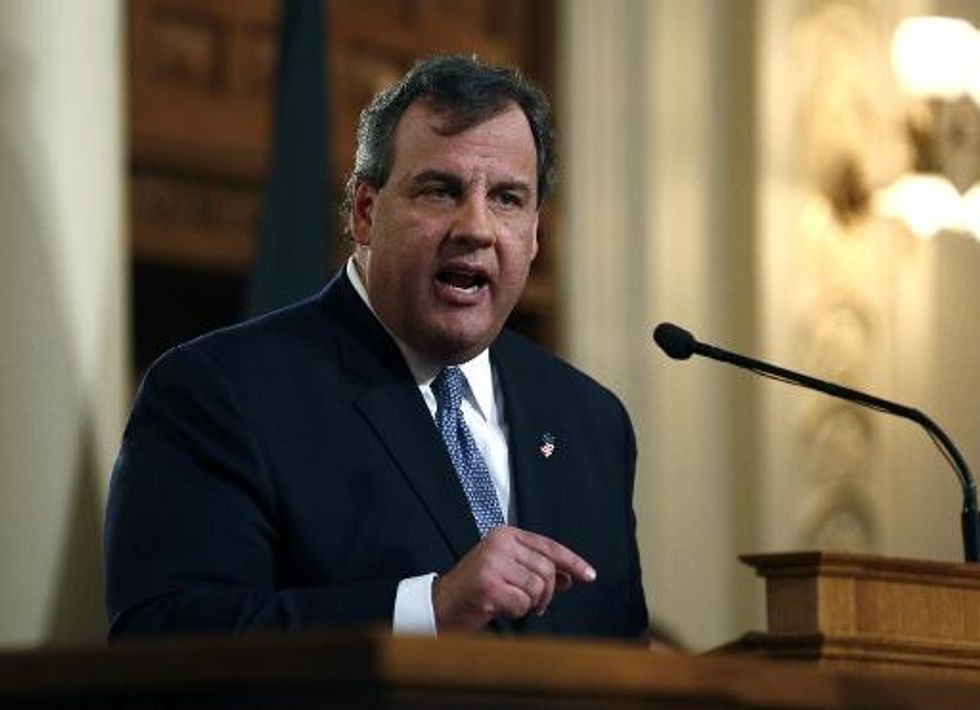 By Melissa Hayes, The Record
TRENTON, N.J. — New Jersey Governor Chris Christie's dispute with a Republican candidate for governor of New York is allowing potential presidential rivals to try to drive a wedge between him and conservative voters, especially in early voting states like Iowa.
Analysts say that fellow Republicans can now argue that Christie is not conservative enough to win the party's nomination and that he is too close to Democrats. In this case, he came to the aid of Governor Andrew Cuomo, the Democrat seeking re-election this year in New York, just as he hugged President Barack Obama when Obama was running for a second term against Republican Mitt Romney in 2012.
Texas Governor Rick Perry appears to be the most vocal in his push to seize an advantage over Christie. And it is Perry who may have the most to gain.
A recent Des Moines Register poll found that Perry has a higher favorability rating among Iowa Republican voters, though
Christie was viewed as the best shot among the potential GOP candidates to beat a Democrat in the general election.
Brigid Harrison, a professor of political science and law at Montclair State University, said on Friday that the disagreement between Christie and Robert Astorino, the Republican opposing Cuomo, has turned into a "mini-battle" between New Jersey's governor and Perry.
"It feeds into the claim that I think we'll hear repeated often among these GOP presidential contenders that Christie is a liberal, that he's backing Democrats, that kind of thing," she said. "I think people are trying to make this more about his relationship with Cuomo than the fact that Astorino is so far behind in the polls."
Christie and Perry were in Iowa this month, captivating crowds at fundraisers and courting potential voters in the state whose party nominating caucuses are the first contest of the 2016 presidential election. Both have said they won't decide whether to enter the presidential race until 2015.
Perry has been questioning Christie's conservative credentials since the New Jersey governor won a second term last year. And Perry came to the defense of Astorino this week.
Christie's spat with Astorino, the Westchester County executive, began on Monday when Christie said he would not campaign in New York unless the race tightened. That prompted Astorino to call on Christie to resign as chairman of the Republican Governors Association and question whether the lack of support is because of the governor's relationship with Cuomo.
Christie and Cuomo jointly oversee the Port Authority of New York and New Jersey and worked together to secure federal aid after Superstorm Sandy.
It was in the days after Sandy devastated New Jersey in late October 2012 that Christie put his campaigning for Romney on hold and embraced Obama as he gave the president a tour of the wreckage.
A Republican Governors Association aide reportedly told Astorino not to bother attending an RGA event in Colorado this week, but Perry invited the New York Republican as his guest, according to a CNN report. The dispute has drawn continuing media attention, with Astorino appearing on All In With Chris Hayes on MSNBC on Thursday night to discuss his encounter with Christie in Aspen. Astorino called the meeting with Christie "quick" and said he still thinks Christie should resign as head of the governor's group.
On Wednesday, Astorino tweeted out a picture of himself with Perry, the Texas governor's arm around his shoulder and the words "Appreciate his support." Perry shared a picture of the two on his Twitter feed. "Glad to be with my buddy @RobAstorino in Aspen," he wrote.
"I think if it had been any other candidate and Christie hadn't had such a close relationship with the person he was competing with, I don't know that Perry would have jumped on that bandwagon," said Harrison, the Montclair State professor. "It plays into that perception that I think some people in the Republican Party are trying to create that Christie is too liberal."
Perry is one of five Republican governors publicly supporting Astorino. Wisconsin Governor Scott Walker headlined a fundraiser for Astorino in New York last month. Astorino said on the Fred Dicker Live from the State Capitol radio show in Albany on Thursday that Perry, South Carolina Governor Nikki Haley, Indiana Governor Mike Pence and Louisiana Governor Bobby Jindal have all offered to support his candidacy.
Jindal, who also has presidential aspirations and is a former chairman of the Republican governor's group, lost an internal battle with Christie to lead the RGA this year, when there are 36 gubernatorial races across the country.
Amid media reports last November that Christie had pledged to vigorously support Astorino after meeting with him at an RGA event in Arizona, Cuomo said he had spoken to Christie and was assured that was not the case. Christie said at the time that he hadn't offered to support Astorino because he wasn't yet a declared candidate and that was all he told Cuomo during one of their many conversations.
Astorino, who called in to the radio show from Aspen, said other governors believe he has a shot at winning after The New York Times reported this week that Cuomo's office compromised the work of an independent commission it created to investigate political corruption in state government. But he said his race against Cuomo also presents Republicans interested in running for president a way to build connections.
"They see that there is a big opportunity, but more than that, it's an opportunity for Republicans to actively get involved in New York. Because nationally, if they're going to compete, they're going to have to compete in all 50 states," Astorino said on the radio show. "They're going to have to make inroads everywhere so they all see that as an opportunity and what they should be doing."
But Harrison said Christie doesn't have to worry about building relationships with New York voters and donors. It's more important for him to network in states where he's less known, which could be why he campaigned for Neel Kashkari, the California Republican gubernatorial candidate, who's trailing in the polls.
"I think the reality is it's easier for him to get his name out linked to candidates, whether unsuccessful or not, in states like Iowa and New Hampshire," she said. "He doesn't have to worry about getting his name out in New York. Everyone in New York is familiar with him."
Harrison added, "I would think he's less inclined to attach his name to someone who is likely to lose an election in New York."
AFP Photo/Jeff Zelevansky