Facing Fresh Contempt Citation, Trump's Lawyers Need Still More Lawyers
@LucianKTruscott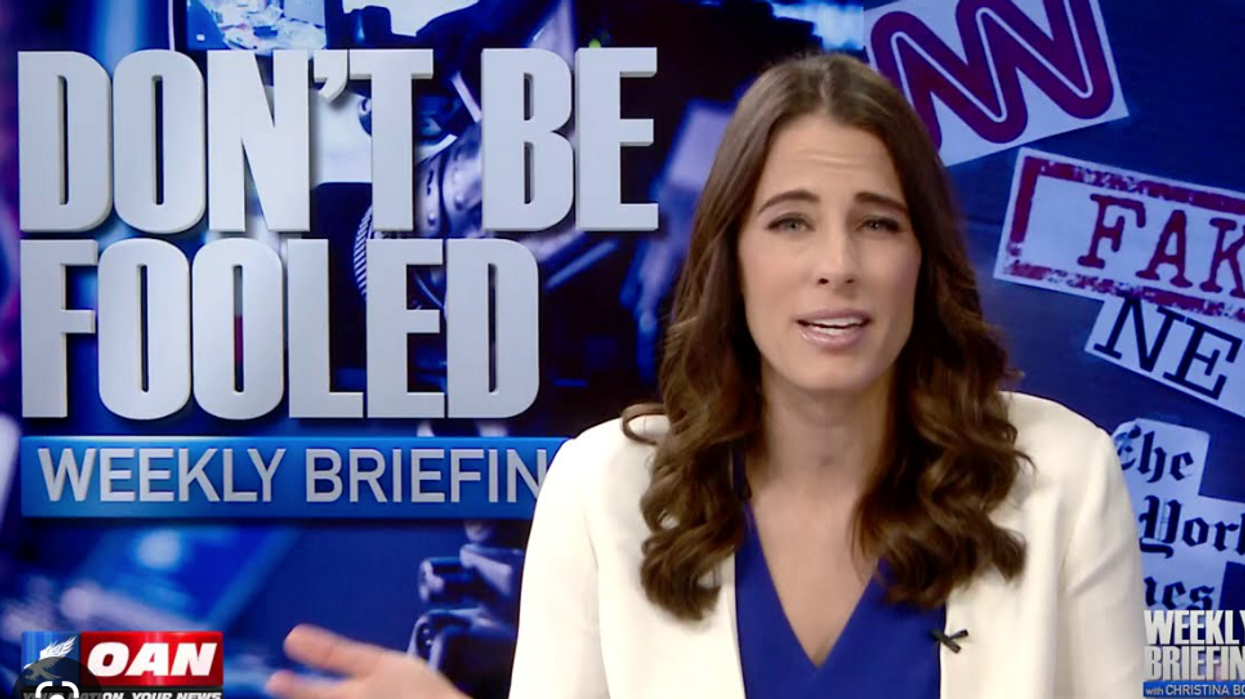 This is my umpteenth-plus column about Donald Trump flipping off the rule of law. and the American way To support this coverage of his misdeeds, please consider becoming a paid Substack subscriber.
Remember Christina Bobb? She is number four of Trump's lawyers, or maybe she was number five? I guess she could have been the sixth lawyer -- who had to go online, that is, and google "lawyers who are willing to represent other lawyers who work for or have worked for Donald Trump" so she could somehow come up with a lawyer of her own to start the long process of building a defense for why she signed a document on June 3 of this year attesting that all of the classified documents Trump had taken with him to Mar-a-Lago from the White House had been returned previously or were being handed over to a representative of the Department of Justice that day.
Poor thing. A former host on the former far-right OAN network, and by now well on her way to becoming a former lawyer of Donald Trump as well, Bobb signed the declaration because another of Trump's lawyers, Boris Epshteyn had called her the night before and asked her to show up at Mar-a-Lago along with yet another Trump lawyer, one Evan Corcoran, to meet with the lawyers for the DOJ who were there to pick up documents that were responsive to a subpoena the DOJ had served on Trump a week or so before. Bobb would later tell the FBI that she didn't know Evan Corcoran, had never met him, and in fact was working for Trump as an adviser to Trump's super PAC…one of them, anyway...and not on the documents case.
So, let's review: We've got Donald Trump, the man who stole the documents, all 22,000 of them it would turn out, who is also owner of Mar-a-Lago where all the documents stolen from the White House were kept. We've got the disgusting election denier Boris Epshteyn.. And we've got Evan Corcoran, who was actually representing Trump in the matter of the stolen documents. We'll call Corcoran the third man, the one designated by men numbers one and two, to turn to Bobb, who had nothing whatsoever to do with the stolen documents, and hand her a piece of paper saying that she had suddenly been appointed "custodian of records" for the Trump office, and tell her to sign it.
Bobb – we'll call her the first woman – demanded to read the document, which as it turned out, certified that a diligent search had been done of the boxes "moved from the White House to Mar-a-Lago," and that all the documents called for in the DOJ subpoena had been turned over. Bobb, as first woman, apparently smelled something fishy, and right then and there demanded that a disclaimer be added to the official statement saying that the certification was based on information that had been given to her by others, the others being men numbers one, two, and three.
That's a lot of lawyers who find themselves in legal jeopardy because the Washington Post is reporting that the same DOJ that issued the subpoena for the classified documents at Mar a Lago, the same DOJ that would later in August conduct a search of the resort/hotel/residence owned by Donald Trump, the same DOJ that would discover no less than 103 additional folders of classified documents that were not among those covered by the certification signed by Bobb, witnessed by Corcoran, overseen by Epshteyn, and ultimately ordered by Donald Trump – yes, that the by-now-familiar DOJ has asked a federal judge in Washington D.C. to hold the Trump office in contempt of court for failing to comply in a timely and accurate fashion to that good old subpoena that was issued to Trump way back in May of this year.
FINALLY, you may be saying to yourself. And I would agree. Trump was asked by the National Archives for the documents he stole from the White House way back in 2021, and he stalled. He stalled and stalled until the National Archives said they were turning things over to the DOJ, and then in January of this year, Trump returned more than 20 boxes of documents to the National Archives and told them that was it. That was all he had.
The DOJ had evidence that wasn't, in fact, it, so they issued the May subpoena, they conducted the August FBI search of Mar-a-Lago, they recovered the 103 extra folders of very highly classified documents, some of which were discovered by the FBI inside a leather box in Trump's own desk, and then this week, two more classified documents turned up when still more lawyers for Trump, who must now be joining the lengthening queue at the internet site "lawyers who are willing to represent other lawyers who work for or have worked for Donald Trump," found them during a search of – get this – a storage facility in West Palm Beach, Florida where they reportedly were among coats of armor and other presidential memorabilia, you know, because as president you are given a lot of stuff like coats of armor and classified documents, and you have to find someplace to store them.
Well, don't you?
Inquiring minds are asking, among many, many other questions, how is Donald Trump going to find anyone at all willing to represent him now that Special Counsel Jack Smith has taken over the Trump investigation and is handing out new subpoenas to new people, who will be trying to find lawyers to represent them, and petitioning courts for contempt citations, and going through all 22,000 documents that have been released to his office now that the whole "special master" scam has been shut down.
Maybe some enterprising young lawyer who just passed the bar down in Florida will rent an office in a mini-mall in West Palm Beach and hang out an enterprising shingle: "Law firm willing to represent other lawyers who work for or have worked for Donald Trump."
Talk about a booming business. That young lawyer will be driving a Ferrari by New Year's.
Lucian K. Truscott IV, a graduate of West Point, has had a 50-year career as a journalist, novelist, and screenwriter. He has covered Watergate, the Stonewall riots, and wars in Lebanon, Iraq, and Afghanistan. He is also the author of five bestselling novels. You can subscribe to his daily columns at luciantruscott.substack.com and follow him on Twitter @LucianKTruscott and on Facebook at Lucian K. Truscott IV.
Please consider subscribing to Lucian Truscott Newsletter, from which this column is reprinted with permission.