Coup Plotters' Love Quadrangle: Ginni And Clarence And John -- And Lindsey!
@LucianKTruscott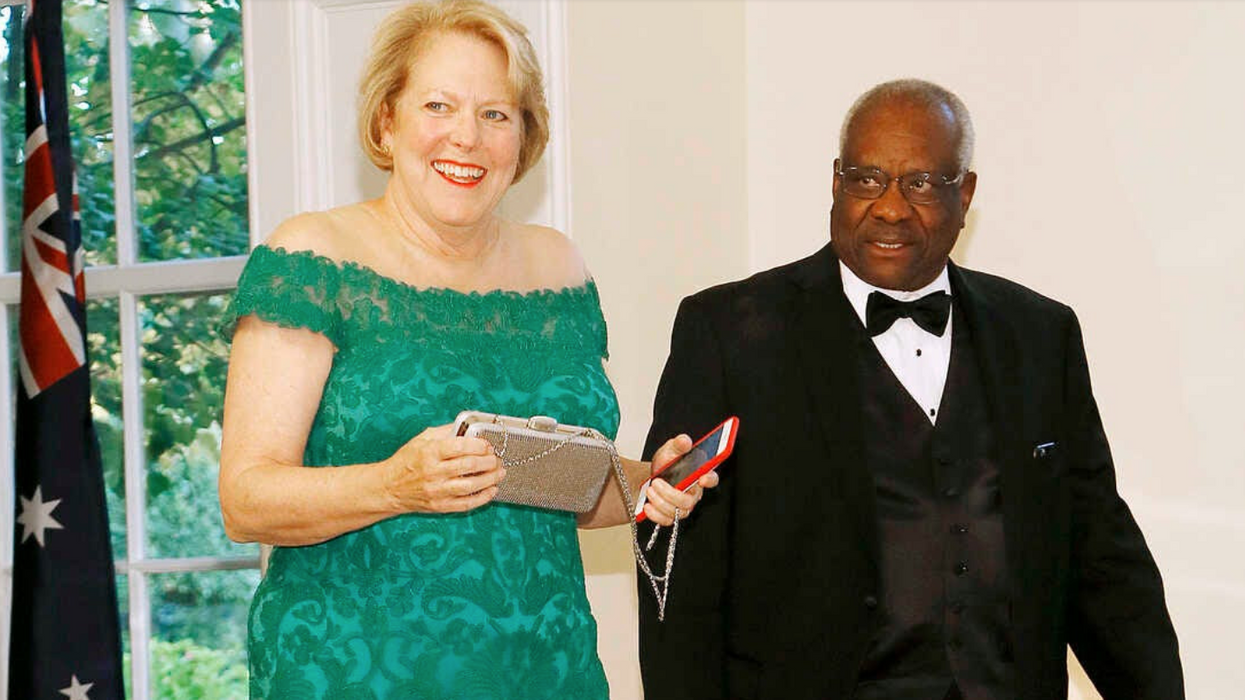 In a single-page order issued today, Ginni's husband temporarily stayed a subpoena from an Atlanta grand jury seeking testimony from South Carolina Senator Lindsey Graham in an ongoing investigation of attempts to overturn the 2020 election in Georgia.
There is a neat little love quadrangle going on here, folks. The House Select Committee on the January 6 Attack ffhas emails between Ginni Thomas and John Eastman, the author of one of Trump's last attempts to overturn the results of the presidential election. Eastman wrote a memo for Trump outlining how fake slates of electors could be appointed in states Trump lost, including Georgia, and submitted to the Congress at the time electoral votes were to be counted on January 6.
The hope was that Republican Senators and Congressmen would object to the official slates of electors from those states, and that resolving the phony dispute between the fake and real electors would be thrown into the House, where it would be resolved in Trump's favor, and he would be declared the winner of the election.
It is not known what Ginni and Eastman discussed in their exchange of emails, but Eastman was sufficiently frightened of his own subpoena by the same Georgia grand jury that he invoked his Fifth Amendment privilege against self-incrimination when he testified. Eastman also invoked attorney-client privilege, the "client" being Donald Trump, before the grand jury. The end result was that he answered no questions from the Georgia grand jury about his involvement in attempts to overturn the results of the presidential election in that state.
The grand jury wants to hear from Senator Graham about his phone calls with Georgia Secretary of State Brad Raffensberger during the period between Election Day in November and the certification of electoral ballots by the Congress on January 6, 2021. The other person known to have called Raffensberger on the phone during the same time period was Donald Trump, who asked the Georgia secretary of state to help him "find 11,780 votes, which is one more than we have," so he could win the state in the presidential election.
So we've got Ginni emailing with Eastman, and we've got Eastman meeting with Trump in the Oval Office pitching the scheme for phony slates of electors in the states Trump had lost, and we've got Eastman refusing to testify about his involvement in overturning the election results in Georgia, and we've got Trump calling Raffensberger and trying to get him to come up with enough votes that he would be declared winner in Georgia.
And we've got Lindsey Graham filing lawsuits trying to get his grand jury subpoena quashed, losing in the federal district court in Georgia, losing again when he appealed to the 11th Circuit Court of Appeals in Atlanta, then filing an emergency appeal with the Supreme Court last Friday, and Ginni's husband bailing him out of complying with the subpoena today.
We know from her emails that Ginni was involved in trying to overturn election results in Arizona and Wisconsin, and I'm not saying that Lindsey Graham knows anything about Ginni's involvement in attempting to overturn the results of the election in Georgia, which her friend John Eastman was involved in, and her friend Donald Trump was involved in. But wouldn't it be interesting to hear what her friend Lindsey has to say about it? And isn't it curious that her husband leapt at the opportunity to stick his nose into the Georgia investigation?
It may turn out that the full Supreme Court ends up ruling on Graham's emergency appeal for a stay, but in the meantime, I don't know, could Ginni's husband possibly have a conflict of interest here?
Lucian K. Truscott IV, a graduate of West Point, has had a 50-year career as a journalist, novelist, and screenwriter. He has covered Watergate, the Stonewall riots, and wars in Lebanon, Iraq, and Afghanistan. He is also the author of five bestselling novels. You can subscribe to his daily columns at luciantruscott.substack.com and follow him on Twitter @LucianKTruscott and on Facebook at Lucian K. Truscott IV.
Reprinted with permission from Lucian Truscott Newsletter